It's a crumble!
It's a pie!
No. It's an apple crumble-pie!
Yes, that's right, I made a hybrid apple crumble-pie. (And yes, that was some chef's humour.)
I make no claim to inventing the idea. I'm certain some woman in small-town USA deserves that praise. However, I think I've perfected the art form.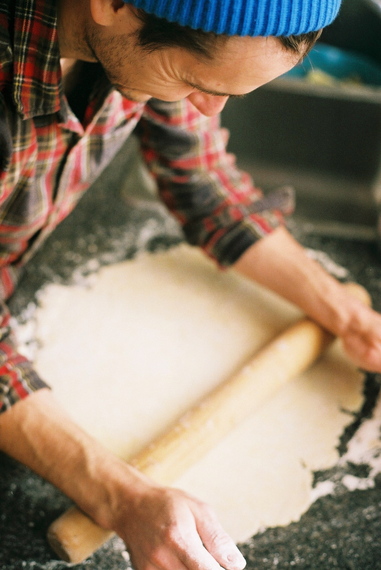 Here's what you need to know about my easy-as-pie crumble-pie recipe (teehee).
The crumble-pie has three components: a bottom crust, filling and crumble topping.
For my crust, I use a straightforward shortcrust pastry. Nothing fancy and no added sugar. I figure there's enough sugar between the pie filling and crumble.
Speaking of the filling, I used a combination of McIntosh apples for flavour and Granny Smith apples for their texture and tartness. You can experiment with any combination of apples you wish, but I definitely find that the McIntosh-Granny Smith combo is a classic pairing.
Finally, and arguably most importantly, is the crumble. There are thousands of crumble recipes floating around the web. But I find this recipe I've been tweaking is the most versatile. It's classic and straightforward, but with tons of room to add optional ingredients and make it unique every time.
Oh, and although it's not technically a mandatory component of the crumble-pie, I definitely recommend one two or three large scoops of vanilla or caramel ice cream to accompany every slice.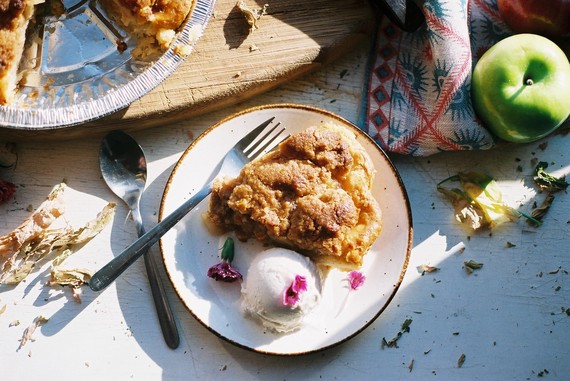 And that is the way the crumble-pie crumbles!
Enjoy! x
Apple crumble-pie

Ingredients

Pie shell

4 c. all-purpose flour

2 tsp kosher salt

1 LB unsalted butter, cold and grated

½ c. - ¾ c. ice cold water

8 c. dried beans

1 egg

Pie filling

4 granny smith apples, peeled and chopped

4 mcintosh apples, peeled and chopped

1 c. brown sugar, firmly packed

1 tsp. kosher salt

2 tsp ginger powder

1 tsp cinnamon

1 tsp vanilla extract

Crumble

1 c. unsalted butter, room temperature

1 c. brown sugar, firmly packed

1 1/3 c. all-purpose flour

2 tsp cinnamon

1 tsp kosher salt

1/2 c. oats

1/3 c. sliced almonds (optional)

1/3 c. pumpkin seeds or sesame seeds (optional)

Method

For the shell:

1. In a large bowl, whisk together flour and salt.

2. Using very cold butter, grate 1 LB with a cheese grater into the flour mixture. Toss the butter lightly with the flour. Using your thumb and first two fingers, squish the butter into the flour until the mixture is flakey or resembles small peas or oats. Pour in your ice water and mix with a fork until just combined.

3. Dump out the dough onto a counter and knead two or three times to form a ball. Cut into two and refrigerate 20 minutes.

4. Take out of ball of dough. On a floured work surface, roll the dough into a circle. Turn the dough a quarter turn after every second roll. Make sure you toss extra flour under and over the dough as you continue to roll it out to prevent it from sticking. When the dough is just under ¼ inch thick, fold it gently and transfer onto a 9" pie plate. You should have a significant amount of dough hanging from the sides.

5. Gently push the dough into the plate. With kitchen scissors, cut the excess dough so you only have 1 inch of overhanging dough. Fold that 1 inch of dough under itself to create a thicker edge. This helps to prevent the dough from burning in the oven as well as making it easier to flute. Prick the bottom of the crust all over with a fork.

6. To flute the sides of the pie, simply take your thumb and two forefingers placing your index on the outside of the pie and the other two on the inside. Pinch all three fingers together. Do this all the way around the pie. Put back in fridge for 20 minutes.

7. Follow steps 4 - 6 with your other ball of dough.

8. Cut out 2 circles of parchment paper just larger that your pie shells. Put into the pie shell and pour your dry beans into the parchment paper. This will prevent the sides from shrinking or collapsing.

9. In a small bowl, whisk your egg with a tablespoon of water. Neatly brush the fluted edges of the pie with the egg wash.

10. Bake at 400F for 15-17 minutes or until sides look dry. Remove the parchment and beans and bake for 4 minutes longer. Take out and allow to cool.

For the apple filling:

1. Put all ingredients into a large pot on the stove. Cook on medium heat until the sugar has melted, the mcintosh apples are mush and the granny smith apples are cooked through.

2. Allow to cool slightly while you make the crumble.

For the crumble:

1. In a stand mixer, cream together the butter and sugar on medium for at least 3 minutes or until completely whipped.

2. Add flour, cinnamon, kosher salt, oats and optional ingredients. Cream for 1 minute further or until all of the ingredients are combined. Scrape down sides of the bowl and the bottom. Mix once more for 10 seconds.

To assemble:

1. Preheat oven to 400F.

2. Fill each pre-baked pie shell with 2 1/2 cups of apple filling.

3. Spoon tablespoon size chunks of your crumble on top of the filling. It doesn't need to look perfect at this point as the crumble will melt slightly into itself.

4. Bake on the middle rack for 35 minutes, turning once midway. The pie is done when the sides are dark gold, the filling is bubbling and the crumble has browned and crisped.

5. Allow to cool for at least 20 minutes before serving to set the crumble.
Photography by Dixie Gong, a Toronto-based writer, photographer and stylist.