For six weeks now, Jessica Lange has been hexing her way around New Orleans on American Horror Story: Coven.
Between Lange's participation in the occult, a minotaur sex scene, and, of course, the swampy-Louisiana backdrop, I've had gumbo on my mind.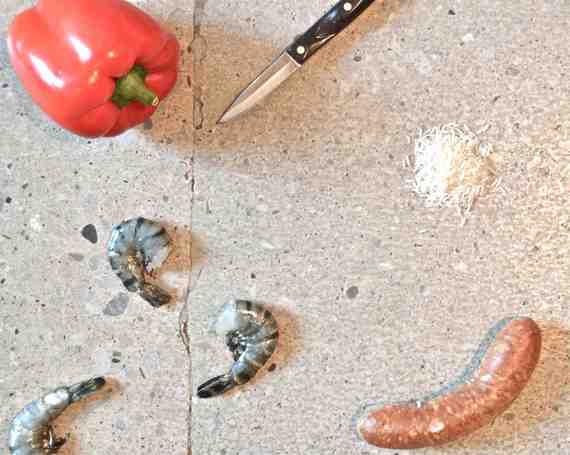 I made gumbo for the first time three weeks ago after a particularly drawing episode of Coven. I followed a recipe I found online to great success. The dish was a celebration of crab, shrimp, poultry, sausage, okra and Cajun cooking. It was succulent, spicy and satisfying. But, it was also expensive.
Although I was hooked on the gumbo, I had to reinvent a more affordable recipe.
Here, I focus on one of my favorite crustaceans rather than the plethora of protein called for in the original recipe I followed: shrimp.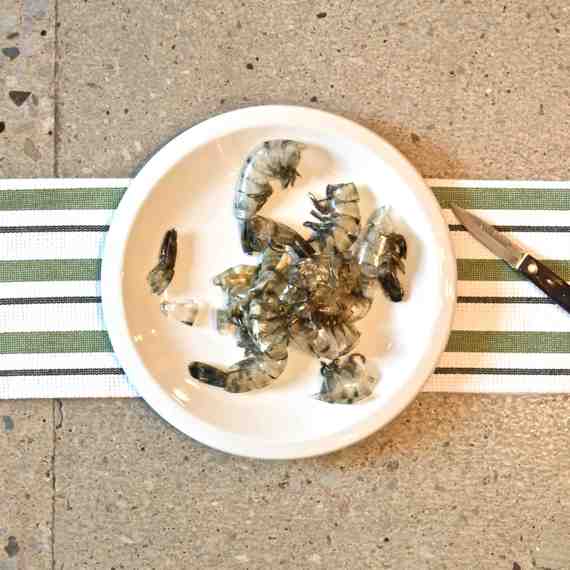 Ingredients
¼ cup olive oil
¼ cup all purpose flour
1 green bell pepper, diced
1 red bell pepper, diced
1 yellow bell pepper, diced
1 large cooking onion, diced
3 cloves garlic, crushed and chopped
2 andouille sausages, skin removed and meat crumbled
2 tbsp.Creole spice
1 bay leaf
2 cups clam juice
1 28 oz can diced tomatoes
Salt and pepper
1 ½ pounds medium raw shrimp, shelled and de-veined
1 cup white rice
Method
1. In a large pot on medium heat, whisk together olive oil and flour. This is called a roux. Continue to whisk the roux until it is dark brown and smells like popcorn (3ish minutes). Do not burn.
2. As soon as the roux is dark brown, add your diced peppers and onion. Cook, stirring often, until softened (6ish minutes). Add garlic, sausage, Creole spice and bay leaf and cook for another two minutes.
3. Pour in calm juice, tomatoes with juices, salt and pepper. Simmer for half-an-hour, stirring occasionally. The flavors will meld and the stock will thicken.
4. Meanwhile, rinse 1 cup of basmati rice in cold water. In a medium pot, combine the rice with 2 cups of water and ¼ tsp salt. Cover and simmer on low for 20 - 25minutes or until softened. Remove from heat and let rest five minutes before serving.
5. When the gumbo has thickened to a stew consistency, add shrimp and allow them to cook for three minutes. Taste and adjust seasoning if necessary. Serve immediately with basmati.
I paired the shrimp with traditional andouille sausage for a smoky flavor and then finished them with a Creole spice mix for warmth. Finally, I served it with basmati rice; not necessarily traditional, but a personal preference.
The result is - all irony intended - enchanting.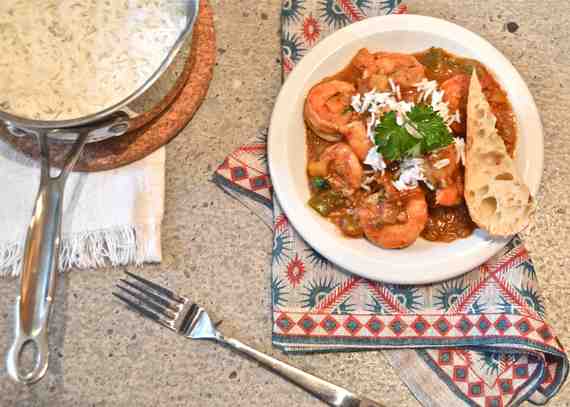 Now, before you run off to de-vein and shell a pound of crawfish or two, let me ask one nagging question about the series. Who the heck is the next supreme!?!?!
My money is on Nan as she's perhaps the least expected. And did you see this week's episode when she telekinetically unlatched the door to rescue her super cute bf? Or was that just another red herring like Emma Roberts' sudden pyrokinesis?