Hey friends:
'Tis the holiday season here in Toronto.
The Eaton Centre Swarovski holiday tree has been erected and stands glimmering in all its gaudy glory. Rob Ford has long since stumbled down University Ave. with the big man in red who greeted children congregated to watch Toronto's annual Christmas Parade.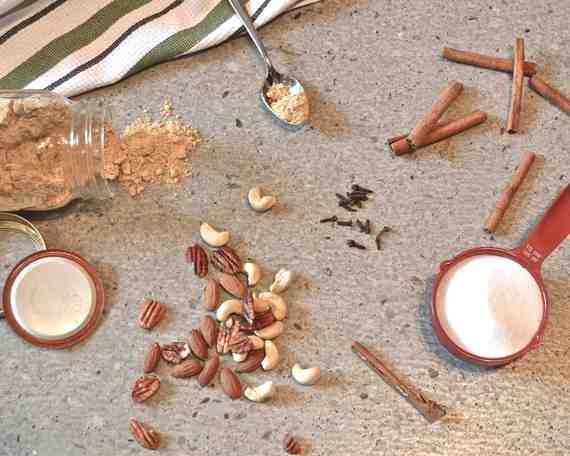 Here at Merchandise Lofts, my iPhone calendar is buzzing with reminders for holiday parties and Christmas get-togethers. And my little condo mailbox is beginning to see some mail that isn't junk; little red and green cards sent from my mom and grandma with blessings and good tidings and such.
Chris and I have even put up a tree in our new loft to celebrate! Not a big one. Just a little guy to infuse our living room with holiday cheer.
In the spirit of the season, I've written a great recipe for those of you planning on throwing a holiday party for your friends and family. Simple, inexpensive sweet and salty bar nuts roasted on low heat and dressed in ginger, cinnamon and clove (practically, the holy trinity of winter spices).
The nuts can be made almost two weeks in advance of your party. And they're far more impressive to put out on your coffee table than a bowl of Doritos. But don't get me wrong, I love me a bag of some Cool Ranch!
Party guests will undoubtedly appreciate these DIY snacks. Especially since it will go great with the mug of steaming spiked cider you've been brewing for your guests ;) .
Although it may be a bit early, I just want to wish everyone a happy and safe holiday and I sincerely hope there's a special present under your tree come December 25.
xx
Ingredient:
3/4 cups sugar
1 tablespoon salt
1 tablespoon ground ginger
1 teaspoon ground cinnamon
1/4 teaspoon ground clove
1 egg white (whisked until frothy)
4 cups raw, unsalted mixed nuts
Directions:
1. Preheat oven to 300F.
2. Whisk together all of the spices, salt and sugar
3. Fold together the egg white and nuts. When the nuts are evenly coated in egg, fold in the sugar and spice mix.
4. Line 2 baking trays with parchment paper and spread the nuts out among the two trays. Ensure the nuts aren't touching as much as possible.
5. Bake for 25 minutes. Remove from oven and stir nuts around the pan making sure to spread them out evenly again. Bake for another 10 minutes, watching carefully as nuts and sugar both burn very easily.
6. Allow to cool completely before eating. Stored in an airtight container, these nuts will last at least two full weeks on the counter.