Ashley Jacot De Boinod of Glory Hole Doughnuts has been frying-up her warm 'nuts for almost two full years now. She's come a long way since she first crowd-sourced the funds to open her tongue-in-cheek Parkdale shop and she's proud to report things are going well.
As a newb to the world of doughnuts I wanted to catch up with the energetic trend-setter for some advice. And in the process I was able to shoot-the-shit, sample some amazing doughnuts and meet her infamous deep-fryer fondly named Esmerelda.
Be sure to try out her lemon-ricotta doughnut hole recipe included below. They're the brown Tim Bit-looking doughnuts pictured.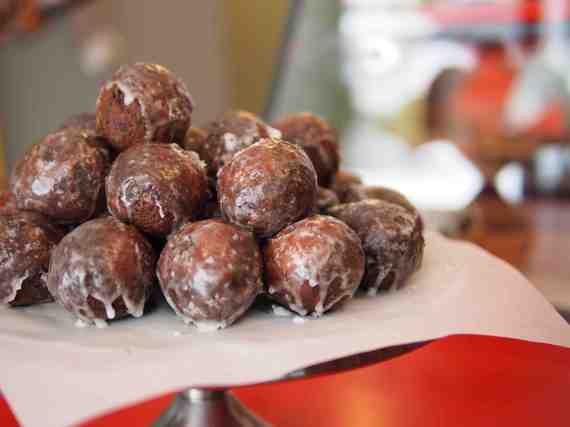 Starting off with the most important question: how much experience do you actually have with Glory Holes? Any anecdotes?
Ohhh. Well back in the day. [laughing]
No. The name comes from a kitchen sense of humor. If you've worked in the food industry you know its long hours and you have a tendency to form tight bonds with your kitchen crew and at some point during your 16-hour shift you're going to draw a dick. You're going to draw a vagina. You're going to use carrots as wieners. The name is an ode to all of that.
To answer your question, my experience with glory holes is actually quite slim.
Don't worry, so is mine.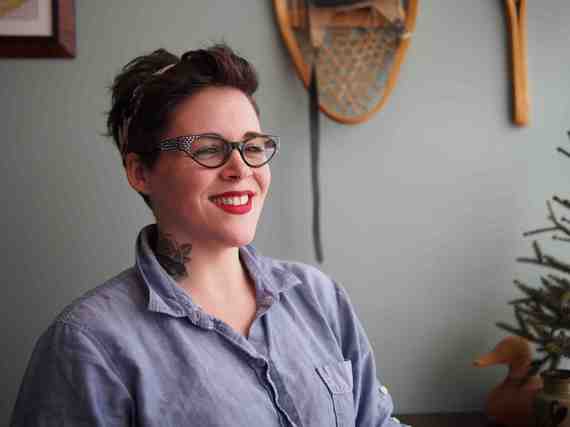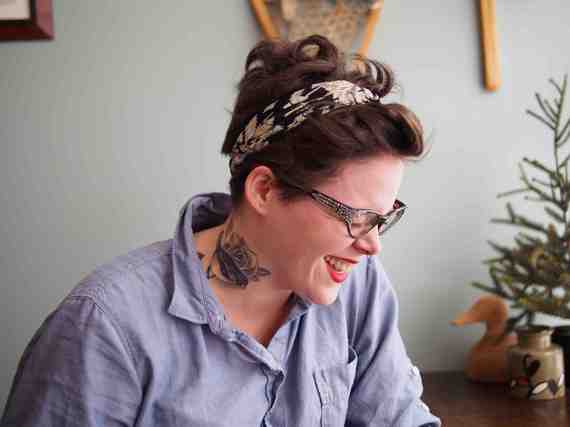 So very basically, why doughnuts?
I just love doughnuts. I love making them. I love the process.
I was always interested in making bread. It's such a transformative product. You take very simple ingredients and transform them into an amazing product.
Sooo, yeah, I just love making doughnuts.
Did you grow up in Toronto? Do you have a favorite doughnut shop or did you just go to Tim Horton's a lot?
Yes. I grew up in Toronto.
Not a favorite doughnut shop, but yes, my family and I went to Tim Horton's a lot. I always loved crullers. Blueberry jelly filled, always.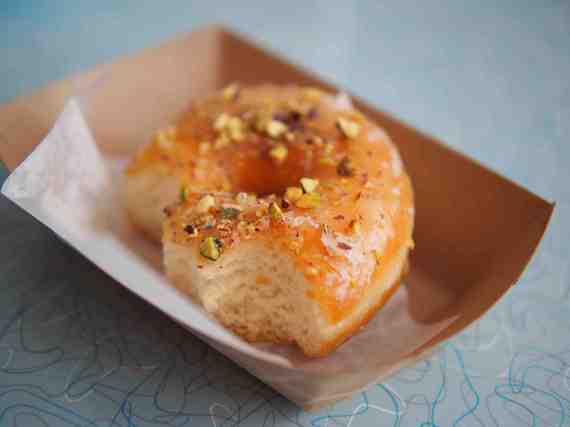 Perhaps you can retell me the story behind Glory Hole Doughnuts. How did you create the idea, source the funds etc.
I was working in the industry for eight years. It was always a dream of mine to start a place of my own. I was working at Buca at the time - a great spot for young chefs just starting out. I left Buca and it took two full years to get my shop running.
The initial idea was a doughnut truck. So I started selling doughnuts on someone else's truck. It wasn't the best experience on the truck but I really liked making and selling my doughnuts.
After the truck, my husband and I used our line of credit to build the shop I wanted. When the shop was almost done our contractors totally screwed us. And when the contractors left I had no more money so I used Indiegogo to find the last bit of funds. Honestly, when they left us we worked so hard to finish; these floors and walls are practically held together by our blood, sweat and tears.
It was a scary process starting Glory Hole - I didn't know what a dry wall was! - and it was probably the hardest thing I've ever done.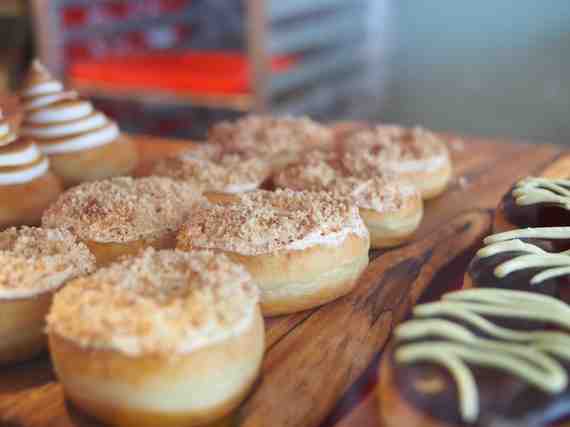 You often recognize your husband Rob Dean with helping create the brand from the get-go. How does your relationship tie-in with your business? Is he more of a cheerleader or does he take an active role in the business side of things?
He does all of my branding. He's not a partner; I'm the sole partner here. But he might as well be a partner because he helps me in a lot of decision making for the shop. When I'm at whit's end I have to go talk to him and he helps me through.
We make some pretty great doughnuts, but like Fuck, he does wicked branding for us. Like, a canoe for a light fixture [pointing out the upturned canoe illuminating the doughnut display] like that's amazing.
Did he make that?!
Ya, he made that. He made this bar. He's amazing.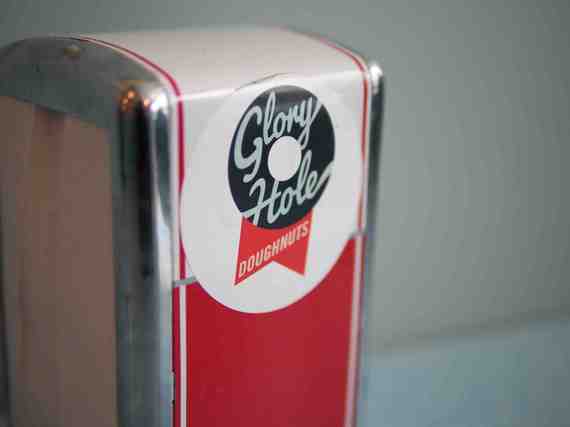 Hard question: most people consider the doughnut a distinct trend. Also, most people consider Parkdale a trendy neighborhood. How do you plan to maintain business if these trends begin to fade? Or do you think there will always be a market for a great doughnut?
I think there's always a market for great products. We've proven we have such a great product and we have a great team. Our baker's come in at 3am everyday. Sometimes 1am. And so long as that kind of love continues to be put into our products we'll always have business.
Let's talk about actual doughnuts:
The majority of your doughnuts are yeast-based. Why did you choose to focus on that type of doughnut? Versus, say, cake-based.
I totally prefer yeast doughnuts.
It's a five-hour process to make yeast doughnuts here at the shop and we put so much love into them. Not to say cake doughnuts are bad and involve less love, it's just things like how I've been using the same mother starter since we first opened that make our yeast doughnuts amazing.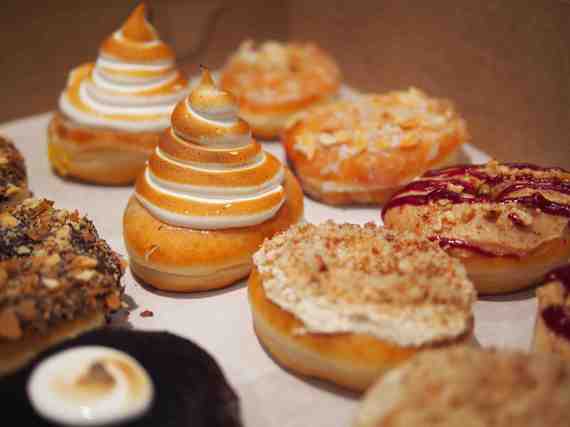 Where do you draw inspiration for your flavors and what's the process of creating a new flavor or doughnut?
A lot of the inspiration comes from being a line cook. I never wanted to be a pastry chef when I was in culinary school so I draw most inspiration from savory ingredients. For example we did a stuffing doughnut with sage, rosemary and bacon.
We do a seasonal menu. The main process is between my sous chef and I. We have a great relationship and we sit around and brainstorm and shoot-the-shit together until we come up with a great idea.
Have you ever done a fritter or churro?!
We've done fritters. We did an apple fritter.
May I suggest you do a churro? They're my favorite.
[laughs] You love churros, eh? Have you been to the one at Bloor and Dufferin?
Yes. Absolutely love them.
If you're new to baking doughnuts at home and you want to give it a whirl, what's the easiest type of doughnut to start with? Any advice before starting?
I'd suggest starting with a cake doughnut. It's easier.
I also always use cake flour in recipes. Often all-purpose is called for, but if you want a light consistency you should use cake flour.
Thoughts on baked doughnuts?
It's not a doughnut. It's just not. It's a cake in the shape of a doughnut.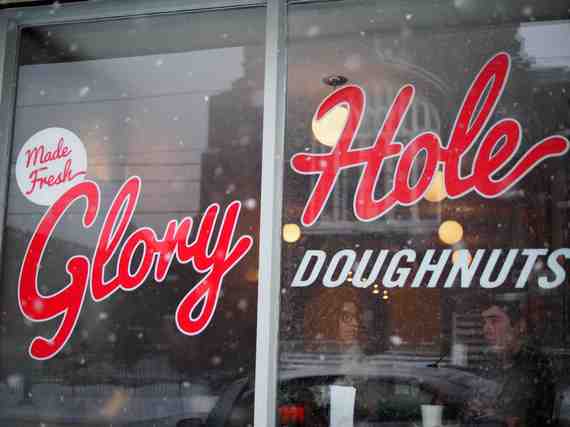 Flash Fry!!!!!
Favorite...
Glory Hole Doughnut Flavour: Toast and Butter
Ice Cream Flavour: Pistachio
Cookie: Chocolate chip
Cocktail: I don't drink
Never mind the next few then [laughing]
LCBO Wine: ...
Parkdale bar: ...
Weekday dinner: [long pause...] Tacos!
Weekend dinner: [Also a very long pause...] Oh man. These are such hard questions... A good roast chicken on Sundays.
Cookbook: I always go back to my Gisslen from school. It has everything. [Professional Cooking for Canadian Chefs]
Family recipe, if you have one: My mom was a horrible cook but her peanut butter cookies were amazing.
Travel destination you've been: Spain
Travel destination you want to go to: Turkey
International cuisine: Middle-Eastern
Lemon-Ricotta Doughnut Holes
Ingredients
Doughnut
1 1/4 cup cake flour (sifted)
2 teaspoons baking powder
1/4 teaspoon salt
3 large eggs
1 1/4 cup full-fat ricotta (the dryer the better)
1 teaspoon vanilla extract
1 tablespoon lemon zest
vegetable oil (for frying)
Glaze
1 cup powdered sugar (sifted)
2 tablespoons extra virgin olive oil
1 teaspoon lemon juice
Directions
Doughnut
1. Heat vegetable oil in a fryer to 375F or if you don't have a deep fryer fill a tall saucepan half-way up with oil and gauge temperature with a candy thermometer.
2. Sift together cake flour, baking powder and salt in a large bowl.
3. In a separate bowl mix eggs, lemon zest, ricotta and vanilla. Add sugar and mix well.
4. Fold dry ingredients into the wet ingredients and mix until just combined. Do not over mix. Cover with plastic wrap and allow to rest 10 - 15 minutes.
Using two spoons, form bater into quenelle shapes and drop gently into hot oil. Cook on all sides until evenly browned. Remove doughnuts from hot oil with a slotted spoon and allow to drain on wire rack or paper-towel lined plate.
Glaze
To make the glaze, combine powdered sugar, olive oil and lemon juice in a bowl. Stir in teaspoons of water until glaze is smooth and lump free.
Roll doughnuts in glaze while still hot. Serve immediately.
Photography by Dixie Gong, a Toronto-based writer, photographer and stylist.