Dimitri van Kampen is the chatty founder of Spearhead Brewery in Toronto. I sat down with Dimitri at The Beaver Cafe on Queen St. W. to discover how the lawyer-turned-entrepreneur makes his concept stand out in Ontario's highly tapped craft beer market.
Meanwhile, Dimitri's close friend The Thirsty Traveller himself, Kevin Brauch, was on-hand to share a completely unique beer cocktail named The Glosette and, as the pictures show, some serious comic-relief between questions.
Before we begin, I just want to say this was one of the best/most hilarious shoots I've ever done for my blog. I was doing shots of Jager with Kevin Brauch at 10 a.m. on a Sunday morning!!!! WHO AM I?!?!?!?! When does that kind of thing ever happen!?!?!?!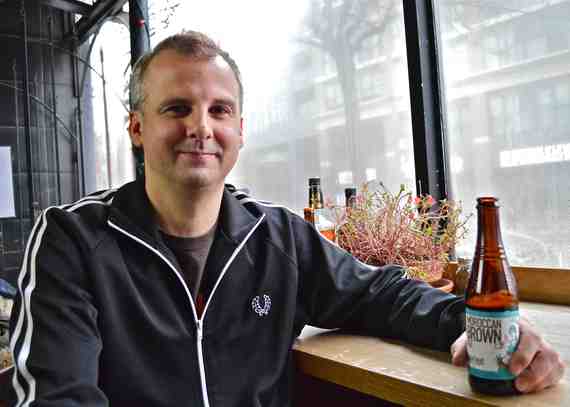 You're a lawyer by trade. How did you end up starting Spearhead?
It happens a lot in life where an offhand comment or a chance conversation will affect your life so much.
I was working in England at an international law firm when the markets collapsed in August/September 2008. I was working there as a project finance lawyer and had been working for a long time to reach that level. It was a real end goal for me to be a project finance lawyer. But all of a sudden, overnight after the collapse, that position just no longer existed and to stay in law I'd have to restart my whole career.
At the same time, my father also passed away which added another emotional level to the situation.
I was sitting around one day that year with some coworkers. We were doing a sort of round table discussing what we would have done if we didn't get into law. Some people were like, "Oh, I should have been a football player" or "Oh I should have done this, that and what-not."
And as the discussion came around to me I just blurted out "I should have opened a brewery."
After that moment when I was forced to reconsider everything, I went back to my desk and Googled how to open a brewery.
I think the hardest pitch I've ever had to give was when I went back to my wife Karen and said I want to start a brewery. She just looked at me and said, "Are you serious?"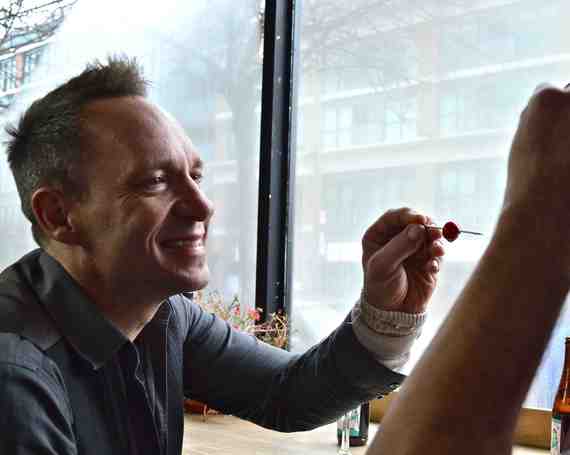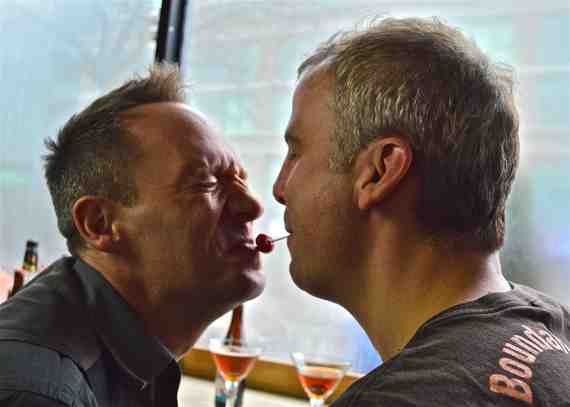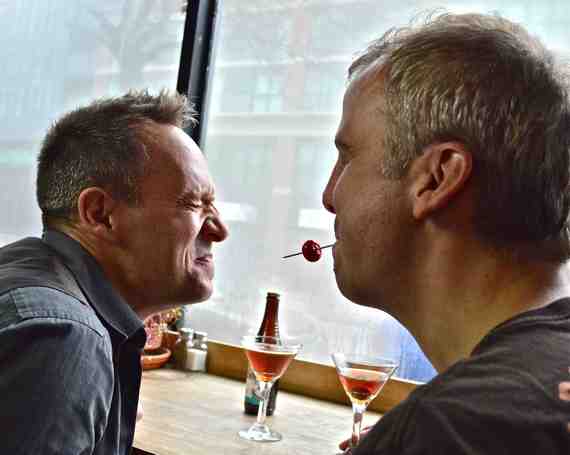 You were living in England while writing the business plan. Do you think the pub culture there affected your company and your beer?
Yes. Absolutely.
Before I went to England, I had a rudimentary understanding of craft beer. And I enjoyed it but I hadn't really jumped into craft beer before I went to England.
When I was in England, I would be in bars with some mates, you know, some chaps and they would say things like, "Aw man, this pint tonight is great.".
At first I didn't clue in when they kept saying "Tonight's pint is great" or "Isn't this a fantastic pint tonight?"
After awhile I had to ask what they meant by 'tonight'. "Wasn't it fine last night when we were here?"
They explained to me the concept of Real Ale where the beer is conditioning inside the keg and from night to night it would taste different. It really caught my imagination and I would go to all these pubs looking for these cask-conditioned ales.
When I was imagining Spearhead, I was determined to create Real Ale or something as close to it as I could. We call our unconditioned beer "Real Beer." It is conditioned in a bright tank rather than a cask.
I don't think Spearhead would have been the same if I hadn't been living in England and having that experience with all of those amazing beers.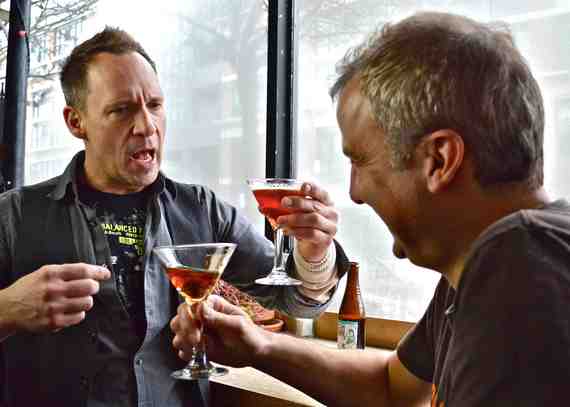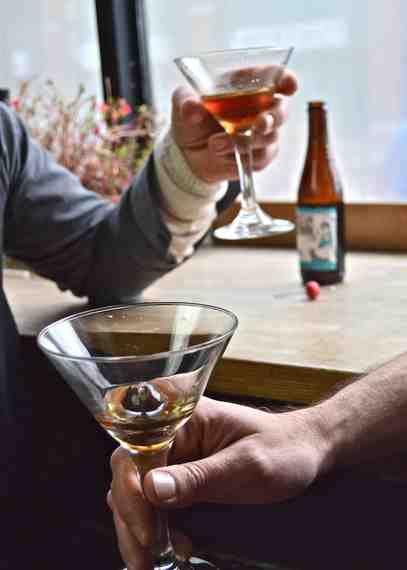 This is a great lead-in to my next question. What the heck is a Real Beer?
Real Beer is one of those things that you first hear and you think, wow that's really snobby.
We didn't create the concept, though.
It's kind of a play on cask-conditioned ale which is an ale that's put in to a barrel and fermented and conditioned inside there. The beer is then alive inside the barrel. It has to be tapped at the right time each day. This makes the person serving the beer just as important as the person who made the beer. They need to know it can't be in the light or it can't be left in a warm environment and so forth. After it's been tapped, it can only be served for a week.
Although not conditioned in a cask, Real Beer is unfiltered, unpasteurized and naturally carbonated just like Real Ale.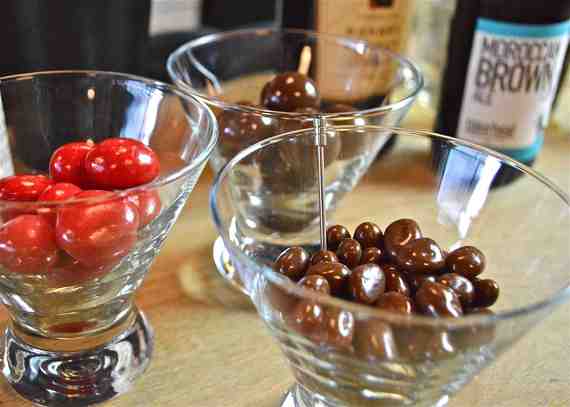 Is a Real Beer a higher quality product?
For me, it tastes better.
Basically, if you're making a real beer you're not stripping its flavour.
Filtering takes out flavour. Artificially carbonating beer takes out flavour. And when you pasteurize beer you take out flavour.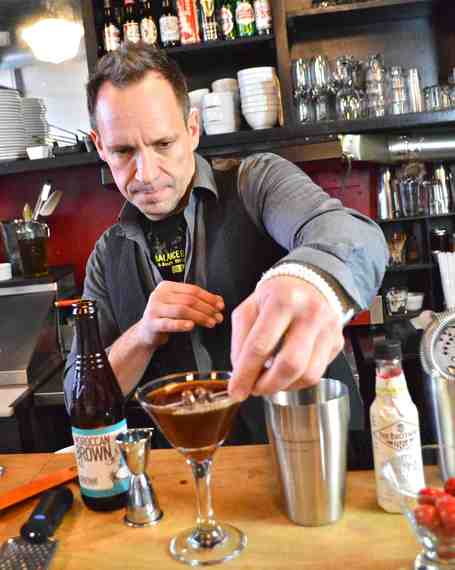 Something I've read about recently was this trend and concept of aging beers much like aging wines. Can you explain the concept?
First of all, the concept of aging beer isn't new. It's been going on for hundreds of years. Craft beer is going back to the more traditional and artisanal ways of brewing beer. We're going back to those times when the English took their barley beer out into a court yard and rolled the barrels around to rise up the yeast.
To get back to how it's a fad right now, I like how people are doing this. They're showing the consumer a different more artisanal way of brewing.
Can all beer be aged? Can Spearhead's beer be aged?
Low alcohol beers can't be aged. If you try and age it, it'll go off.
What you want is a beer with higher alcohol content of at least 7 to 8 per cent alcohol. A beer like a Russian Imperial Stout, which has an ABV of as much as 10 per cent, will age beautifully for years if properly stored, just like a fine wine. During the aging process, all of these mellow flavors will start to come out and create complexity in the beer.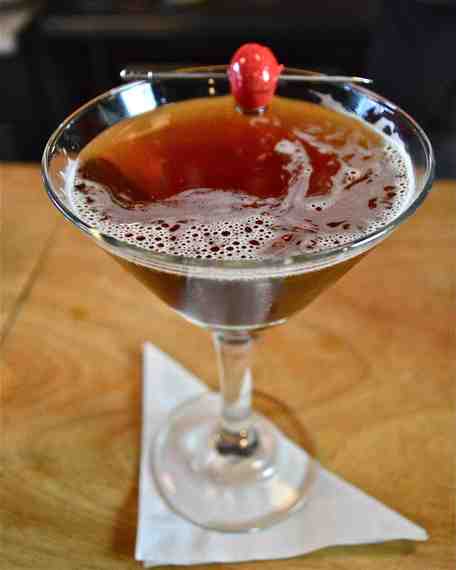 You brew three flavors of beer right now: a Hawaiian Pale Ale, Moroccan Brown Ale, and Belgian Stout. Can you tell me about the process of creating a concept?
It's what I love the most about my job. I make all of the initial concepts.
Our current series of beer is called The Globe Trotter series. We haven't formally done it in any marketing sense but that's what we're working on.
Our first beer was the Hawaiian Pale Ale, and how that came about was when my buddy Ari came over, who's now our business manager, and we we're going to home-brew a big bold west coast IPA together. I had had some pineapple leftover in my fridge from breakfast so I wanted to throw it in and Ari was like, "Dude, that's awesome. Let's try it."
It was as simple as that.
You're a big advocate for beer and food pairing. What are some tips you have for pairing beer and food properly?
I think you need to look at the flavor of the food your making and the flavors of the beer. Look for either complimentary flavors or contrasting flavors.
As an example, if you're thinking about a mild Camembert or Brie it'll be complimented really well by the toasty, caramel notes of our Moroccan Brown Ale.
Also, if you're looking for contrast in flavors, spicy foods like curries will go perfectly with the bitterness of an IPA.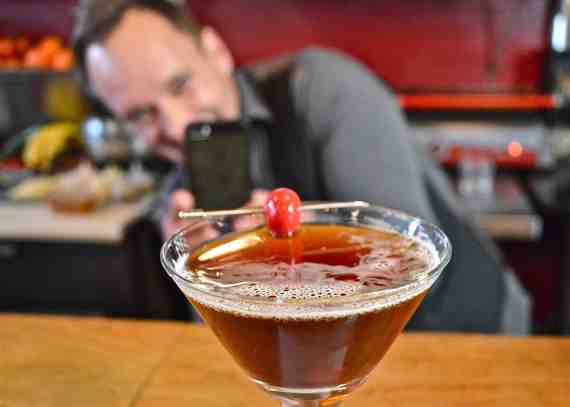 What are your top tricks for cooking with beer?
I love to take ice-cream and just pour a really great stout over it almost like a nice sauce.
What are your goals for Spearhead?
Our end goal has always been to have our own brewery.
Until then, we have a bunch of beer we want to launch. One we're working on currently is The Big Kahuna, a 10 per cent alcohol west coast IPA with pineapple juice but made in a different way than our Hawaiian.
We're also launching another beer in June related to the Globe Trotter series, so stay tuned for that.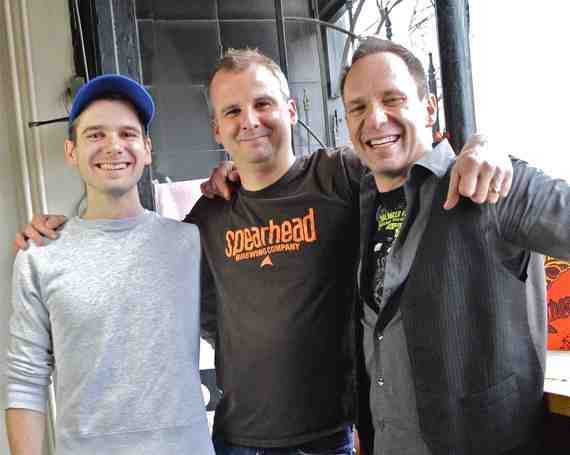 (Note: the above picture is me being a total fanboy.)
Flash fry!!!
LCBO lager: King Pilsner
LCBO ale: That is such a hard question! I really like Denison's Weissbier. Similarly, I love what Beau's is doing.
LCBO wine: I really love big bold red wines like a Pinot Noir. I couldn't choose one specifically.
Cocktail: Rye Manhattan
Toronto restaurant: I make it a point to support our clients in Toronto so I try going out to our clients' restaurants. I really love Milagro. I also think The Saint is doing fantastic things over on Ossington. And Brad Long at Belong Café.
Toronto bar: The Victory Café
Comfort food: Bolognese Sauce
Herb or spice: Depends what I'm cooking. For Italian, Oregano. For Mexican, Cilantro.
Food trend: Beer cocktails
Photography by Dixie Gong, a Toronto-based writer, photographer and stylist.
The Glosette
Ingredients
1/4oz Creme de Cacao
3/4oz Forty Creek rye
3oz Spearhead's Moroccan Brown Ale
Glosettes
Directions
1. Fill a cocktail glass with ice and cold water to chill. Leave for thirty seconds.
2. While the glass is chilling, combine the Creme de Cacao and rye in a cocktail shaker. Swirl for ten seconds.
3. Empty the ice and water from the glass into a sink. Strain the Creme de Cacao and rye into the glass and top with Spearhead's Moroccan Brown Ale.
4. Garnish the glass with three Glossets on a toothpick skewer.
Zymurgy's Top 11 Craft Beers For 2013