Hassel Aviles was a front-runner in the Toronto food boom when she concocted Toronto's inaugural foodie event Toronto Underground Market (TUM) alongside business partner Kate Clegg in 2011.
The event has been a platform to launch dozens of careers and businesses in Toronto such as Rock Lobster, La Carnita and FeasTO to name a few. But as the classic adage goes, all good things must come to an end and after three successful years, Hassel and Kate have decided to make their third year anniversary edition on September 27th their very last.
To find out more about Hassel's decision to end TUM, I invited the charismatic event planner over to The Beaver. We baked her kid-friendly chocolate chip and oatmeal cookies (recipe below) together while gabbing about home cooking, baking tips, Friends, and, of course, about her proudest and most memorable moments hosting TUM.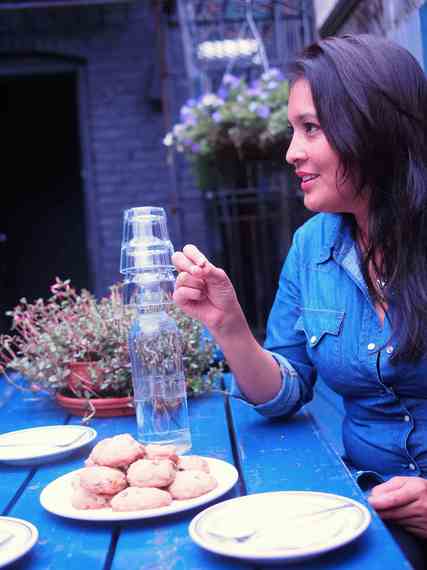 Carl ("C") - So tell me about this recipe. Is it something you've created?
Hassel ("H") - Kind of, ya.
I don't like a lot of sweets anymore, but chocolate chip cookies still do it for me.
I grew up learning to cook from my Mom. She was amazing. But I didn't really cook a lot on my own until I moved out. She never baked so I think I started to learn to cook with baking because I didn't want to have to compare myself to her. She was a throw it together, kitchen sink and wing-it kind of cook. Baking is the opposite of that. You have to be exact and specific and I guess I liked that I didn't have to compare myself to her when I baked.
I actually started this recipe by using the recipe on the back of this chocolate chip package. Its funny how that always happens; starting with another recipe and developing further yourself.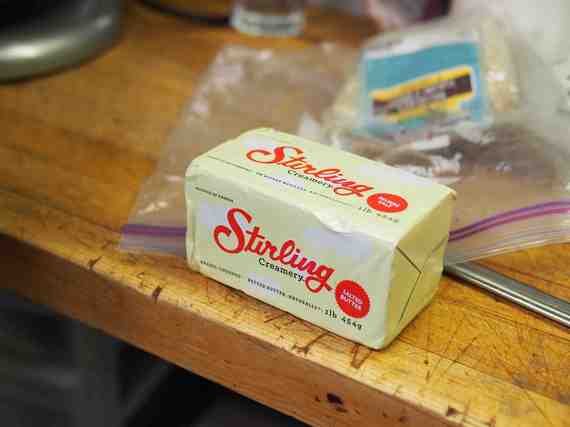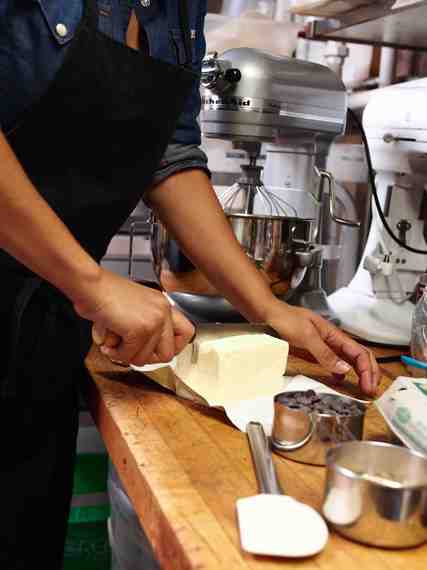 C - Do you know what this reminds me of?
Dixie ("D") the photographer - YES! Friends! That episode is hilarious.
H - [Laughing.] What happens?
D - Phoebe has this amazing chocolate chip cookie recipe from her Grandma that Monica wants but Phoebe loses it. So Monica bakes all of these chocolate chip cookies based on this one cookie that she has left. And Phoebe is like, "It's from Toulouse. TOULOUSE." And Monica is like, "Do you mean 'Nestle Toll House'?!" And that's the whole episode.
H - You know it's funny because at first I was worried you'd think I was cheating by admitting the recipe originally came from the chocolate chip package. But, like, I'm not going to lie.
C - No! I think that's extremely natural and how a lot of people, myself included, develop recipes. You need a starting point.
H - Sometimes I'll just sit and flip through cookbooks and then I'll just go cook. It's inspiration. I don't even bring the book with me. That's exactly it; it's just a starting point. I'm worried it's sometimes frowned upon but like, that's what you do.
C - Two types of people in the world: those who do it and those that lie and say they don't.
H - Exactly!
[Stopping to set up the stand mixer]
Hold on, I just need to beat the butter. One thing I've found while developing this recipe is to beat the butter until it's extremely creamy BEFORE adding the sugar. A lot of recipes tell you to just cream the butter and sugar together, but I find beating the butter until its really light before adding the sugar really helps the texture of the cookie.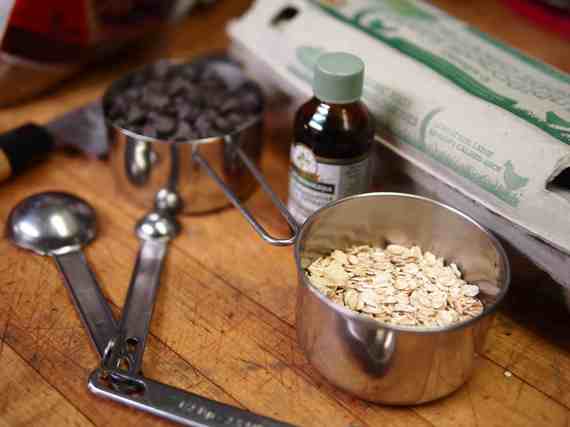 C - Have you ever read Momofuku's baking book?
H - No. But I've eaten their cookies.
C - Christina Tosi offers a really different method to making cookies. She beats the eggs, butter and sugar on high for almost seven minutes and it creates a very crispy exterior cookie with a gooey centre.
H - Oh my god, that's really cool. I could see how that works. Everyone loves a different style of cookie. Some people like them really crunchy, some cake-y, some almost raw on the inside -- I personally don't actually like them raw -- so there's so many methods to baking cookies.
C - Cookies are pretty personal.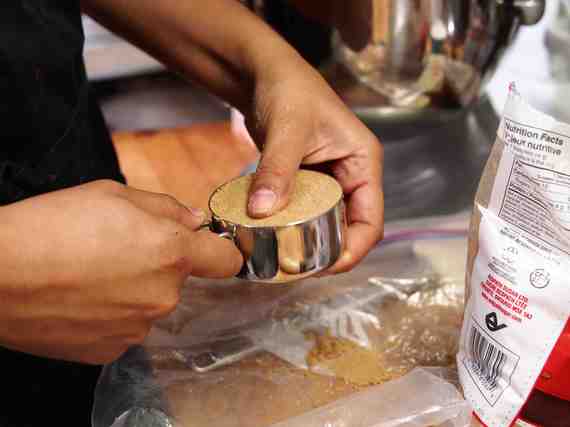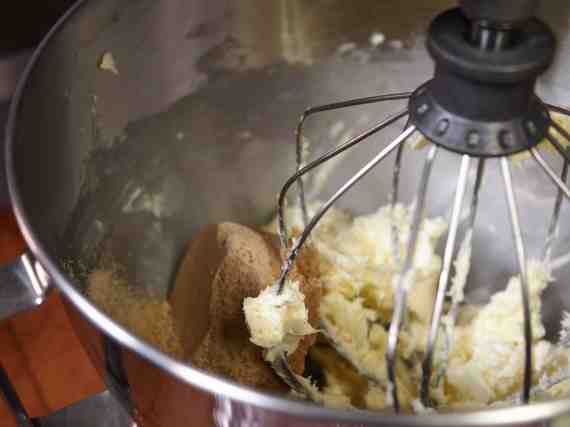 So maybe tell me a bit about growing up and how your mom would cook.
H - My parents are Chilean. You'd think my mom stuck to Chilean food but no she didn't.
C - Chilean food is a lot of beef, right?
H - No, that's Argentina.
Chilean food is influenced a lot by the fact it's geographically this long country along the coast. So a lot of seafood.
I love Chile, but I'm not going to lie their food isn't amazing. There's some comfort foods that are great like their empanadas and their amazing desserts with Dulce de Leche but a lot of their food is pretty plain. Bland almost. But my mom really expanded from that. She'd cook really fresh and add a lot of garlic which made everything taste really good.
One thing that was different in my house was mayonnaise. My mom would always make it, we never bought it. It was always fresh with the oil and eggs so when I went to my friends' houses as a kid I'd be like, "What's Miracle Whip?".
[Baking continues]
Do you have a measuring spoon? I actually need to admit that if I were at home I'd probably just have eyeballed the salt which I know is really bad but since you're here I want to do it properly. But at home I eyeball a lot of stuff.
C - That's totally cool. That's how people cook at home.
H - Ya. It's just how I grew up watching my mom cook and now I do it to.
C - Let's focus on the Toronto Unground Market. How did it all start?
H - When Andrew [my ex-husband] wanted to open La Carnita I was very tentative. I didn't want to just drop a million dollars into the project and sort of be like, "oh well I hope this works out!" because that's what starting a restaurant often is. So when I heard about the San Fran' underground market I was like, we should do this, it'll really help launch your restaurant.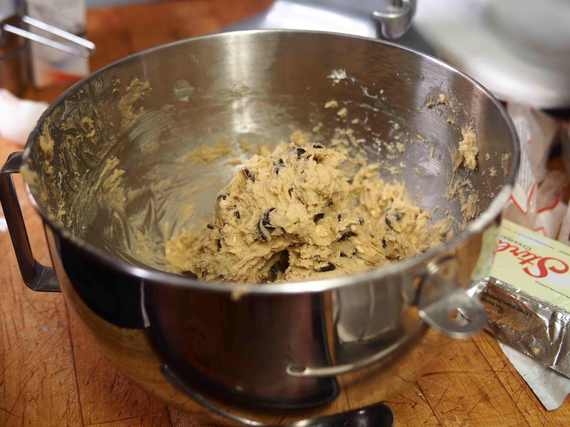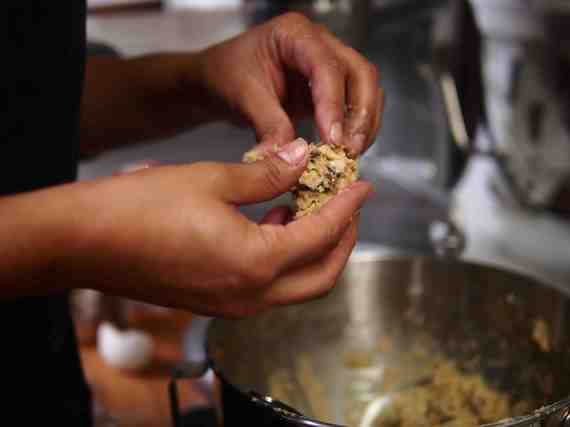 C - Where does Kate come into this?
H - She's been an integral part from the beginning. She did a lot of event planning before so when I decided to jump right into TUM, I asked Kate to help me out because she had so much experience with events. She has been such an important part of TUM right from the beginning.
Can I also just say, I love that you're writing about home cooking because that's what people think about when they come to TUM. A lot of our vendors don't have any professional culinary experience. It's just home cooks who bring their favourite dishes and it's amazing. TUM is really cool because it just allows anyone to come out.
C - That really does separate TUM from a lot of other events. It breaks down these imaginary walls of what professional cooks can do and what home cooks can do.
So I know Rock Lobster came from TUM, but who else?
H - Ya, so Matt Dean from Rock Lobster, Andrew from La Carnita obviously, Fidel Gastro, Elyse from Sullivan and Bleeker says TUM helped launch her business -- Elyse is such a powerhouse by the way, it's wonderful -- the guys from West Side Beef Co., Laura Slack is an amazing chocolate artist that was in TUM. Who else? Umm. FeasTO. Have you ever heard of them? I think they're getting a location soon.
C - I've definitely heard of them. I follow them on Twitter.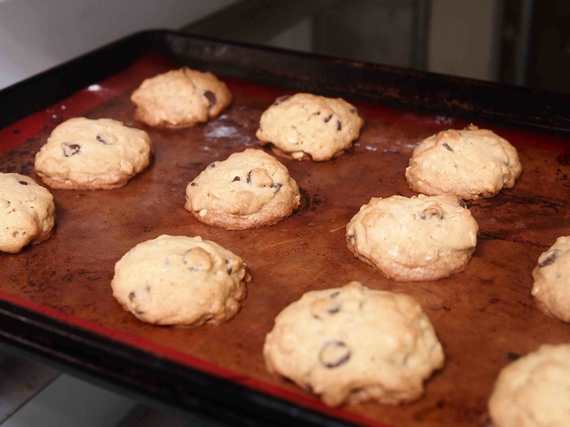 What's your favourite dish you've had at TUM. Or your craziest.
H - Craziest is easy. It was in the beginning from a vendor called Bistro Filipino... or was it Filipino Bistro? I can't remember. Anyways, they brought like a living fetus-egg. I remember during sample day I couldn't even go there. It's like a not fully developed fetus, but more developed than an egg. It's hard boiled but it has, like, little formed bones and stuff. That was definitely the craziest.
C - And favourites?
H - Because of my personal tastes, I love Asian food. Thai, Vietnamese. Maybe because of growing up I never had it so I just really love Asian flavours.
And I'm such a sucker but the original fish taco from La Carnita is amazing. It's nostalgic for me. Andrew can't even look at it anymore but I just love it.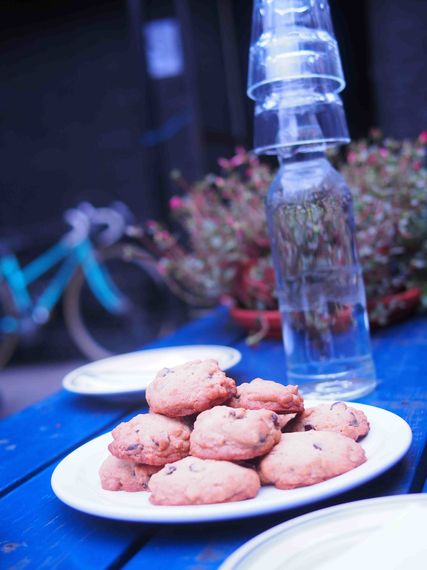 C - Can you tell me about the decision to end the market and why you and Kate decided it was a good time to stop the event?
H - It's been an incredible three years and we could not feel happier or more proud; this was not a sad decision for us to make. Since the beginning we always wanted to do whatever was best for the vendors. In the last three years, there has been massive change in the Toronto food industry and especially for events. In order to stay relevant and be able to help local food talent in the best way possible, we felt we had to stop doing TUM events and instead put that focus on future projects.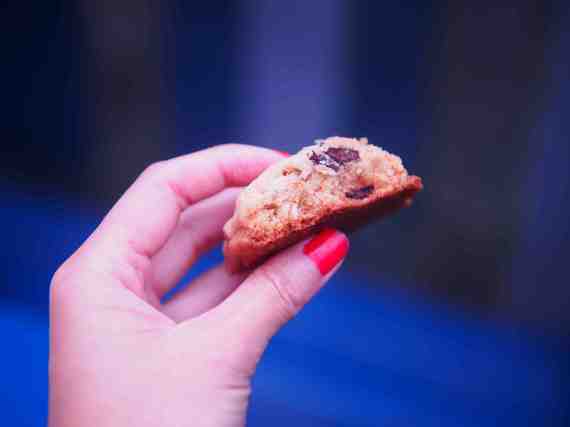 C - Future projects? Anything you can talk about now?
H - A few members of the TUM committee, Kate and I have been working on launching a food business incubator with a rentable commercial kitchen for about 18 months now. We have found it difficult to make progress on this project while also doing TUM. In addition, we also have a few other opportunities that we hope to launch in 2015.
C - As the final TUM approaches, what are you most proud of?
H - I feel most proud of two groups of people that evolved out of TUM.
First, the vendors that were able to use TUM to launch their businesses and make their food dreams come true. The TUMalum stories have been incredible to witness and completely blew away my expectations - in the beginning I underestimated the power of TUM. TUM has been integral in strengthening the existing food community and creating new members since 2011.
Secondly, the TUM committee and all of the volunteers that have helped execute TUM. I was very naive when I started TUM and it was a passion project that turned into a business. I didn't have a business plan and I had never done an event in my life before TUM. The committee and all of the TUM volunteers made all of these events possible. It would have been and still would be impossible to do TUM without them.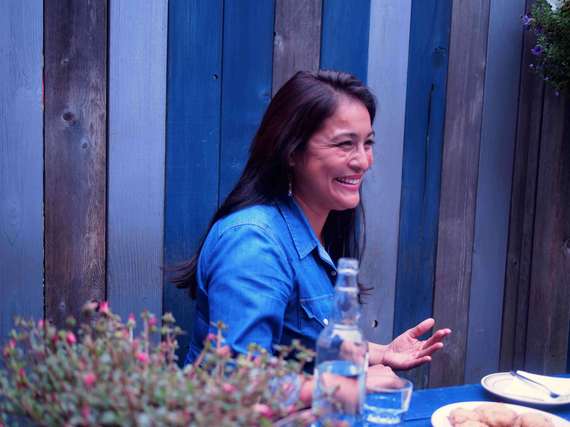 FLASH FRY!!!!!!!
Favourite:
Weekday meal? Stirfry
Weekend meal? Roast chicken with lots of fresh herbs, potatoes, garlic and vegetables.
Cookbook? Come on! Do you know how many I own? That's like trying to pick your favourite baby. So many favourites. I dunno, um, Plenty by Ottolenghi.
Music to listen to while cooking? It's usually SoundCloud or Songza.
DJ SONGZA! YAY! Any favourite playlists? I love 'Indie Apartment Party'. And my sister recently got me into 'Vintage Reggae Covers'.
Nice! I recommend 'Punch Bowl Pop' while cooking. It has lots of classics and '90s hip hop like TLC.
Fall soup? Butternut squash
Fall dessert? I'm not a big pie person, but i love crisp. So like apple crisp, blueberry crisp, pear crisp, apple-pear crisp.
Fall produce? Probably apple because there are so many kinds. And it's such a versatile ingredient.
Restaurant to bring your kids to? I used to bring them to La Carnita a lot. But I also like bringing them to Terroni. It's a classic and a fav'.
Recipe to make with your kids? Baking. I love to bake with them because they get so excited. It's such a treat.
Restaurant to go to without the kids? I could give you a long list but I'm going to say Campagnolo.
Bakery? Nadege. I will also say, though, I'm really excited for the new bakery that The Tempered Chef is going to open in Parkdale. I hear it's going to be right up there with Nadege.
Cafe? The one I go to a lot is Voodoo Child. But I love so many!
Local vineyard? I'm going to go with this white wine from Prince Edward County. Oh man, what is it called again. It starts with a "C". Um. Closson Chase!
Local Brewery? It used to be Duggans but you know what, I'm going to go with Stone and Hammer.
Photography by Dixie Gong, a Toronto-based writer, photographer and stylist.
Chocolate Chip and Oat Cookies
Ingredients
1 cup butter (room temperature)
1 cup brown sugar (firmly packed)
1 egg
1 2/3 cup AP flour
1 teaspoon vanilla extract
1 teaspoon baking soda
1 teaspoon salt
1/3 cup oats
1 cup semi-sweet or dark chocolate chips
Directions
1. Preheat oven to 375F
2. Cream butter on medium until extremely light and has changed from yellow to almost white (about five minutes). Add brown sugar and cream until completely incorporated and fluffy. Add the egg and vanilla and beat for thirty seconds further.
3. In a separate bowl, whisk together dry ingredients (flour, baking soda and salt). On low speed, mix the dry ingredients into the sugar-butter mixture until just incorporated (no more than one minute).
4. Detach the mixer and fold in the chocolate chips and oats with a spatula.
5. Line two baking sheets with parchment paper or a silicone liner. Portion out small balls of dough with a spoon or ice-cream scoop about 1-inch apart.
6. Bake about 10 - 12 minutes.
MORE ON HUFFPOST:
Check out 10 things we ate at the July 2014 edition of the TUM. And of course, since we didn't have the stomach to eat everything, let us know which ones we missed.
Toronto Underground Market Eats