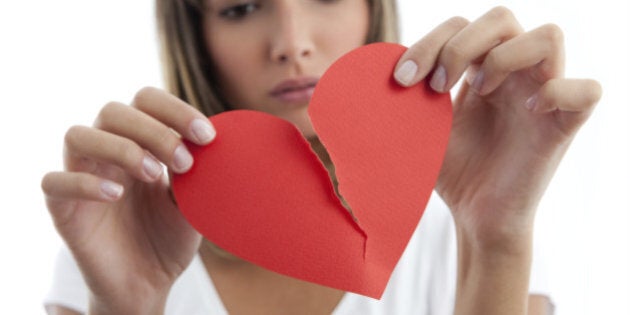 Recently a close friend of mine confided that she was in the middle of a separation and came to me for consolation -- well, really she came to me looking for an ear, a bag of junk food and a bottle of wine. Break-ups are hard, but potential break-ups I think are even harder. It made me remember throughout the years how much we've all been there.
It's easy to forget how in the moment devastating a break-up can be. In retrospect, it is warranted, because for many their lives are completely tossed upside down, torn apart, and sometimes without even the slightest of kind consideration from their former partners. Let's not even begin to mention that it's actually weeks before Christmas and New Years, which, in my opinion, is the most inflicting time of year to be single -- (at least at Valentine's Day there are honourary events being held for singles and people are aggressively looking to get laid so that they actively avoid being alone on V-Day).
The most wonderful time of year can be the worst time of year if you're going through a break-up right around this time; especially if you already started buying stocking stuffers, because well, pre-planning is your forte, you A-type person, you.
So, this got me thinking. When will she be better? How long does it usually take to get over the broken heart bullshit, pick yourself up off the ground and get back out there? In the middle of the reflecting and indulgences I was inspired to come up with a list. This list contains the basic stages (as experienced in my inner circle) of what it looks like to get through a break-up. It is satirical and should be seen as such, but none the less, I think you will be able to identify in your own way with some of these phases of a break-up.
1. The Wine Aficionado phase
You call your girls up, they bring a bottle of wine each, light some energy clearing sage and just go off. You have the friend that listens and validates your experience by nodding and making great eye contact, the friend that makes sure your wine glass never goes empty and, the friend that rages with you, preferably via the use of unique profane mash-ups such as: "Mark was so lazy and he always found the one way to insult you... he's such a trifling douchebag," and so on. Either way, the wine stage is all about drinking, getting out your ugly cry and letting all your emotions flow freely. Just be warned that you need to give one of your BF4Ls your cell phone or at least let it drain all the battery. Drunk dialing/texting is the catalyst to morphing an amicable ending into WW3, unless it's been a longish period of time since the break-up, in which case jump to phase #3.
This is where you start to realize that you're alone. You no longer have anyone depending on you on a daily basis, and everything seems to feel a lot quieter around you. You're left with your thoughts, Bluetooth, a hot bath and time to reflect, finish your Newsroom episodes and clear your head. You go over the best and worst experiences of the relationship. You start remembering where you may have slightly overreacted just a tiny bit, maybe didn't say the right thing and where they just knowingly pushed all your buttons or seemingly ignored all your needs. This period is about looking back to learn the lessons about yourself which, hopefully, you take on with you to your next relationship -- especially if they manifested as being destructive in your previous one.
I don't know about you, but in my experience most people have at least one unexpected, really intense, where-did-you-learn-to-fuck-like-this, goodbye sex session. It's like the last hoorah before being let out unto the world. It happens for many, most of the time by surprise and can be cathartic in providing closure to the novel of your relationship. Plus, orgasms are like, really good for you, so why not end it on a high note? Just be careful to avoid becoming each other's booty calls. The sex was great for the time and the appeal of the no strings attached sex is inevitably awesome, especially after a few martinis on ladies' night out, because, well, feelings. Be warned, or else you could fall victim to the booty-call-Ex-GF/BF-blues wherein one of you feels like you should re-connect, but the other is thinking "not so much."
You can quote me on this: sometimes you just have to "fuck it out." Seriously. Break-ups suck because that shit is hard. For many, their whole lives get torn apart. Friends are split, houses need to be sold, children automatically become pawns -- even if you don't intend on that happening... Either way, sometimes the willful physical comfort of another person is just what the doctor ordered. Let's be real. Orgasms feel really great and offer a variety of benefits especially for the broken-hearted. It can be said that sexual distraction, although it may not always be the best method to console yourself, is at times warranted and needed to help you regain your sexual self-confidence and get that serotonin flowing again. This is why you tried to get all your awkward hook-ups out of the way in university, so that you wouldn't have to do this again -- but, then again, life happens and, it can happen with Jim, Steve and Jane all in one week. *wink, wink*
Then we come to fulfilling what all the other stages were trying to accomplish, but unfortunately fell flat of doing. There comes a point in time where you stop, reflect and start looking at how you can begin to heal. You might start volunteering, take a meditation class or get into juicing. Either way, there consistently begins that turning point where you actually apply the healing process inward and start taking care of the most important person in your life, which is you. Making small life changes, picking up a new hobby and eating better are all examples of the ways we begin to help ourselves so that we can project our greatness into the world and leave the past where it should be.
A big part of life is learning lessons, growing and applying positive changes in order to become meaningful people within your world. There will come a time, even though it may feel doubtful right now, that you will reach it and begin to love yourself again. You have grown, you have lived and you will love again. Trust me.