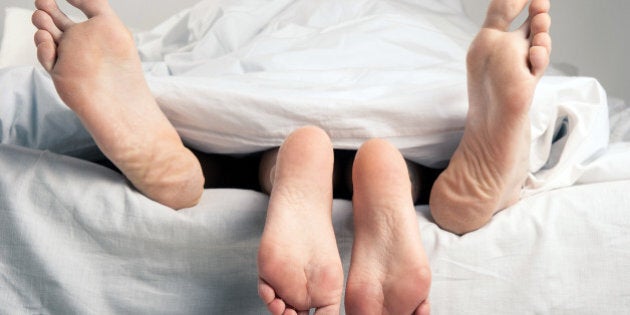 This relatively new concept has begun to spring up and I think it is going to be one of the hottest new trends in the sex industry. What is an ecosexual, you might ask? Well, if you're Googling your little heart out, you may come across the Ecosex Manifesto at SexEcology by the infamous Annie Sprinkle. The manifesto is about looking at the Earth not as 'mother', but as 'lover' -- calling to reduce our carbon footprints and revolutionize how we each truly impact our environment.
What's a better trend than being eco-friendly and increasing your pleasure capacity at the same time?!
Being able to experience ultimate pleasure and be ethically conscious, non-toxic, vegan and/or fair trade all sound like familiar trendy and hipster buzz words going into Spring 2013; but let's be honest -- eco conscientiousness is imperative for the success of our future and the future is sexy!
Here's a quick list of how you can incorporate some ecosexy changes for yourself.
BLOG CONTINUES AFTER SLIDESHOW
[Note: Do not reduce, re-use or recycle your condoms -- be smart & protect yourself.]
1. Rechargeable, solar-powered or glass sex toys
What you're looking for here are waterproof, rechargeable and phthalate-free items. There are many amazing product lines that offer exactly what you're looking for, such as Lelo, WeVibe and JimmyJane being among my favourites right now. Then there are other options such as choosing recyclable products such as solar powered or glass options. Solar powered is a great option to consider, especially for travelling, camping or for your glamping needs. Glass pleasure products are hypoallergenic, rechargeable & don't fall victim to deterioration or odour accumulation. Another benefit being that they are also rather visually appealing! Lucky you, in my search I also had the benefit of finding Glass Dildo Me, which is a company that creates all sorts of glass dildoes, with the added benefit of the completely customizable to your dimensions & design option. What's not to love more about pleasure products that are recyclable, beautiful & eco friendly?
2. Eco-cleaning your sex toys:
When thinking about cleaning your pleasure products, try using everyday household items. In my research for this piece, I was looking into natural toy cleaners for purchase. What I did find though could be considered a bit of a surprising twist! What kept coming up was "how to clean baby toys." Then I thought, if it's good enough for baby, then it's also good enough for mommy and daddy! When thinking about natural, gentle, clean and effective cleaning of your 'adult toys' these tips were a perfect fit. If you're looking for a more natural way that doesn't involve a manufactured toy cleaner, or you're looking for another option other than the easily available soap and water, try using equal parts white or apple cider vinegar, then add a couple drops of tea tree oil for a more enticing scent -- it's that easy. Or, like our bras and baseball caps, if it's appropriate in your home, throw it in the rinse cycle of your clean dishwasher for a squeaky clean energy saver. Cleaning your toys in between delicious romps with either yourself or your partner is important in maintaining your sexual health and in decreasing the risk of infection or transmission, especially if you are not playing with barrier methods such as condoms.
There are a few product lines that are staying right on trend with this eco-sexy need. Australian made company, Glyde, produces condoms that aren't tested on animals and are without animal by-products. Hailing from the U.K., French Letter Condoms pride themselves on being ethically conscious. Part of their proceeds also go toward ensuring that the rubber-plantation workers receive fair wages. Then there are Sir Richard's condoms, who donate proceeds and a one to one purchased condom to developing countries. They are also vegan and offer paraben-, glycerin-free lubricant within. Finally, there is Japanese company Kimono. They are considered by some, the thinnest and strongest of the vegan-friendly condoms. All of these companies are socially engaged, promote safer sex through harm reduction and are eco-friendly. When wrapping up, why not be ecosexy at the same time?
If you're looking for a product that will be sensitive to not only your body, but to the planet as well, look for lines that offer plant-based ingredients, are water-based and say that they are natural and organically certified. One of my favourite is the Sliquid Organics. But, if you're trying to claw your way through this unpredictable economy like many of us and are looking for cash flow sensitive options, look no further than your own pantry! Naturally processed oils such as olive, coconut or grape seed are great because most of us have a few bottles currently kicking around our cupboards and they taste fantastic!
Just a final tip: be sure to look out for glycerin or high fructose contents in any possible product you apply between your legs as lubricant, in order to avoid the risk of possible uncomfortable infections.