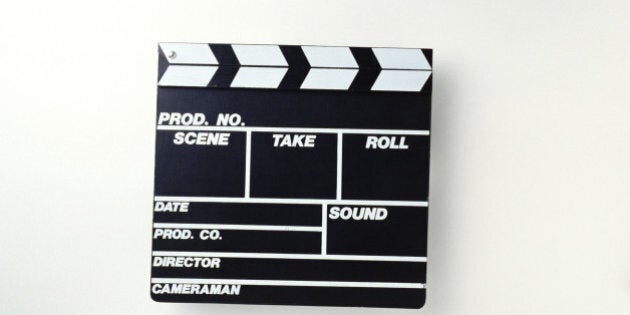 It was the Feminist Porn Awards this past week in Toronto. This meant that some of the best female erotic film making talent were in one place at one time. The number of pure orgasms that this group of women have immortalized is outstanding. #alltheorgasms
An initiative born 10 years ago by Toronto's Good for Her, this event has grown and become an international genesis of feminism, pornography, personhood, healthcare and the discourse intermingled between.
Thankfully, with the influx of talent I was able to chat with award winning filmmaker Erika Lust. Not only is Lust a phenomenal female entrepreneur, her bold emergence into the world of erotic film making has only shown a glimmer of the greatness that is yet to be born of her talent. Lust has undoubtedly been a breath of fresh air into the erotic genre industry.
Lust's best piece of advice was in regards to being a career motivated woman: "You have to just start -- stop thinking about being perfect". She started off making her films because she saw a need for not only the porn industry, but for her own personally motivated pleasure usage as well. She didn't want her daughters to grow up and be exposed to the commercialized and commoditized usage of women's bodies that is typical in mainstream porn; she demanded something different, thus her journey began.
"I consider myself a filmmaker. Pornography feels like it's very anti-woman, feminism can feel like it's very anti-man -- how can they be together?" was one of the first questions she asked herself while threading the waters of her creativity. As a sex-positive feminist, I admittedly, have asked myself this question a few times. While the dust settles, the conclusion is that there is a common ground and that's what the Feminist Porn Awards and the magnanimous women involved have proven.
At the Awards last week, Lust's filmsThe Art of Spanking, I wish I was a Lesbian and XConfessions Vol.2 were nominated, as well as her website XConfessions.com. Being among an elite group of women and contributing to the creation of a new discourse in erotic film, this is one of the best events of the year with Lust headlining this shift for sex-positive feminists everywhere.
As I sat with Lust, I start by asking her "why porn?" Much of our conversation begins with reference to the TEDxVienna talk she completed in 2014 entitled "It's time for Porn to Change," where she states "everywhere, the role of women is under debate -- everywhere, EXCEPT in the porn industry. It's time for porn to change and, for that we NEED women in leadership roles."
Lust, in her high energy glory said to me "people look for porn because they want to learn about sex, but [the problem is that] it's not showing what real sex is about. A huge amount of [porn] is not respectful to women, nor men." This is why Lust created XConfessions.com and has taken her films out on tour. She felt a need to widen the genre of pornography that was available.
What the best part? (Because yes, there's more!) Lust's film team is made up of 90 per cent women that she says makes a difference in the process of making the actual films. She states that her production sets cater to everyone involved to feel comfortable in being present and in providing their opinions. It truly is a shared magical experience.
"People think it's all an erotic party says Lust, "[but], it's actually all very technical. The best moments are when you see the actors in action making their own magic moments, because, it's all about chemistry. If they, are not passionate about each other, it's boring!" The beauty of XConfessions is that Lust not only hand picks her actors based on their chemistry, but the films are all based on real people's experiences or fantasies and submitted anonymously via the site.
XConfessions Vol. 2 of which she was nominated for at the FPAs 2015 showcase the 10 best confessions submitted in the 1st half of 2014. To commemorate the awards, she hosted an event at the Royal Cinema in Toronto entitled "Erika Lust & XConfessions: A Night of Indie Erotica" which featured a directors' cut of the best short films from her XConfessions tour.
When one third of all internet traffic is estimated to be pornography, it's clear that pornography IS today's sex education, even though it is not an accurate portrayal of what real sex is actually all about. That's why the #changeporn movement began. Her female lens contributes to the culture by suggesting that we all become responsible consumers of pornography. #ChangePorn is about acknowledging that porn is a significant genre and a huge contributor to the society we live in, but we must take a critical eye in its consumption and evaluate the roles we all play, alludes Lust. "We need to start telling the story of ALL the world's sexuality."
The Feminist Porn Awards have become an important event, which "started small, like the filmmakers but, have all grown." Being afraid of the business of sex and being anti-mainstream is actually hindering the expansion of new sub-genres within erotica. "Mainstream, is not such a scary word, because it means more people are taking it in." These ideas are how we create the change that many of us are seeking in pornography. Lust clearly sees the problem and lives the change she wants to see in the world.
Erika had a final reiteration from her TEDxVienna talk. "I think it's our generation's responsibility to re-think pornography. Don't get me wrong, eh? The sex can stay dirty, but the values have to be clean" and that my friends, I would agree, is the fundamental way to change porn and accept that feminism, pornography and pleasure can exist and complement each other wholly.