The ability to digitally transmit information and, moreover sexually intimate content in particular, has lead to interesting results such as that of unlimited texting packages, selfies and various filter apps. This new age trend has hit our mobile units by storm, and let's be honest -- where there's digital technology, there's someone else trying to have sex with it. Because well, orgasms.
We've long overcome pixilated and distorted images and, have moved on up to high quality, so-good-you-can-see-their-no-longer-secret-mole-on-zoom graphics at a surplus supply, mass consumed at the quick dip of your digit.
Whether you want it or not, if you're cruising the dating scene, eventually the day will come when the tone of your cheeky characters create an illustrative make it or break it moment when you will be asked "why don't you send me a pic?" For some of my single friends, this hurries most of them to rush to the shower, start shaving their tasty bits, and then concurrently get me on the phone. For what cause, you might ask? Affirmation. Let's be clear here, sexting a delicious pic of your tasty bits DOES NOT make you:
C) The negatively induced and widely misunderstood "slut"
The aforementioned list is clearly a culprit of erotophobia deeply entrenched within our society, wherein the mere grazing of enlightenment towards healthy sexual patterning creates venomous panic; but, in all reality the affirmation that they are looking for is because really, you don't want to look like a tosser in front of someone you're trying to turn on. Here's the deal: don't be afraid that you'll end up sending pictures of yourself drizzling honey with the caption "this is why they call me sugar tits," then have a #sexypicfail #meltdown -- that's not going to happen, unless you want it to. The best thing to remember is that engaging digitally is ALWAYS a negotiation and the rules of consent ALWAYS apply.
Here are a few tips to making sure you have a successful #sexypic exchange:
If you're entering the mutually consenting agreement to take it to the next super sexy exhibitionist stage you need to make sure there's a little foreplay. Don't just jump in and put the goods on display! This is your chance to get a little creative and play Mistress Tease. Every great sex act has a great story before it, so take your time and play a little bit. A quick pic of your perfect pout, curvaceous hips, lacey leggings, then cleavage could be the perfect path to getting your potential lovers' attention and keeping it interesting.
Choose your weapon wisely, young Padawan. If you don't feel comfortable in someone possibly random having a tres titillating snapshot of your nekkidness, then that might be something you will want to consider. And NO, they are lying to you when they said they deleted it...trust me. Use a digital medium you are comfortable with like, Snapchat -- a.k.a. the virtual Ode to Dick Pics. The photos disappear after three seconds, which for you and your situation may be more comforting than texting or iMessaging. If you choose to use a more permanent mode of delivery such as text or email, then have fun with it by adding filters, trying various angles, or use Skype/Facetime which may help make the moment last just a little bit longer and satisfying. Just be sure to have your devices password protected so as to avoid any unnecessary peeks at your pics.
3. Get yourself feeling sexy
Start by talking a little dirty, then go put on some lingerie, those too tight Armani boxer briefs, or trim the hedges if that's your thing! This might be show and tell, but don't forget that this sex act is also for you. If you aren't even slightly turned on by the idea, what's the point then, really? The thought of having someone else want to worship you where you are in control of the content can be quite a turn-on.
But, what's the key for a sexy snapshot performance? You sooo need good lighting. Don't take your pictures in the dark and call it artistic. If you're going to play in the big leagues, stop prancing around the goal line. Remember, this should feel as sensual for you to act as it is to receive. If you don't feel comfortable, stop -- you always have the option to say no.
We are our own worst critics, said somebody important at one time or another. Being sexy isn't about duck-facing, have doubled-up on the bra pumped up breasts, stylized bed-head or the right pectoral pic. It's about embracing your own beauty, whatever that looks like. Here's the deal, if your potential lover is playfully teasing you with a consensual sext, it's because they find you attractive. Stop second guessing your sexy self worth. You are a beautiful person inside and out and, all people are deserving of pleasure & intimacy... no matter what their body type. In the wise words of John Mayer "your body is a wonderland" and your sexy sexting digital lover is waiting to discover it.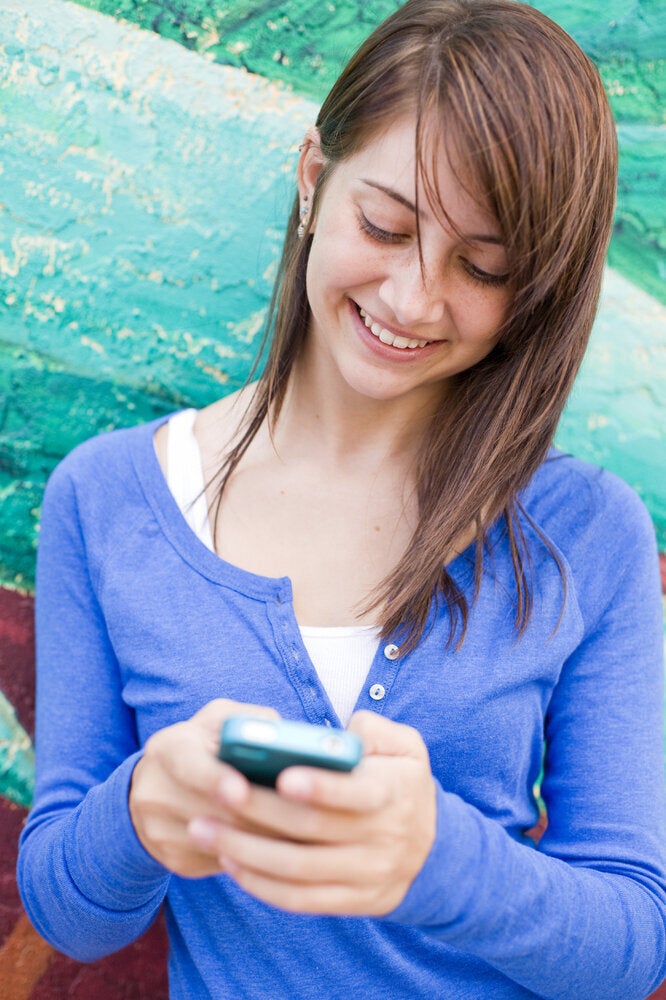 Studies About Kids And Technology