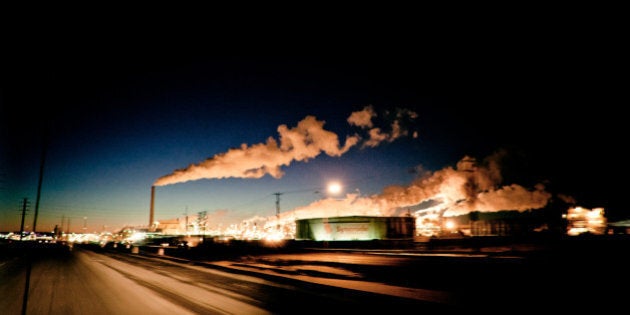 www.DeSmogBlog.com/CryWolf" data-caption="DeSmogBlog investigates the controversial decision by Alberta's government to ignore the threat of rapid industrial expansion in the Alberta Tar Sands region, and instead kill thousands of wolves to appear to be doing something to save dwindling woodland caribou populations. Through interviews with scientists, wildlife experts and a First Nations chief, the myth of Canada's "ethical oil" is further exposed as oil industry greenwashing. Learn more at www.DeSmogBlog.com/CryWolf" data-credit="Kris Krug/Flickr">
A new poll released Friday shows the majority of Canadians assume development in the Alberta oilsands has a much larger impact on nation's economy than it actually does.
According to the poll, conducted by Environics and commissioned by Environmental Defence, 41 per cent of Canadians believe the importance of the oilsands to the economy is six to 24 times higher than it actually is. And a full 57 per cent of Canadians overestimate the value of oilsands to the country's economy.
The oilsands, according to Statistics Canada, account for only 2 per cent of the national GDP.
Despite the misconception, however, 66 per cent of Canadians still support a transition to a cleaner economy that would limit dependence on the oilsands.
In addition, 76 per cent of Canadians believe that, in light of climate change, the country should shift from fossil fuels to cleaner energy.
A recent report from Natural Resources Canada, released quietly at the end of June, said Canadians can expect more floods, storms and other extreme weather to affect the country as climate change increases. The report also claimed governments aren't doing enough to adapt to a destabilized climate.
The report noted in Canada there have been "relatively few examples of implementation of specific changes to reduce vulnerability to future climate change, or take advantage of potential opportunities."
The federal government has spent millions of taxpayer dollars to advertise the importance of the oil and gas sector, and especially the Alberta oilsands, to the Canadian economy and domestic energy security.
The efforts to shore up the reputation of the oilsands have been met with criticism, however, because the federal government has not released long-awaited regulations for the oil and gas sector.
The oilsands are Canada's fastest growing source of greenhouse gas emissions.
Canada committed to reducing greenhouse gas emissions 17 per cent below 2005 levels by 2020 under the Copenhagen Accord, although a recent Environment Canada report showed Canada's current weak emissions reduction measures will prevent us from meeting that target.
Last month Prime Minister Stephen Harper and Australian Prime Minister Tony Abbott publicly criticized governments for taking action on climate change.
Prime Minister Harper said, "it's not that we don't seek to deal with climate change. But we seek to deal with it in a way that will protect and enhance our ability to create jobs and growth, not destroy jobs and growth in our countries."
"No country is going to undertake actions on climate change, not matter what they say, no country is going to [take] actions that are going to deliberately destroy jobs and growth in their country. We are just a little more frank about that," he said.
In late 2013 the Canadian Association of Petroleum Producers (CAPP), the country's largest oil and gas lobby body, claimed concerns over the oilsands were "ideological." The claim was made in support of arguments against stronger regulations, documents released under Access to Information legislation show.
Another Environics poll released in November of 2013 showed Canadians are losing confidence that governments will take meaningful action to prevent climate change. Although Canadians feel it is the government's responsibility to take the lead on emissions reduction, very few feel current governments will actually do so.
Today's new Environics poll demonstrated Canadians might support that expert recommendation, saying the federal government should work on an economic strategy that reduces dependence on the oilsands and moves towards cleaner energy.
The poll asked 1,011 adults in an online survey the following question:
"Q1: Approximately what percentage of the overall Canadian economy do you attribute to the Alberta oil sands?"
The potential answers were: "2 per cent, 6 per cent, 12 per cent, 24 per cent, 48 per cent, Don't Know."