Bell Let's Talk Day was on January 28. I heard on the news that there were over 100 million tweets, retweets, messages, etc. With 5 cents being donated for every one of those messages being sent, it goes along way to supporting mental health.
This is a campaign which is very near and dear to my heart. For the reason that many youth, young adults and older adults suffer from the extremes of mental health issues. Many are embarrassed to talk about and subsequently don't seek help.
Many are afraid to talk about it for the reasons that it may affect the way others regard them. They may be afraid that if their employers knew that they had a mental health illness, then they wouldn't be competent enough to do their job. Would an individual get as stigmatized if they had a heart condition, a brain tumour or even a blood disorder?
My daughter Amanda had depression and anxiety. When she finally had the courage to speak up and talk about how she felt, others made fun of her. With that, she retreated more into her shell.
Here is a sample of how she felt in a letter she wrote to another mom describing her pain. I remember Amanda sending me this and found it again in my computer just the other day. It saddens me how someone so young and who should have been enjoying her teen years felt and internalized feelings that we all wish as parents and caregivers never existed.


I want Amanda's words to be a reminder to others. If you are a friend of someone who is saying similar kind of words, HELP them or go find someone who can HELP. Often the person that is in despair is no longer able to seek support. That is why it is important that we all learn about the signs of mental illness so that we can lend that hand.
In the Angel Rehtaeh Parsons' Facebook page today, I found this message blow. Three more teens that should be looking forward to their futures. Three more families devastated by grief. Many more teens who will be upset at the losses of their friends. Those teens here and now must be cared for. Research has shown that the two years after the death of a friend are the most critical. This is the time to talk, not be silent.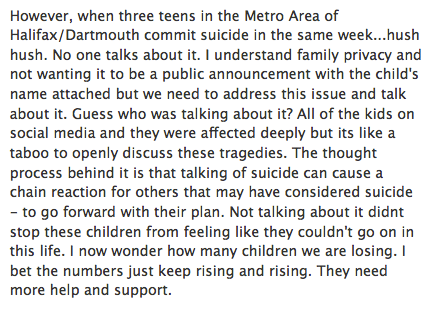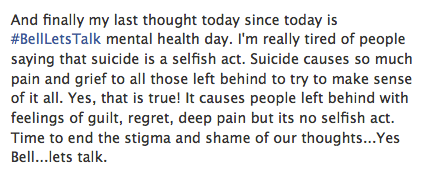 The British Columbia Teacher's Federation recently focused their Jan/Feb New Magazine on mental health issues. The articles talk about the different concerns, symptoms and what needs to be part of the solutions.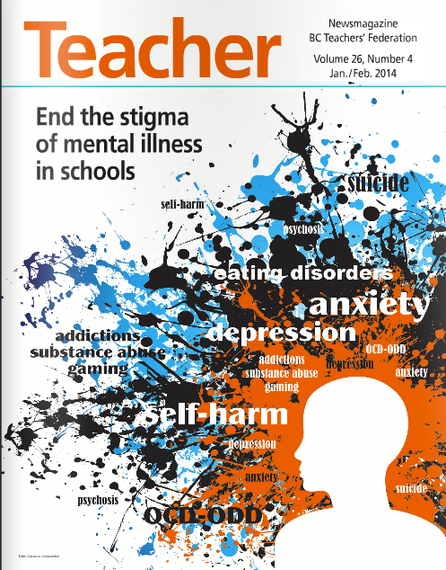 I also found this article. The headline says it all -- Toronto schools will get mental health training. I think it is a step in the right direction as the majority (not all) kids are in our school system. I can only hope that it will be something that every school district in Canada and beyond will embrace.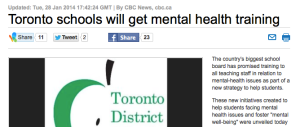 There was also this tweet on the #BellLetsTalk twitter page.

Tony is right. The conversation needs to continue -- every day -- 24/7. But only we can make sure that happens. Like Pink Shirt Day, it isn't a one day campaign. It is a 24/7, 365-day a year endeavour.
I have been in contact with many parents from all over the world who have lost their children too soon. The one message that is the same and consistent no matter what the international boundaries may be is that we all need to work together to shift the way of thinking and to make the change!! Please take note of every commerical ad, public service announcement, magazine and newspaper article that talks about mental health awareness.
You are missed everyday Amanda by all those that loved you. Even by those that never knew you.