Earlier this month, Shoshanna, a mother of two girls and three boys, shared a photo depicting the stark contrast between two magazine covers -- Girls' Life and Boys' Life.
The male version's main header jumps off the page with the strong messages "Explore your future" and "Here's how to be what you want to be." The female magazine's headlines are anchored in archaic notions of femininity, focused instead on back-to-school fashion -- how to "slay on the first day," "first kiss confessions" and "waking up pretty."
Shoshanna's open letter to the magazine editors went viral on her Facebook page. I first came across the story in Refinery 29, and had to double-check the publish date since I was in partial disbelief that these opposing covers were in fact from 2016.
To this day, sexism still pervades our media landscape and oftentimes advertising appears to have been pulled straight from the Mad Men era. Many magazines, commercials and billboards still tell girls that they are less intelligent or weaker than their male counterparts. Their value lies in their appearance, not their contribution to society.
From magazine covers to real life -- girls are still discriminated against. The reality is that young girls face more adversity than others due to their age coupled with their gender, making them one of the most vulnerable groups in the world. We should be mindful of the conflicting messages girls are exposed to and the unique challenges they face. Girls have a remarkable inner strength and I want to shine a light on their inherent power and potential.
I am proud to be part of a team that launches campaigns that depict girls as heroes of their own lives. Our latest campaign, Rally Behind Her, disrupts the status quo and rightly portrays girls from around the world as powerful champions. The exact kind of heroism that is traditionally associated with boys and men.
The campaign places a girl at the heart of her own story of adversity and triumph, which plays out in a stadium filled with a cheering crowd. When we rally behind girls, they can break down barriers and realize their inner power.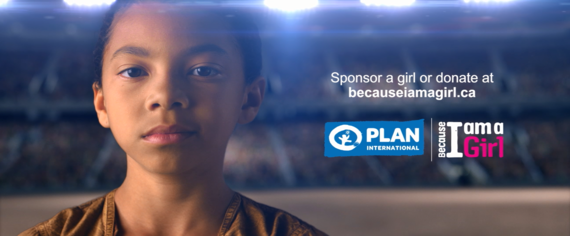 The Rally Behind Her campaign portrays girls from around the world as powerful champions. (Photo: Plan International Canada).
Our responsibility to rally behind girls also carries significant weight on a global scale. Every day, millions of girls around the world are denied their basic human rights simply because they are young and female. In fact, 62 million girls worldwide are denied an education. Girls are twice as likely as boys to be malnourished. Girls are forced into child marriage, live in fear of gender-based violence, and are prevented from making important decisions about their own futures.
Behind each statistic is a real story. I often think about a remote rural community in Bangladesh where the rainy season creates a dangerous walk through waist-high water for girls to get to and from school. Ultimately, parents and children rallied behind the idea of school boats and girls' dormitory, and thanks to community sponsors these ideas became a reality. By helping to eliminate the barriers to education, these girls now have a chance to stay in school and thrive.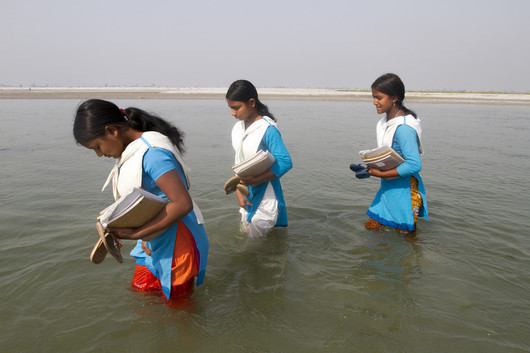 In Bangladesh, girls wade through a river to get to school, (Photo: Plan International/Saikat Mojumder)
The stories keep on coming -- around the world, girls continue to fear for their safety, even when they're walking in public places. Just this week, a woman in India was stabbed 20 times in broad daylight as dozens of passersby declined to step in. This is why this campaign is so necessary.
I am delighted to work at an organization where our work -- whether it's in the field or through our storytelling, serves as a constant reminder that young girls everywhere are capable of incredible feats. Whether it's penning a Facebook open letter to the editors of a girls' magazine, signing a petition or sponsoring a girl, the onus is on everyone to help girls everywhere defy the odds.
Follow HuffPost Canada Blogs on Facebook
Also on HuffPost:
Photos Of Girls Going To School Around The World