For years, you train tirelessly and make sacrifices in pursuit of one goal. Through unrelenting determination and sheer talent, you finally reach the world's greatest theatre of athleticism -- a level of competition few ever reach. With the world watching, you clinch the medal and make it to the podium, realizing a lifelong dream. You are an Olympian.
Then you see it: the headline describing your victory reads, "Wife of a Bears' lineman wins a bronze medal today in Rio Olympics."
You are a fierce competitor, gifted athlete, an Olympian, but with one headline these accolades are sidelined. Your value is placed not on the fact that you have just won a medal for your country, but on your relationship with a man.
Wife of a Bears' lineman wins a bronze medal today in Rio Olympics https://t.co/kwZoGY0xAXpic.twitter.com/VZrjOvr80h

— Chicago Tribune (@chicagotribune) August 7, 2016
The case of Corey Cogdell-Unrein is just one example of the sexist media coverage female athletes have been subjected to in Rio this week. While some have tried to excuse this commentary as simply infusing colour into the Games, there is a decidedly sexist undercurrent to this media narrative.
Of course, this thinly veiled gender discrimination is nothing new -- the accomplishments of women in positions of power and authority are routinely diminished. These female Olympians have fought too long and hard to casually brush such comments off as innocent, offhand remarks. This coverage represents a deep, systematic devaluing of women's contributions.
Not only do female athletes have to put up with comments on their appearance or uniforms, they are also almost always paid less than their male counterparts. This isn't exclusive to the sporting world -- the gender pay gap is present in all fields of work.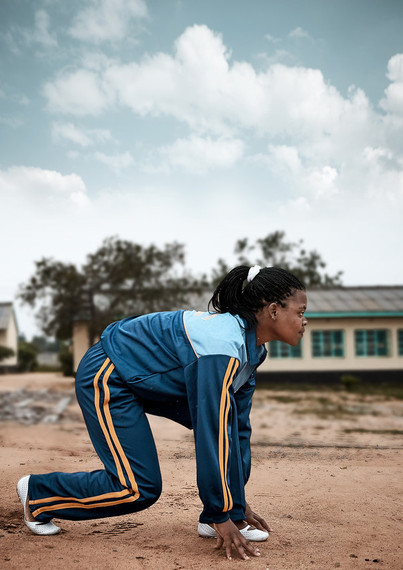 "I love playing sports," says Emiliah, who lives in Epworth, arguably Zimbabwe's biggest slum settlement and home to thousands of poor families (Photo: Plan International).
During NBC's coverage of the U.S. female gymnastic team, a commentator remarked that the athletes looked like they "might as well be standing in the middle of a mall." To position this all-female powerhouse of athleticism using the stereotypical image of young girls shopping at the mall is incredibly disappointing. These adolescent girls, who dominated the competition with their unabashed grit and talent, deserve to be treated not with a pithy observation, but rather with respect.
Adolescent girls around the world struggle against these sexist narratives every day.
At Plan International Canada, we strive to dismantle these narratives through our Because I am a Girl movement, working with girls and young women from around the world to fulfill their potential. When I helped lead a Youth Empowerment Forum in Ottawa this past spring, one of the biggest concerns I heard from the young women was the limiting and destructive impact that prescribed gender roles can have on a girl's self-identity.
This coverage represents a deep, systematic devaluing of women's contributions.
One of the participants voiced the sentiments of her fellow participants: "The extent of the frustration of the young women in the room cannot be described by mere words. Our collective experiences encompassed years of questioning, curiousity, anger, and sometimes lowered self-esteem as a result of not feeling valued in our need to have our voices heard."
These sentiments are shared by young women from around world, like 16-year-old Maria, who is a member of Plan International's Girl Leadership Project in São Luís, Brazil: "We deserve to get an education and to take part in sports activities -- if we're told 'no' it destroys our development and we aren't equal."
In Brazil, this struggle for equality is one of life and death as thousands of girls and women are subjected to violence by men every year. In the wake of the recent gang rape of a 16-year-old girl in Rio de Janeiro by 33 men, I was so outraged by yet another tragic incident of gender-based violence that I challenged Canadians whether or not we should be participating in the Summer Olympics in Rio at all.
As Canadians watch their athletes battle it out in the Olympic arenas of Brazil this week, I hope they remember that in the very same country, and around the world, young women like Maria battle injustice and inequality every day.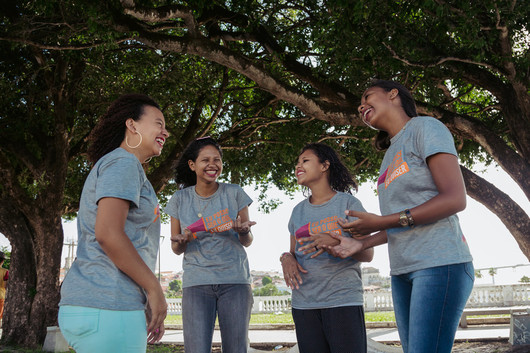 Members of Plan International's Girl Leadership Project are standing together, taking on congress and calling for Brazil to put an end to gender-based violence (Photo: Plan International).
These young women and girls are part of a larger global movement that is demanding an end to gender inequality. Unwilling to simply accept the same old narratives, people have taken to social media to express their outrage at this week's coverage. In an impressively prescient campaign, Dove's #MyBeautyMySay encourages the media and the general public to focus on the athletic ability of women in sports, not their looks.
This rejection of the status quo is perhaps most powerfully demonstrated by the young girls around the world who are bravely breaking down gender roles through sports in their communities, dreaming of one day standing on the Olympic podium.
These women and adolescent girls have incredibly powerful stories to tell that have nothing to do with their appearance or marital status.
Despite the sexist coverage, Team Canada's medal rankings speak for themselves this week, with all seven (at the time of this writing) of the country's medals coming from female athletes.
These women and adolescent girls have incredibly powerful stories to tell that have nothing to do with their appearance or marital status. Their stories speak of determination, courage, athleticism and overcoming adversity. These women are Olympians. Let's start treating them as such.
Follow HuffPost Canada Blogs on Facebook
MORE ON HUFFPOST:
Canadian Medallists at the 2016 Rio Olympic Games