Last winter, when I shared the news with my seven-year-old son that I was taking a job as president of an organization, he responded: "But I thought only men were presidents."
Despite my careful, concerted efforts to raise a son who believes in a just and equal world, the prevailing image he saw was that of the American president. He saw a president as a man.
From Hollywood blockbusters to the daily news cycle to social media streams, the dominant image of power is male. Words are only so persuasive -- but seeing is believing.
As a child growing up in North America, a continent where every country is led by a man, my son simply expressed what he saw. Imagine how different it would have been had we lived in Iceland during the presidency of Vigdis Finnbogadottir, the first and the longest-sitting woman president in the world. Because of what they saw, children began asking the president if a man could ever be elected to her role.
Imagery and symbolism are powerful forces, especially to children. It is vital that our younger generations see women in leadership positions.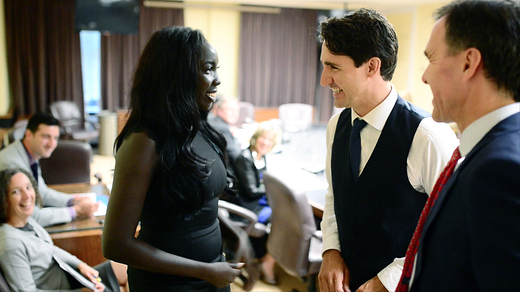 Plan International Canada Youth Ambassador, Nyagua, with Prime Minister Justin Trudeau and Finance Minister Bill Morneau. Photo by Plan International Canada
Last week, girl ambassadors from Plan International Canada used #GirlsBelongHere to challenge Canadian leaders to give up their seats leading up to October 11th -- the fifth International Day of the Girl. I, along with federal ministers, members of Parliament, ambassadors, school board directors and CEOs answered the call by inviting a girl to take the lead for a day.
In fact, a group of remarkable girls joined political leaders on Parliament Hill for a day as powerful agents of change this week.
The Canadian #GirlsBelongHere initiative is part of a global movement in celebration of International Day of the Girl, with over 160 leadership roles being filled by girls in over 50 countries. The world will see girls in leadership positions, bringing forward a triumphant narrative -- and a powerful picture -- of gender equality and empowerment.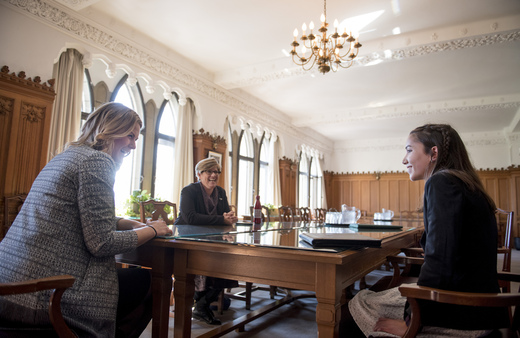 Plan International Canada Youth Ambassador, Diviya, with Rachael Harder, Conservative MP and Critic for Youth and Persons with Disabilities. Photo by Plan International Canada)
When I entered adolescence, I experienced a distinct shift in how I was valued and measured by society. Though I had the highest grades in my class, my teachers and peers expressed disbelief that a teen girl was the top student.
Of course, devaluing girls and women is a symptom of larger, systemic gender inequality that persists in every country in the world.
Globally, the proportion of senior business roles held by women stands at 24 per cent, up slightly from 22 per cent in 2015. Nationally, women still only account for only 26 per cent of seats in the Canadian Parliament. And this year, the average proportion of women in executive ranks remained at just 15 per cent in Canada.
As I navigated my career as a young woman, I wish it had been society's belief rather than disbelief that ignited my drive and determination.
Growing up, there were few women in executive and leadership positions for me to see and draw inspiration from.
Today, we are seeing more women leaders on the international stage, trailblazers like Christine Lagarde, Angela Merkel, and Hillary Clinton. Here in Canada, we have seen strong political figures such as Elizabeth May, Rona Ambrose, and Kathleen Wynne.
This November in the United States, a woman has the chance to shatter that highest, hardest glass-ceiling. If history is made, the headlines we see that day will shape and reshape the worldviews of young girls and boys everywhere.
As I navigated my career as a young woman, I wish it had been society's belief rather than disbelief that ignited my drive and determination. Too often, I was fuelled by the desire to disprove those who doubted that I could achieve my goals.
Despite the barriers I have faced, as the President and CEO of Plan International Canada, an organization that strives to empower girls and women on an international scale, I know that I am privileged.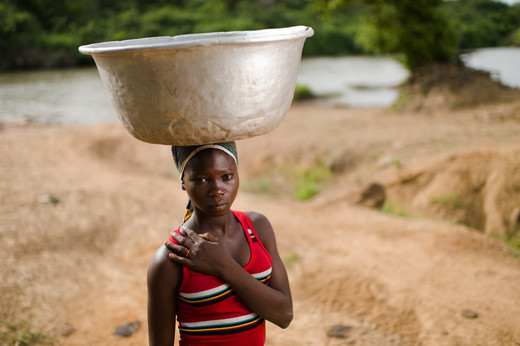 A girl in Ghana on her way home after collecting water from a river. Photo by Plan International / Nyani Quarmyne
Millions of adolescent girls around the world remain marginalized and invisible, and are bypassed by global progress. They bear the brunt of poverty, are denied an education, forced into marriage, subjected to violence and barred from decision-making roles.
As Plan International Canada's Global Ambassador Madame Sophie Grégoire Trudeau declared last week, we will show girls here and around the world that they belong in the seats of classrooms, boardrooms, senates, courtrooms, press rooms, corner offices, and everywhere else where decisions are made.
I urge all Canadians to join the movement by sharing a message of support online using #GirlsBelongHere, taking a selfie sitting in a symbolic leadership seat at the Eaton Centre in Toronto from October 9 -- 11th , and of course by calling on leaders to make gender equality a reality.
As a girl growing up, I could only imagine a world in which true gender equality existed.
It's 2016. Let's build a world where girls don't have to imagine. Because seeing is believing.
Follow HuffPost Canada Blogs on Facebook
Also on HuffPost:
Photos Of Girls Going To School Around The World