As I sit here writing this, the sun has just disappeared behind some heavy grey clouds and I fear I won't see it for months to come. Try as I might, I can't seem to get out of my clothing rut as I reach for the same blue jeans and black hoodie, day after day. I have a closet full of pretty clothing, but somehow it seems like an insult to the weather to wear anything but grey or black.
The leaves have been the most brilliant shades of scarlet and gold, but now many of them are lifeless and limp, lying in puddles on the street.
Wow, I'm getting depressed just writing this. It's kind of representative of fall though. There are dazzling moments filled with colour and sunshine and in the next instant, everything is grey. Who can keep up? Maybe it's time that we create our own sunshine.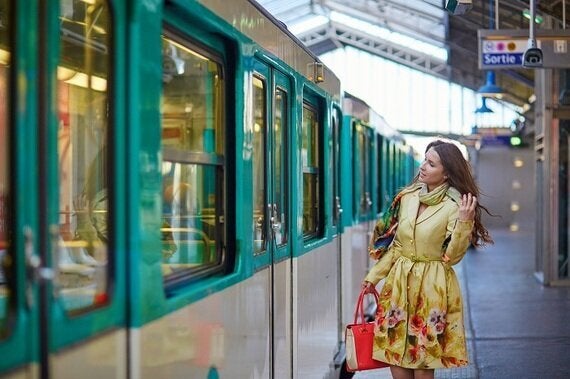 image courtesy of DollarPhotoClub
HOW TO ADD COLOUR TO YOUR FALL WARDROBE
Sure, you always need neutral bags in black or brown, but it's never a bad idea to throw in an unexpected and fun bag. Yellow, fuchsia, orange or even a bright blue will always work with a neutral outfit. Just let the colour speak for itself and look for a classic shape that will be in style forever.
Outfit Idea. Pair a chunky sweater with a suede or leather mini (yes, it can be a little longer) and knee high or over the knee boots. Pull the outfit together with a colourful accent bag.
I'm not a fan of too much jewelry, but a great pair of brightly coloured earrings will reflect the light casting a bright glow on your face. This can be especially handy when it's grey and bleak outside.
Outfit Idea. A pair of flared jeans, a turtle neck and a moto jacket always work. Now add a pair of bold jewel toned earring which will cast a radiant glow on your face.
Not only are sunglasses practical and you should be protecting your eyes year round (the sun's rays can be just as damaging in the winter months), but luckily they are always a stylish fashion accessory and one that we can never have enough of. Instead of choosing the expected tortoise or black frames, look for ones in violet, green or even with some sparkle.
Outfit Idea. Channel any number of style icons, but give the look a twist by pairing cropped trousers with a white shirt and camel coat and then topping off the look with oversized sunnies in a bright colour.
The sad truth of fall and winter is that we have to pull the gloves out on a regular basis, so instead of opting for the same old, same old, a pair of jewel toned elbow length gloves is just fancy enough without being over the top. I can guarantee that they will make you smile every time you reach for them.
Outfit Idea. Why not try a midi skirt, booties and a 3/4 sleeve jacket and some brightly coloured elbow length gloves? Sophisticated and refined, this outfit will be perfect for dinner, the theatre or if you just want to feel a little special.
Do we ever need an excuse to buy a new pair of shoes? Can we really ever have enough? This season velvet is huge and a pair of velvet ankle boots might just be the item your wardrobe is screaming for. Sure, they require a little extra care, but they will be the statement you need every single time you pull them out.
Outfit Idea. Sure, you can wear a pair of velvet booties with your boyfriend jeans and a cute bow blouse, but they will look just as fabulous (and give you a 70s vibe) with a long sleeved maxi dress.
If you are feeling more daring and can't bear the thought of pulling out yet another black outfit, why not go for blue? It's still a neutral, it's not too bright, but it's also not black.
Outfit Idea. A navy coat over an indigo dress with a light blue bag will add a certain depth and dimension to your look without being all black.
What we wear impacts our mood and while I'm certainly not against wearing all black, I think that there's something to adding a little bit of colour around your face. It will brighten a dull complexion and make you look more uplifted, which in turn will prompt compliments from friends and co-workers and that is almost guaranteed to brighten any mood.
Follow HuffPost Canada Blogs on Facebook