Carolyn Berry
These pumpkin pie inspired balls are the perfect punch of energy you need to get you through that tough workout, or just through the work day. They're a great balance of fiber and protein, which is what a healthy, balanced snack should have. Skip the granola bar aisle and avoid snacks with an ingredient list for the most part.
These will take you no more than 20 minutes to make, and no kitchen gadgets needed. Store them in the fridge for up to one week, or in the freezer in an airtight container or freezer bag for up to three months.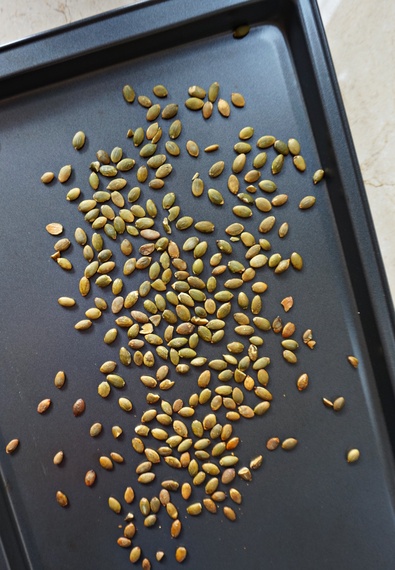 Nutrition Benefits & Tips:
High in fibre: oats, ground flaxseeds, pumpkin puree, pumpkin seeds.
Pumpkin seeds are a great source of iron, copper, manganese, potassium, calcium, magnesium, zinc, selenium, fibre and healthy fats.
Natural peanut butter is a great source of healthy fat. Try substituting a different nut or seed butter.
Maple syrup is a natural sweetener. Substitute with honey for a different flavour.
Boost protein by adding 1/4 cup skim milk powder to the recipe.
Healthy snacks, including this one, should include both fiber and protein.
Pumpkin Spice Energy Balls
Source: Berry Nourished
Ingredients
1 1/4 cup large flake oats
1/4 cup ground flaxseeds
1/2 tsp cinnamon
1/2 tsp pumpkin pie spice
1/4 tsp fine grain salt
1/3 cup natural peanut butter
1/3 cup pureed pumpkin (canned or homemade)
1/4 cup pure maple syrup
1/3 cup dark chocolate chips
1/4 cup pumpkin seeds, toasted
Instructions
1. Preheat oven to 300 degrees Fahrenheit. Spread pumpkin seeds on a baking sheet and bake for 4-5 minutes, or until slightly browned.
Place oats, flaxseeds, cinnamon, pumpkin pie spice, and salt in a medium sized bowl. Mix with a spoon until combined.
2. Add the remainder of the ingredients and mix until combined
Using your hands, roll into balls (about 1 inch in wide)
Notes
Store in the fridge for up to one week or in the freezer for up to three months.