 Award season is set to come to its climactic close at the Oscars, on Sunday, February 24, 2013. No doubt all eyes have been, and will be, on the young Hollywood starlets dominating the red carpet. Anne Hathaway, Jessica Chastain, and Jennifer Lawrence will have camera bulbs flashing at them en masse as they slowly make their way into the Kodak Theater. These leading starlets will certainly be in their utmost stylish gowns, with not a strip of double-sided body tape out of place.
There's something that this Oscar Class of 2013 can take from the award show veterans that have, and continue to, grace the red carpet before them. Notably, Jessica Lange, Glenn Close, and Helen Mirren are red carpet wonders that have worked their best features at the recent Golden Globe Awards, and at numerous award shows over the years. Aside from the fact that this talented set of actors seem to defy aging, they also play up their best features, know the styles that suit them, and work the red carpet like pros. Anne, Jessica, and Jennifer, take note: here are three simple style lessons from the red carpet pros.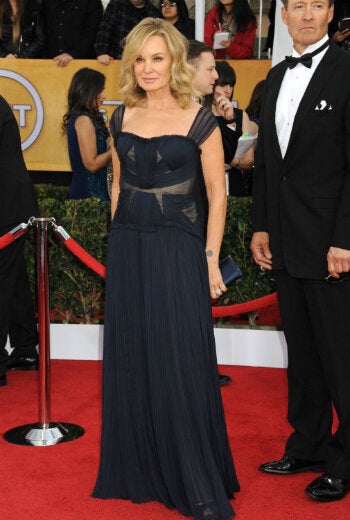 Photo Credit: Jmendel.com
1. Play Up Your Best Feature Like Jessica Lange
Jessica Lange leads the way in effortless allure. No side boob or Angelina Jolie leg needed. Instead, Ms. Lange knows that her best features are her defined collarbone, pert shoulders and elongated neck. It's no wonder that she opted for off-the-shoulder gowns at both the 2013 Golden Globes and the 2013 SAG Awards. Whether you're attending an award show or not, choosing a dress that shows off your best features has a big effect on how confident you feel in what you're wearing.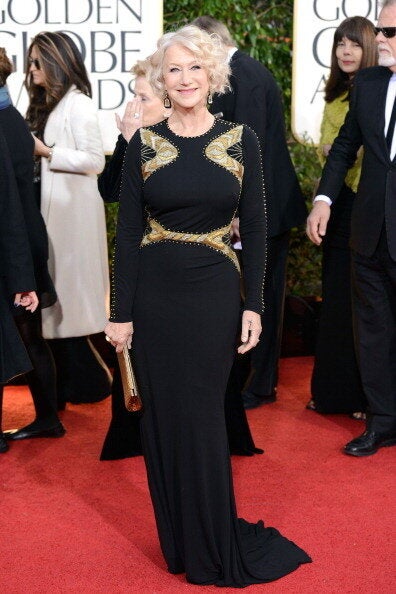 Photo Credit: Getty Images
2. Work Your Curves on the Red Carpet Like Helen Mirren
Not one to shy away from a form fitting dress Helen Mirren is known for showing off her enviable curves on the red carpet. On top of that, she has fun and coyly smiles for the photogs as she makes her way into the theatre. What we can learn from Ms. Mirren is to choose gowns that accentuate your form, but are also easy to move in. What good is a dress that shows off your curves if you can't properly walk in it? There's nothing worse than seeing an actress struggling to make it up a tiny set of stairs for their pre-show interview with Ryan Seacrest. Instead, let's work the body that our mama gave us in a dress that's tight, but not so much so that we can't breathe.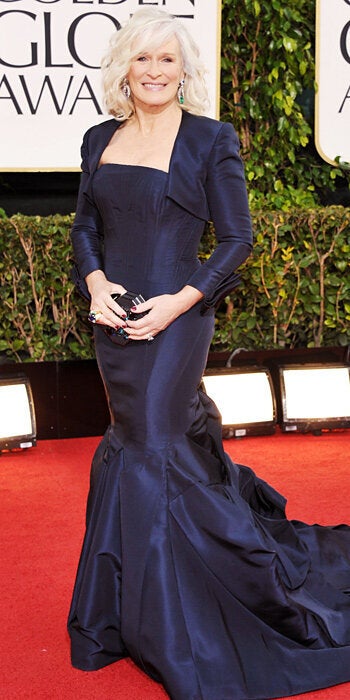 Photo Credit: John Shearer/Invision/AP
3. Wear Your Best Colour with Confidence Like Glenn Close
Glenn Close always looks like she has the best complexion in the business on the red carpet. This may be because she naturally has great skin but it also helps that she consistently chooses colours that work for her skin tone. Often choosing jewel-toned gowns, Glenn donned a warm emerald gown for last year's Oscars and most recently, she wore a deep sapphire gown at the Golden Globes, both by Zac Posen. These colours not only work best for her skin, but they also go great with her hair. Our Oscar leading ladies of 2013 should take their colour cues from Ms. Close and choose a gown in a shade that complements, rather than competes with, their look.
Finally, so much of looking good on the red carpet comes down to how you pose for the photographers. Our red carpet veterans have relaxed poses and even appear to have fun on the red carpet. So, Anne, Jessica and Jennifer, on Oscar night let's try to stand up straight, relax the tight grip you've got around your Swarovski encrusted box clutch, and smile a little...with teeth. I eagerly await February 24 in the hopes that you will take style cues from those before you. After all, who doesn't want to look like Jessica Lange?