Getty Images
This is probably the first spring in years where I don't have a wedding lined up for the summer. Well, I do have some coming up, but at this very moment, I have no wedding invitations in my hands. Yet, I've found myself casually window shopping online for the perfect wedding guest dress. It's not like I need a reason to go dress shopping, but there's something exciting about buying one for a particular event, such as a wedding. I think about the type of wedding it will be, and who will be there, and I choose accordingly. It's important when choosing a dress for attending a wedding that you dress appropriately. So, in the effort that I can be of service to some of you out there, here are the wedding guest dresses that have caught my eye.
Garden Wedding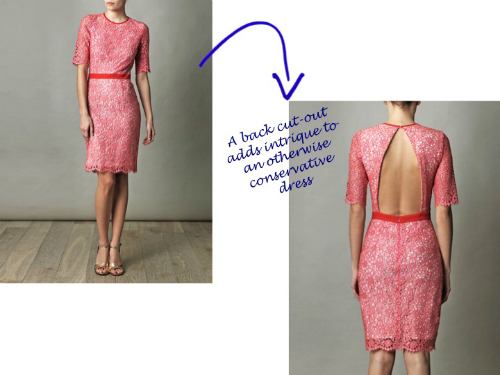 Lace cut-out back dress by MSGM
Think wearing a red dress to a wedding has been done before? Sure, you can casually leave the room if "Lady in Red" starts to play, but otherwise, wearing a red dress for a cocktail style garden wedding is as classic as classic gets. This lace cut-out back dress by MSGM is understated and elegant. A simple pair of single sole pumps are quite possibly the only accessory needed.
Chapel-to-Reception Weddings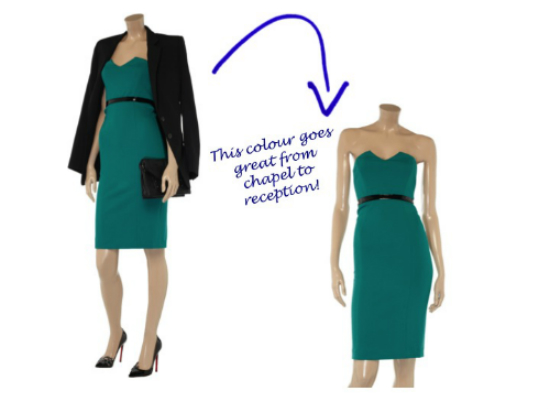 Strapless stretch-jersey mini dress by Catherine Malandrino
Going with a classic cocktail dress for chapel-to-reception type weddings is your best bet. With these weddings, you usually need to find a place to pass the time in between the wedding and the reception so it's best to choose a dress that's stylish and comfortable. This strapless dress by Catherine Malandrino is made of a stretch-jersey material which is lightweight and won't wrinkle easily after sitting in it all day.
Cocktail Wedding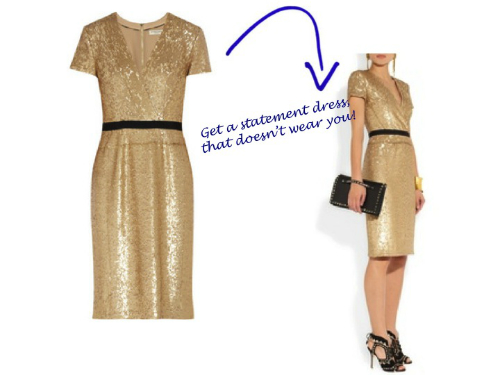 Sequin wrap-effect dress by Burberry London
Generally, I wouldn't recommend wearing sequins to a wedding but this dress would be perfect for an evening cocktail wedding. This type of wedding is becoming much more common these days which means that you are okay to wear an evening dress to the ceremony. Generally though, unless the ceremony is later than 7 p.m .followed immediately by the cocktail party and reception, sequins shouldn't be an option. Sure, this Burberry dress may be a little out of reach price-wise, but it's spectacular.
Some additional tips for wedding guest attire:
More is more when it comes to coverage. Be mindful of the length on your dress - avoid mini-skirts. Be sure to bring along a nice tailored cropped jacket if you're going with a strapless dress.
Follow the dress code if there is one. If the invitation says to wear all white, or all blue, or all polka dots, do it because it will make the bride happy. If the invitation says 'black tie optional' then cocktail attire is ok so long as it errs on the side of formal. It's the couple's day and if they want you to wear all white with purple stripes, then that's what we'll do.
Mind your toes! You've done it, I've done it. But try to avoid bringing flip flops for the dance floor. Instead, tuck away a pair of those Dr. Scholl's roll-up flats into your clutch for dancing into the wee hours of the evening.
Do not wear a white dress. Or ivory or cream for that matter, under any circumstances.
Ultimately, be sure to find something that expresses your personality, makes you feel great and is something that you will wear again. After all, you're not a bridesmaid so you might as well get multiple events out of the dress.