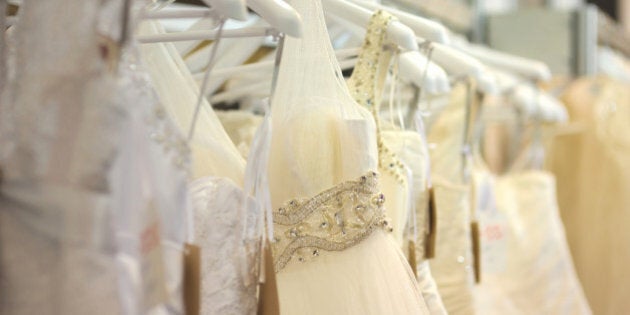 One of my favourite pastimes before and after my recent wedding on Aug 6th 2016 is to watch one of those bridal dress reality television shows. Instead of fawning over the choices, however, I am shouting at the screen; mouth full of popcorn.
"What?! I paid $150! Ha!"
That's right. I, at the age of 38, have become one of those elders who talk back to the TV like it's an episode of The Price is Right or Wheel of Fortune.
If you're not familiar with these heteronormative shows, they usually involve a bride coming into a boutique to choose a dress. While this may seem like a simple task, thanks to the drama and entitlement that weddings cultivate in people, the event becomes a circus in which sexist dads grimace and slut-shame their daughters into wearing something more 'respectable'.
Bridesmaids have tantrums in a world that does not celebrate their solitude and singleton status.
Brides-to-be cry in dressing rooms because their six months of starvation in preparation for the wedding pictures weren't enough to squeeze their beautiful body into her runway-sized frock.
It's sort of like a misogynistic telenovella, starring us. Only, I decided once I got engaged on the shores of Point Reyes, California, that hell no, I was not going to star in that poo-show.
I should preface this with telling you that I am a proud queer radical brown woman who was a single mom for several years, feeding and housing my child on a combination of arts worker wages, home daycare earnings and hustling. So the idea of ever spending thousands of dollars on a dress to wear for only one day of my life seemed preposterous, most especially when I could use the cash to fund my daughter's education.
"Plus, there was no way I was presenting myself to my partner as an untouched package for consumption. I am not for consumption, thank you very much."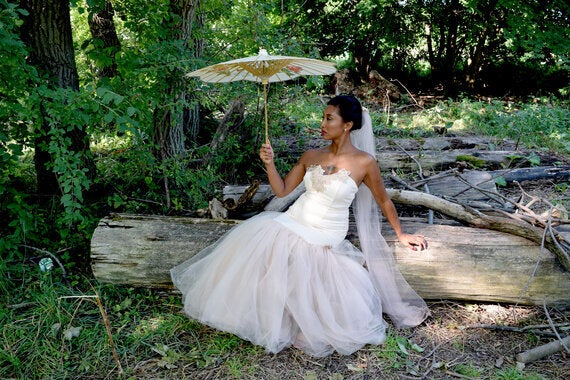 Part of being queer is thinking differently about the world and imagining it into being. What I knew was that I am not pure, angelic nor innocent. I have survived this world in ways that I am proud of, in ways that continue to surprise me.
White was out of the question.
Plus, there was no way I was presenting myself to my partner as an untouched package for consumption. I am not for consumption, thank you very much. I knew I wanted to be comfortable, I knew I wanted to wear what I wanted to wear and have no one dictate to me what is acceptable. This meant being apologetically body proud at all times. I earned these curves after 51 hours of child labour and eating well.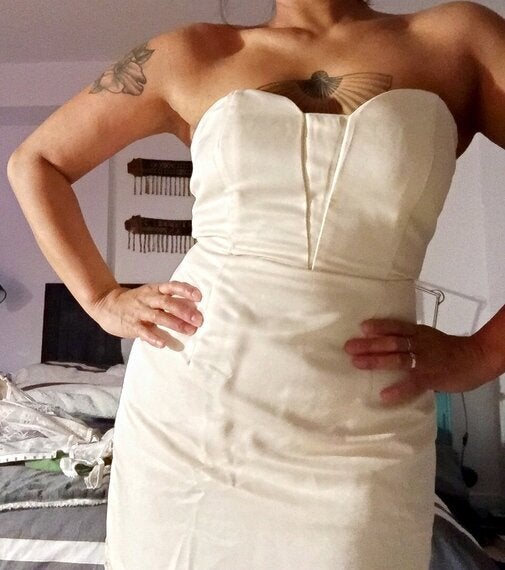 My daughter designed my dress. I told her I wanted it to be pink, mermaid silhouette with embellishments on the sweetheart neckline and tulle at the bottom. She designed it, then I went to work.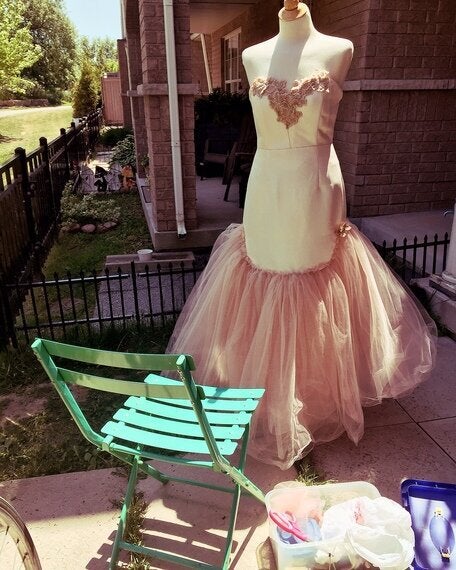 I enrolled in YouTube University. I bought a beautiful basic bodice from my favourite Montreal online store Boutique 1861, then added a tulle skirt as well as lace overlay on the neckline.
While it would have been awesome to learn to make my own bodice, I really wanted to splurge a whopping $65 on a bodice to ensure that it stayed on despite being strapless. Plus I do not own a sewing machine. It was so much fun binge-watching Netflix shows while I hand-stitched my dress into being.
I took pictures of the progress and showed them to my dressmaker friends for advice and encouragement.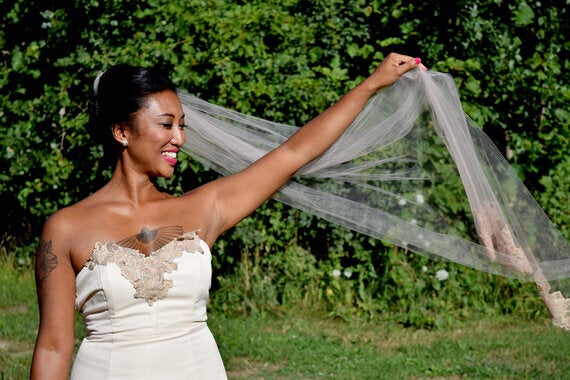 I had some leftover tulle and decided to make myself a veil, which was finished the night before the wedding. I even had time to barber my partner's hair and try out what is called the "bald fade", which I also learned from watching YouTube tutorials.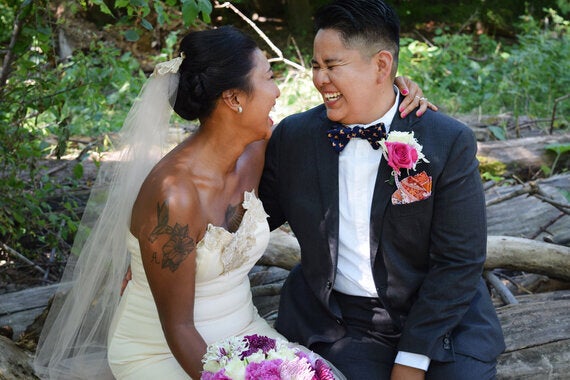 On the morning of the wedding, I finally put on the dress. It felt so comfortable. It was my dress designed by my amazing daughter. I authored this life into being: the family I always wanted, the partnership I knew I deserved, and the wedding to celebrate it all. Why not author the dress as well?
It was empowering. Also, seeing my gorgeous daughter, who deserves the funds to go to school more than I deserve an overpriced dress, helped me know I made the right decision.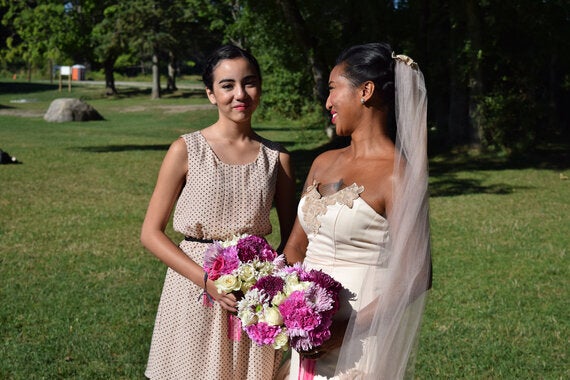 Follow HuffPost Canada Blogs on Facebook