The Canadian seal hunt is the largest slaughter of marine mammals in the world. Since 2002, more than 2 million seals, most less than three months of age, have been brutally clubbed and shot to death on the ice floes of Canada.
Now it has come to light that owners of a California-based company have been charged with conspiracy to commit a number of acts related to smuggling Canadian seal oil into the United States, including allegedly illegally marketing more than 3.4 million seal oil capsules to customers in the U.S., Canada and Vietnam. These are criminal actions under the 1972 Marine Mammal Protection Act, which strictly prohibits trade in marine mammal products.
An investigation by the U.S. National Oceanic and Atmospheric Administration alleges that the husband-and-wife owners of UBF Group worked with a Chinese company for the import of seal oil caplets falsely labeled as fish oil. Customs declarations reportedly were also altered. The accused couple face penalties of up to 60 months in federal prison per violation, a potential seven-figure fine and forfeiture of all property used in or to facilitate this crime.
Humane Society International's Canada Executive Director Rebecca Aldworth said: "The U.S. market has been closed to seal products for four decades, despite the efforts of some disreputable companies to circumvent the law. We are grateful that NOAA treated this matter seriously and that the U.S. Attorney's Office has laid these charges against the accused. This case should serve as a warning to other companies that smuggling seal products into the United States, or any other region that has prohibited seal product trade, is a major offense that carries significant penalties."
I have campaigned against the Canadian seal hunt for 10 years. In 2006, I offered the Canadian government $16 million to shut down the hunt immediately. Despite the fact that my offer received international publicity, the Canadians refused to even contemplate the proposal.
I have been in touch with Canadian fishermen who no longer want to endure the dangerous conditions of the hunt and would like their government to consider a buy back of their licenses. They realize that they are part of a dying industry as the market for seal pelts has closed around the world. However, the Canadian government refuses to buy out the industry, instead choosing to heavily subsidize the seal hunt.
There are now fewer markets for seal products, as the European Union, Mexico, Taiwan, and the Customs Union of Russia, Kazakhstan and Belarus have all joined the United States in banning this trade.
The owners of UBF Group should be aggressively investigated, and, if warranted, prosecuted to the full extent of the law. In doing so, the U.S. will send a strong message to Canada that it's time to put an end to the inhumane seal hunt.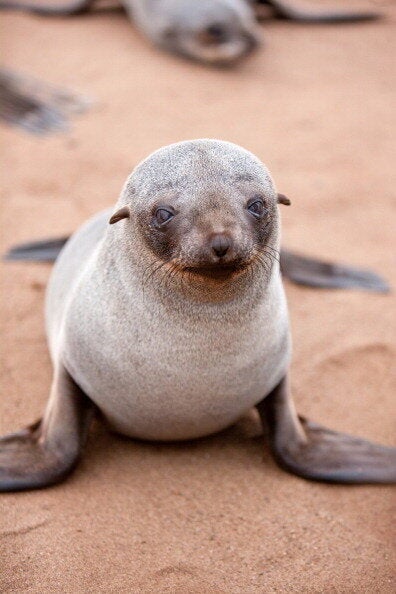 Namibian Seal Hunt (GRAPHIC)