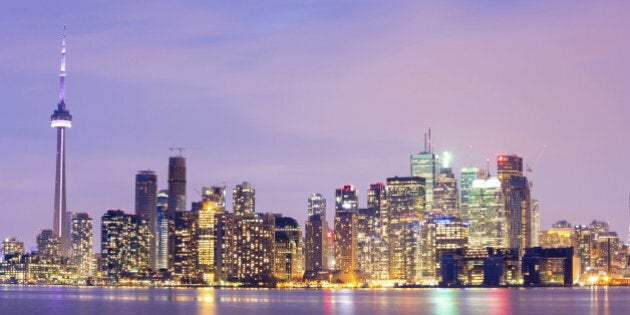 I was recently in Toronto to interview John Tory, the 65th and current mayor of my adoptive hometown. After an interesting and stimulating exchange, I left his office with a greater appreciation of this thriving city.
Thinking about my return to New York, I couldn't help but make comparisons. An age-old saying came to mind. "The grass is always greener on the other side." In my case, was it greener on the other side of the border?
Not long ago I discussed this adage with my New York friends who refer to Toronto as, "that clean, friendly city with the crazy mayor" (notably chronicled in the biography, Crazy Town - the Rob Ford Story). Their conversation quickly turned to how "dirty and busy" their city is, before ending with conviction, "But I love it here and would never leave."
North of the border, Torontonians gush about how much they love New York, especially the ease of getting around, something their city sorely lacks. However, even those frustrated with Toronto's woeful public and expressway systems readily admit, "But I couldn't live anywhere else."
Loving our city, wherever we are, is the perfect introduction to my interview with Mayor John Tory, as I share my top seven reasons to appreciate Toronto.
Mayor Tory, in office since late 2014, is passionate about his city. A successful lawyer, political strategist, and businessman, this new mayor has a mission and is busy planning and executing his vision.
Our conversation started with a question I'm sure he anticipated. "Did the former mayor, Rob Ford, have any positive impact on Toronto by putting the city on the front page of every major newspaper around the world?" I tentatively asked Mayor Tory.
"None, whatsoever," he replied. "What I find is that when people raise this matter with me, they either roll their eyes or laugh in disbelief. I'm not sure how much harm it did, but it wasn't good. Bad publicity can hurt you. I don't think it did a lot of harm, but it caused people to wonder how a big city like this could have a person like that -- behaving in such a manner." Listening to Mayor Tory defend his city with such passion reminded me of a father watching out for the well being of his family, especially his children.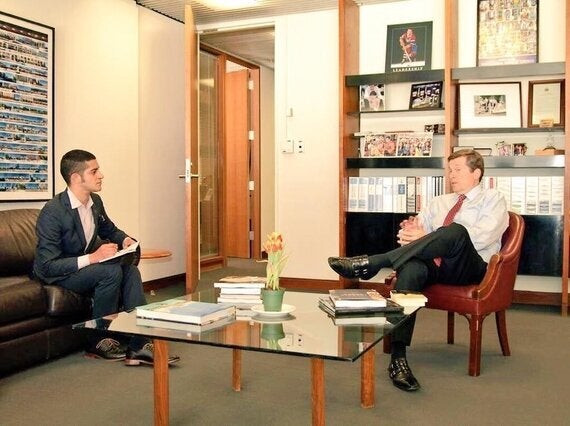 With a population of 2.79 million, (5.5 million in the GTA -- Greater Toronto Area) Toronto is one of the most multicultural cities in the world. Known for its diverse neighbourhoods (140 different languages or dialects) each is proudly named after it's "founding" immigrants: Little Italy, Portugal and India; Greektown and Chinatown are the most prominent. Even those nationalities that have historically been at odds with each other, now share a mutual respect of beliefs, faith, nationality, politics, sexual orientation and social standing.
Fifty percent of these residents were born outside Canada, many escaping turmoil and prosecution in their own country. Mayor Tory explained, "We live together - people of diverse origins come to Toronto to start a new life. They come here, enriching our society with their vibrant culture."
This summer more than 250,000 visitors will experience first-hand a real taste of the city's diversity, as Toronto hosts the 2015 Pan American and Parapan Games, the largest multi-sport event ever held in Canada.
Walking around the city, one must agree and applaud the many Torontonians actively involved in Community Environment Day events for recycling or safe disposal. With easily accessible public information sessions put in place by the City of Toronto, this is one of many successful community efforts.
Toronto ranks fourth in North America for its performance in waste management, with a forty four per cent recycling rate. It is commendable to note that city and community efforts have a proven success rate at a time of global environmental degradation.
4. An Ambitious Transit Dream
When I mentioned, on social media, my upcoming interview with Mayor Tory, transit complaints charged with frustration poured in. "The subway is horrible" and "the Gardiner Expressway (informally called 'the Gardiner') is always closed for maintenance," were the most common grievances.
Wondering if it really was that bad, or that irregular, my question was answered on the drive from the airport to downtown Toronto. Neon signage declared the only direct route to the city, the Gardiner, was closed!
Asking the Mayor about this "expressway" and whether it will be demolished or not, he answered, "I don't want to do something that will contribute negatively to the people in the city and the traffic. There will be continued deliberations to come."
In the course of my interview, it became clear the mayor is aware of the situation, beginning his term in office with such an ambitious undertaking. We must be patient as those involved, passionate about the cause, continue the progression into sustainable solutions.
As for public transportation, the Toronto Transit Commission or TTC, I had already noticed modern new streetcars in operation. Mayor Tory spoke about the TTC subway extensions to outlying areas such as Scarborough and York University. He explained with confidence, "We can say to people that we have made a significant difference, and will continue to do so."
As a topic of personal interest, I asked about the plan to extend Billy Bishop Toronto City Airport. I should note here that their resident airline, Porter, currently flies to a limited number of Canadian and American cities. It is a favourite departure and arrival point for business and vacationers alike, offering hassle free travel minutes from downtown Toronto. Mayor Tory was unable to comment as, "[My] son works for the City Center Airport, and commenting on this matter would be a conflict of interest for me."
The challenge here lays in the environmental impact of this extension and the noise level for the city, which Porter claims is not an issue. A frequent traveller like myself can only hope the extension is granted, making Toronto even more connected to the rest of the world.
5. Toronto Police Service : To Serve and Protect
Continuing my interview further down the road, I sat down with Chris Boddy, Staff Sergeant at Toronto Police Service, and Wendy Drummond, Sergeant at Toronto Police Service, to discuss the merits of social media within the force.
Answering a question about my observation of the Police Service's friendliness and social media savvy, Staff Sergeant Drummond replied, "We are showing the public that underneath the uniform, we are regular people too. It's a different side that traditionally had not been the persona of a police officer."
It has become a habit of mine to, every so often, check Staff Sergeant Chris Boddy's Twitter account. His messages are powerful, often conveyed with humor. His holiday season advice, albeit tongue-in-cheek, delivered a strong message: "Remember that Santa Claus doesn't deliver gifts in jail," "Don't drink and drive today."
With an active presence on social media, the Toronto Police Service delivers thousands of postings in this effective manner. To quote the late actor Peter Ustinov, "Comedy is simply a funny way of being serious." Indeed it is.
The Sergeants further explained that their main focus on social media is to raise awareness. Through this approach they hope to encourage the public to stay safe. By coordinating with authorities, when necessary, it is an opportunity to come together as a community, to ensure a safe and healthy environment.
Through social media, the Toronto Police Service have transitioned from a position of strict governance, at times feared by the general public, to an approachable, results focused service. Amidst real-time global policing policy conflicts, it is hopeful Toronto will be recognized for its successful observation model: establish a peaceful, understanding bond between a protecting body and its citizens.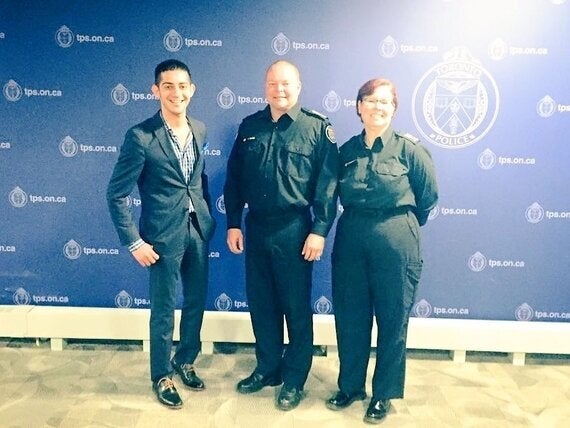 Looking up, one cannot miss the number of cranes heralding the coming of new life to the city. Toronto is experiencing a steady growth with condominiums popping up like mushrooms, reshaping the city skyline.
Some find this landscape infuriating, questioning the rapid escalation and venting their disbelief, "Half these condos are empty!". Others understand and applaud the growth potential of residents, employment and commerce into a culturally vibrant city.
While both views are understandable, which side is greener? One cannot deny the fact that Toronto is growing rapidly, and with growth comes responsibility. "Less time to complain, more time to deal with what complaints are about" would be my advice to take.
Most visitors agree that Toronto is a very easy going city. Keen travellers themselves, Torontonians are happy to share stories, and a beer or two, with those "on the road." Fitting that Toronto was voted "Second Most Pedestrian Friendly City 2013," by Walkscore.
It's friendly everywhere in Toronto! Bike-Friendly, Child-Friendly, Pet-Friendly, Eco-Friendly and last year, most Youth-Friendly City among 15-29-year-olds.
It was certainly youth and senior friendly at Mayor Tory's office. In the waiting area I overheard a staff member assisting an elderly woman who was trying to secure housing. As she did not speak English, the City of Toronto provided her with a translator. From the smile on their faces, it was certainly a friendly conversation, with a positive outcome.
I was warmly greeted by Mayor Tory and his staff, with a genuine feeling of openness felt during our exchange. We also concluded the interview in true 21st century fashion -- with a handshake and a selfie!
I left the mayor's office thinking that Toronto is much like youth coming of age - discovering, understanding, advancing, and solving -- a journey enriched with knowledge through experience.
So readers, be kind to your patch of "lawn." Keep it well watered with pride and understanding, and every so often - check to see if the other side is just as green!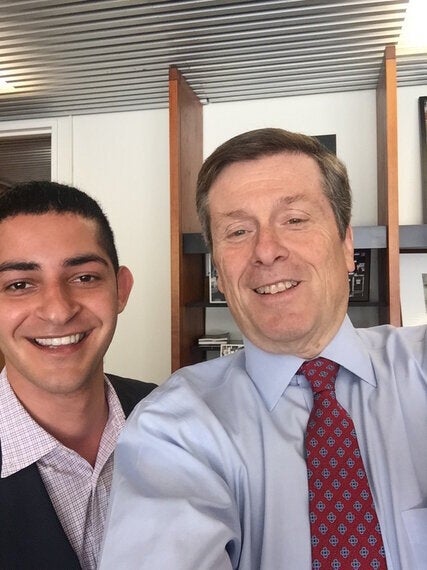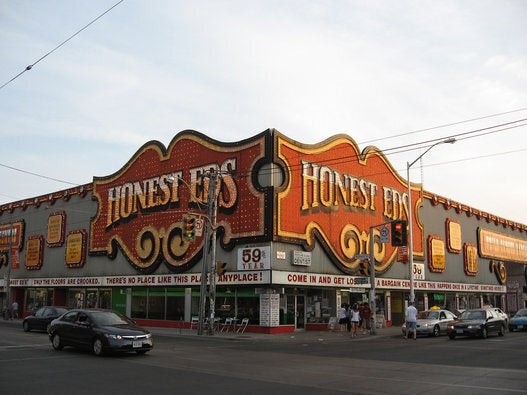 7 Iconic Toronto Stores That Are History