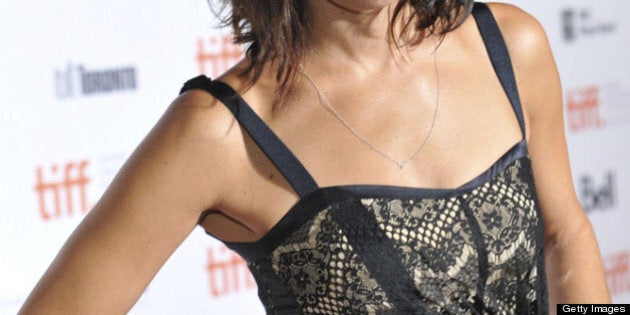 Not long ago, I was feeling overwhelmed as I was running errands with my three young boys and I happened to see my neighbour as we pulled out of our driveway. In full hurricane mode, I revealed to Carrie, an educator and mother-extraordinaire of four kids, how much I had on my plate. She listened patiently, as she always does, and when I mentioned that we were on our way to get the kids their Halloween costumes, she intuitively gave me this wise advice: "Make sure that the experience of getting their costumes is a great memory." It's amazing what words will resonate with you. This comment was so powerful for me and has been the single most important piece of advice that anyone has ever given me about raising children.
I realized that in my own life, the memories I have are random, and often not memories that one would expect to stick out. Each one of us is programmed uniquely, and so there is no way of knowing what distinct memories will define the eras of each child's life. Which memories will shape their perception of the childhood experience, family life, even their own existence? Don't get me wrong, I mess up all the time. But not without a fight! I am always pushing the depths of my own capacity, and seeing how much better I can get at this complex and extraordinary -- yet entirely common -- role of mother.
The great lesson I have learned is to make as many moments matter with my children as I can. What if those moments we think are completely insignificant actually held great value? What if going to the grocery store or doing homework together or enjoying bath time -- all typical activities that have practical functions -- became a child's entire foundation of judging their parents or themselves? It is these experiences that make us who we are, but trying to be patient, kind, creative, receptive, fun and authentic all the time is much easier said than done.
I am a singer. I have recorded many songs in my career spanning almost two decades and write a lot of lyrics for others too. I recently penned a song called "Feel This Moment" and the words are based on how I try to live my life every day. If I was to check in with myself at any given moment, how would it feel? If I was to check in with my children, how would their "moment" feel?
I am continually trying to up the ante with my family by creating great moments out of otherwise ordinary ones. I think of the entire planet like one big plant. The whole being, our whole collective, needs love the same way a plant needs light and water. Our brain pathology is healthy if we get our nutrients like attention and kindness. So we need to ask ourselves: How are we impacting our children? They are shaped by the example we set and will ultimately impact those around them, now and in the future.
I try not to get caught up in the mistakes of yesterday or by making blanket statements about who I was, who I am, the mother I have been or might be in the future. I feel that I am kind -- one act of kindness at a time. The great American philosopher of morals, Eric Hoffer said, "It is futile to judge a kind deed by its motives. Kindness can become its own motive. We are made kind by being kind."
Sadly, the more time I rack up parenting, the more I realize that we probably judge our parents for their mistakes rather than their successes. The idea that my children will one day be adults and able to critique my actions petrifies me, but that's the greatest thing about being a mom. You get to challenge yourself to become your absolute best.
With Mother's Day around the corner, this is a great time to express gratitude for the women who have mothered us over the years. This year, I am thrilled to be part of Walmart Canada's Mom of the Year Award, an annual initiative designed to ensure that inspiring, dedicated moms are recognized for their selfless and compassionate work. I very strongly encourage Canadians to nominate the important moms in their lives at www.momoftheyear.ca as of Monday May 6, 2013.
We're human, so we do need validation sometimes. The role of mom is all consuming and one that challenges us daily. It is during these challenges that we must strive to be the best person we can be for our kids. By digging deep, we will see great reward in finding the strength and beauty we never knew existed. Being a mom is more than a job because it is a work of love.