The Huffington Post Canada is delighted to once again be partnering with the Writers' Trust of Canada Shaughnessy Cohen Prize for Political Writing. In the weeks leading up to the April 2 announcement of this year's prize winner, we are publishing excerpts from each of the five finalists. The authors have personally chosen the portions they'd like to share, and each excerpt begins with a brief explanation of why that particular passage was chosen.
A note from author Charles Montgomery: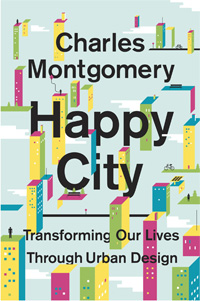 Self-help experts insist that we all need to do inner work in order to improve our wellbeing. But new insights in psychology, economics and brain science suggest that our cities have the power to make or break our happiness. In Happy City I use these insights to explain how urban systems shape our behaviour and emotions in ways most of us never recognize. What's amazing is that happiness-focused retrofits can actually be good for a city's bottom line. But making the right choice demands that we find new ways to look at old problems. Here's one example...
Joseph Minicozzi, a young architect raised in upstate New York, was on a cross-country motorcycle ride in 2001 when he got sidetracked in the Appalachian Mountains. He met a beautiful woman in a North Carolina roadside bar and was smitten by both that woman and the languid beauty of the Blue Ridge region. Now they share a bungalow with two dogs in the mountain town of Asheville.
Asheville is, in many ways, a typical midsize North American city, which is to say that its downtown was virtually abandoned in the second half of the twentieth century. Dozens of elegant old structures were boarded up or encased in aluminum siding as highways and liberal development policies sucked people and commercial life into dispersal. The process continued until 1991, when Julian Price, the heir to a family insurance fortune, decided to pour everything he had into nursing that old downtown back to life. His company, Public Interest Projects, bought and renovated old buildings, leased street-front space out to small businesses, and rented or sold the lofts above to a new wave of residential pioneers. They coached, coddled, and sometimes bankrolled entrepreneurs who began to enliven the streets. First came a restaurant, then a bookstore, a furniture store, and the now-legendary nightclub, the Orange Peel.
When Price died in 2001, his successor, Pat Whelan, and his new recruit, Minicozzi, still had to battle the civic skeptics. Some city officials saw such little value in downtown land that they planned to build a prison right in the middle of it.
The developers realized that if they wanted the city officials to support their vision for a revitalized downtown, they needed to show them hard numbers about the benefits. They urged them to think more like farmers. By that, they meant asking themselves a simple question: What is the production yield for every acre of land? On a farm, you want to maximize the volume of tomatoes you can grow on each acre. For a city it's about growing tax revenues and jobs. As it turns out, Asheville, like many cities, had been ripping itself off for years.
To explain, Minicozzi offered me an example, using two competing properties: On the one side was a downtown building his firm rescued--a six-story steel-framed 1923 classic once owned by JCPenney and converted into shops, offices, and condos. On the other side was a Walmart on the edge of town. The old Penney's building sits on less than a quarter of an acre, while the Walmart and its parking lots occupy thirty-four acres.
Adding up the property and sales tax paid on each piece of land, Minicozzi found that the Walmart contributed only $50,800 to the city in retail and property taxes for each acre it used, but the JCPenney building contributed a whopping $330,000 per acre in property tax alone. Yes, the city got more than seven times the return for every acre on downtown investments than it did when it broke new ground out on the city limits.
When Minicozzi looked at jobs, the difference was even more vivid: the small businesses that occupied the old Penney's building employed more than 10 times as many people per acre than the WalMart!
Minicozzi has found the same conditions in cities all over the continent. Sprawl development patterns can actually cost cities more to service than they give back in taxes. The result? Growth that produces deficits that simply cannot be overcome with new growth revenue.
"Cities and counties have essentially been taking tax revenues from downtowns and using them to subsidize development and services in sprawl," Minicozzi told me. "This is like a farmer going out and dumping all his fertilizer on the weeds rather than on the tomatoes."
Another reason to invest in fine-grained downtowns instead of big box sprawl: money spent at small and local businesses tends to stay in a community, producing more local jobs, while money spent at big national chains tends to get sucked out of the local economy. Local businesses tend to use local accountants, printers, lawyers, and advertisers, and their owners spend more of their profits in town. National retailers, on the other hand, tend to send such work back to regional or national hubs, and their profits to distant shareholders. Every $100 spent at a local business produces at least a third more local economic benefit and more than a third more local jobs.
The city of Asheville agreed to fertilize that rich downtown soil. The city changed its zoning policies, so that downtown buildings could be used for homes, businesses--whatever. It invested in livelier streetscapes and public events. It stopped forcing developers to build parking garages, which brought down the cost of both housing and business. It built its own user-pay garages, so the cost of parking was borne by the people who used it rather than by everyone else. All of this helped make it worthwhile for developers to risk their investment on restoring old buildings, producing new jobs and tax density for the city.
The reborn downtown has now become the greatest supplier of tax revenue and affordable housing in the county--partly because it relieves people of the burden of commuting, and partly because it mixes high-end lofts with modest apartments. All of this, while growing what one local newspaper emotionally described as, "a downtown that--after decades of doubt and neglect--is once again the heart and soul of Asheville."
By paying attention to the relationship between land, distance, scale, and cash flow--in other words, by building more connected, complex places--the city regained its soul and its good health. It's a lesson Canadian cities should heed.