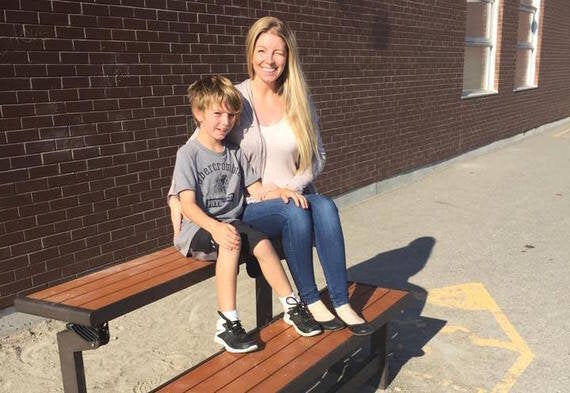 We can all sympathize with the new kid on the block.
The sweaty palms. The scratchy throat. The familiar feelings associated with being in a strange environment, surrounded by people you have never met before -- like it's you against the world.
It's an especially terrifying feeling for a nine-year-old boy. No matter how many times he and his mom have moved to different towns, the first day at a new school is daunting for anyone.
"Being a single mom, I've had to move around a lot," says 30-year-old Rachel Stewart, mother of son Owen. "As a result, my son often had a hard time developing friendships at school."
She remembers too well the evenings at the dinner table, when she asked him how his day went and he told her he didn't have anyone to play with at recess, so he spent the time walking around the schoolyard by himself.
"It broke my heart," says Stewart. "I wished I could go and spend recess with him so he wasn't alone, but obviously that wasn't an option."
When they made their most recent move Aurora, Ont., however, her son seem to adjust relatively quickly to life at Rick Hansen Public School. She assumed it must have come with age; it's easier for him to make friends, he's done it all before.
On Sept. 11, 2015, Stewart picked her son up from school, just as she does every Friday. They were walking through the schoolyard together when she noticed a bench just off to the side.
She turned to her son and asked, "Is this the only place to sit around here?"
Owen replied: "That's the buddy bench."
He explained the bench was a place for kids to go when they felt lonely and didn't have anyone to play with. They sat on the bench, and other kids would notice them and go up and ask them if they wanted to play.
"Have you ever used the buddy bench?" She asked.
When Owen first started school at Rick Hansen one year ago, he sat on the bench and kids came up and asked him if he wanted to play soccer.
"I had no idea, I thought he just made friends on his own," Stewart says in an interview.
Introducing Project #WeNeedBuddyBenches
When Stewart returned home, she turned to Facebook and shared her story on the wall of a local community group. "I wanted to get the word out to school boards, I wanted to get the word out to parents about what the buddy bench is," she says.
Stewart created a Facebook page called The Buddy Bench, which garnered over 10,000 likes in the first week alone. The first post she shared has received over 1 million views.
"Initially I wanted the buddy bench to be in every school in York Region but since it's gone viral, I've had messages from all over the world saying they want buddy benches too -- everywhere from the U.K. to France to New Zealand, to Hong Kong."
She has been connecting with local organizations, some of which have offered to donate a bench or extra lumber to the cause. She's now looking for high school shop classes interested in participating and building benches for schools nearby. She also created a Go Fund Me account, where people can offer donations.
People from many different communities have been rallying together to make it happen. "I think awareness is the best step so far," she says.
...this bench is almost like a voice for the children who are too shy to ask if they can play.
While she has been inundated with messages of encouragement and support, there has also been some reservation around the idea. Some people worry the bench would bring negative attention and become a source of bullying.
"There are going to be bullies in every school yard, and that's definitely an issue we have to deal with," Stewart says. "But from what I've learned from my son, this bench is almost like a voice for the children who are too shy to ask if they can play."
Steve Gardner, principal of Rick Hansen Public School, says the bench has become a place of congregation rather than a place of alienation. "Right now it's the lone seating outside, so kids will gravitate to it," he says. "It has become a gathering and meeting place."
Over the last week, Gardner has received a number of phone calls and emails from other faculty members and organizations asking about how it all started, and what they can do to get more buddy benches in school yards.
The buddy bench at Rick Hansen was put there a year and a half ago. The idea came from a parent who sat on the school council. Of course there were processes involved, specifically around safety precautions and location. In the end, it was thanks to a donation from this parent's family that the bench came to be.
Anyone walking along the schoolyard could easily walk by the bench without noticing it. It's not painted in bright colours, like some of the other images of buddy benches surfacing online. "It's nothing fancy," says Stewart, "but everyone knows what it is and what it stands for."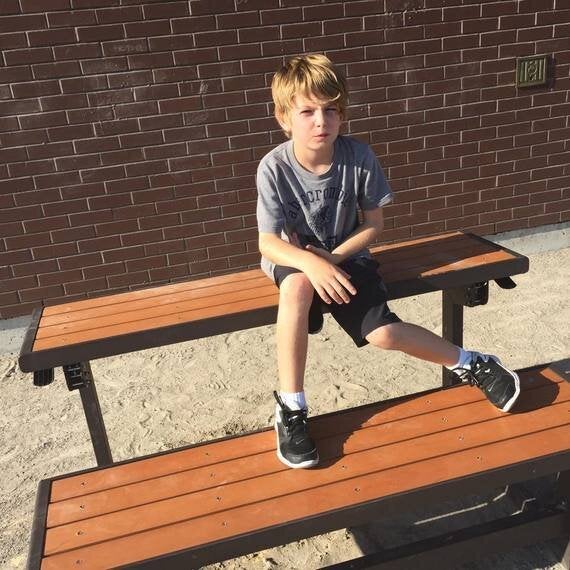 What's especially special about the bench at Rick Hansen is that it was designed with accessibility concerns top of mind -- something the school takes pride it -- making it is easy for wheelchair access.
Gardner emphasizes there is also a level of education behind it. It wasn't just about introducing the meaning behind the bench to the students, which the faculty did through a school assembly, but also maintaining that awareness year to year. "It's just one of those things that becomes part of the school," he says. "That's when it works."
And according to nine-year-old Owen, it really does work.
"As a board, certainly as a province, there's a focus around mental health and mental well-being," says Gardner. "With that comes this notion of anti-bullying strategies - such as inclusion, empathy, sense of community - [the understanding] that we're all there to support one another."
Stewart says these sentiments are exactly what the buddy bench is all about. "We talk about how can we instil better values in our children, how can we teach empathy and compassion, and this is definitely one of the easiest ways that we can show it," she says. "It starts in the schoolyard."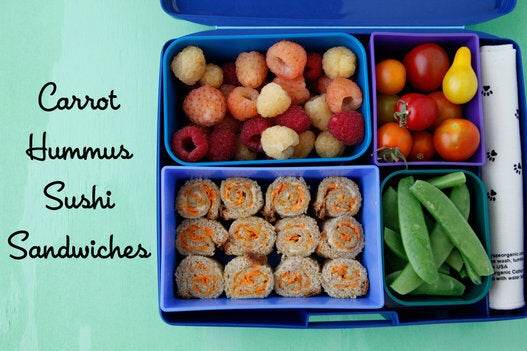 School Lunch Ideas Kids Will Actually Eat