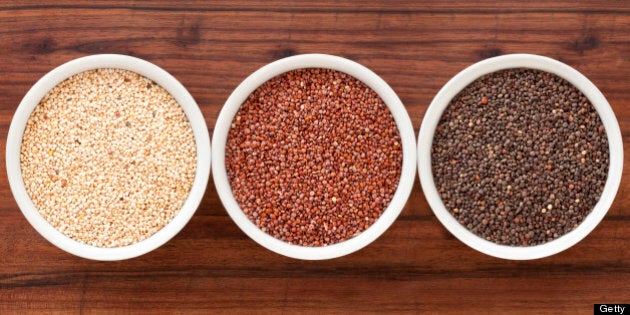 As the staple food of the ancient Incas, quinoa has been dubbed a super-food, and for good reason. Not only is it a great gluten-free, easily digestible grain option, but it's also a complete protein, and exceptionally high in fiber. Quinoa is a nutrient dense, multipurpose food, perhaps most familiarly recognized as an alternative to rice and pasta, but actually incredibly versatile to prepare. Experiment with one or several of these five plant-based ways to enjoy quinoa, and add wonderful health benefits to your diet.
1. Puffed Quinoa. Tiny balls of puffed quinoa goodness make for a tasty breakfast cereal, or a crunchy addition to baked goods. Try mixing puffed quinoa with shredded unsweetened coconut, unsulphured dried fruit, a sprinkle of cinnamon, and a swirl of your preferred healthy syrup (agave, rice or maple syrup are my top choices). Spread the mixture on a parchment paper lined baking tray, slide into the oven at 350 degrees, and in under ten minutes you'll have homemade, gluten free "granola". If you're not into baking your own treats, just check out the labels at a health conscious grocery store. Puffed quinoa is popping up in granola bars and cereals, adding protein as well as a tasty little crunch.
2. Quinoa salad. This savoury side is so simple to make, you'll be kicking yourself for previously serving quinoa plain! Just cook your quinoa, and add sliced almonds, chopped red and yellow peppers, green onions, chives, and green peas. Mix in a drizzle of organic olive oil, sea salt and cracked black pepper, a little lemon juice, and garnish with fresh basil. Be sure to make an extra portion to refrigerate and enjoy cold the next day!
3. Quinoa flakes. Use quinoa flakes as a gluten free option to rolled oats; try baking with them to add substance and a nutty flavour to breakfast type bars or muffins. Quinoa flakes also make for a warming hot cereal, full of fiber, and delicious mixed with some non-dairy milk, and a handful of blueberries! You'll find boxed brands available, or buy the flakes in bulk, add hot water and your desired toppings, and enjoy!
4. Quinoa Milk. Dairy free milks are growing in popularity, particularly non-soy based options. Quinoa milk is a perfect alternative to rice and nut milks; it's rich in calcium and iron, making it a nutritious choice for vegans. Make your own quinoa milk and enjoy the mild nutty taste, or add natural sweeteners and flavours like vanilla or cacao. Alternatively you can check out the selection of plain and flavoured quinoa milks at your local health food store.
5. Quinoa Veggie Burgers. Many store bought veggie burgers are full of wheat and sadly off limits to anyone living with a gluten allergy. Quinoa is a great gluten free grain option for adding texture, and taste to homemade veggie patties. Toss some pre-cooked quinoa veggie burgers on the grill at your next BBQ, and serve your guests a super-food sensation!