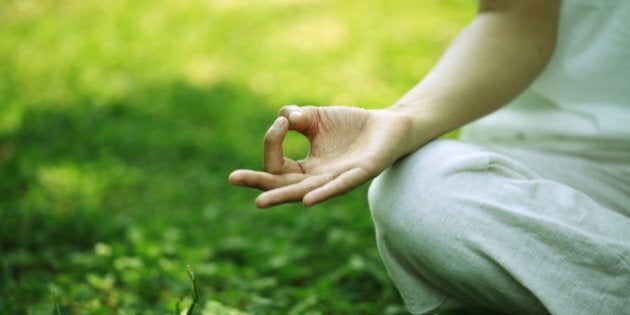 1. You Will Meet Like Minded People From All Over The World
Yoga retreats are a great way to connect with other people who share your curiosity or interest in a healthier vacation experience. Since retreats are generally advertised in magazines and online, they draw an international response; you can often find yourself bunking with interesting people from all over the world, with a common interest in bettering themselves. Of course if you prefer to keep your living quarters to yourself that's certainly an option, but regardless, it's incredible what deep friendships can form over the course of a week or two.
2. You Will Experience The Benefits Of Immersing Yourself In A Yogic Lifestyle
Remember how great you feel after Monday night yoga class? Well imagine feeling that way for an entire week! At a yoga retreat you will eat well (often vegan/vegetarian/raw, and always healthy!), get plenty of time to rest, and have the opportunity to practice yoga at least once a day. Whether you are a seasoned practioner or an absolute beginner, having the chance to practice yoga in a beautiful location with inspired teachers will have incredible benefits. Your physical practice will improve, and you'll likely feel healthier, stronger, more relaxed and less stressed.
3. You Can Design Your Own Itinerary
At a yoga retreat, "free time" is an actual activity, which for most of us is certainly a luxury! As well as once or twice daily yoga sessions, you'll often be able to enjoy other activities specific to the particular retreat theme and location that you have chosen, ie. surfing lessons, horseback riding, hiking, and zip lining. Prefer to spend the afternoon reading or meditating on the beach? No problem. Want to be pampered? Book a massage! Want to feel balanced? Try an energy healing treatment! The possibilities are virtually limitless, just make sure you keep your particular interests in mind when choosing your retreat.
4. You Get To Travel To Exotic Locations
A large part of the draw of a yoga retreat is it's location. Local, weekend retreats will be tucked away in a serene part of the countryside where participants can easily escape from the hustle and bustle of everyday life. International and tropical retreats take a little more organization to get to, but are well worth the reward upon arrival. Bali, Costa Rica, Nicaragua, Mexico, and Bahamas, are favourites among retreat organizers for their beautiful and inspirational surroundings. The retreat menu will often reflect local cuisine, and native fruits and vegetables, a luscious and healthy treat!
5. You Will Come Back Refreshed And Glowing
Unlike your typical party vacation, a yoga retreat will leave you feeling refreshed and rejuvenated at the end of your trip. It is very likely that you will arrive home with a renewed outlook on life, and the vibrancy and energy to take your self in inspired and positive directions. If you chose a beach trip, you'll probably have a luminous, healthy tan, but the real glow comes from the inside; after a week of nutritious eating, restful sleep, and yoga, and from absorbing healing, positive energy from the entire experience, you'll be radiant on the inside and out.