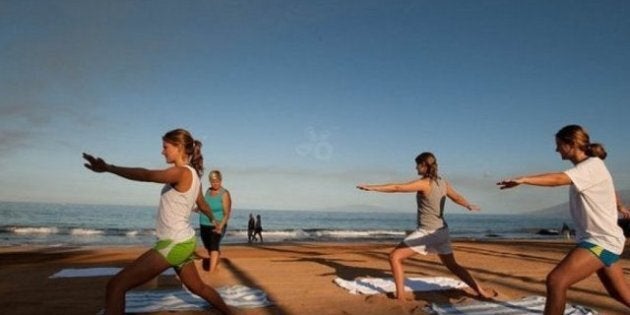 Many of us find it hard to take time out for yoga, even though the health benefits are proven. Try these tips, and make it easier to commit to a regular practice. Be good to yourself by consistently bringing a little yoga into your life!
1. Be Prepared. Roll up some stretchy clothes, and put them at the bottom of your bag. If the urge to take a class on the way home from work strikes, you'll have everything you need on hand. Since yoga is practiced barefoot, no need for shoes, and studios will rent or lend mats.
2. Think Local. Choose yoga classes that are offered in your neighbourhood, or within a reasonable distance from your work or home. If your class is easy to get to, you'll likely find yourself attending more often. Visiting smaller studios close by, is a great way to support your local yoga community.
3. Get Your Money's Worth. Buy a membership or an unlimited pass. Either way, the more classes you attend, the lower the cost per class. Or buy a multi-studio pass that offers one class at participating studios for a low flat fee.
4. Stay Home. Too cold outside to trek to class? Pop in a yoga DVD, or visit an online yoga site, and enjoy your practice from the comfort of your living room. Experience different teachers, and different styles of yoga, pj's optional!
5. Two's Company. Need a little friendly motivation? Make a yoga date! When someone else is counting on you to show up, you'll be less likely to skip class. Yoga is not just about asana (physical poses); diet is also important, so plan to have dinner at a vegetarian restaurant, or lunch at a juice bar afterward. Eat healthily and get in some quality time with a friend!
6. Or Enjoy some Alone Time. For some of us solitude is hard to come by; let yoga be your opportunity to quietly unwind. Spend some time on your mat getting to know yourself. Save the socializing, and take classes solo, let your body instinctively decide which styles to try. Whether you're recharging with restorative yoga, or challenging your self with a dynamic flow, either way make it your choice and indulge in some well deserved "me" time.
7. Get Organized. To enjoy the benefits of yoga, you need to make your yoga practice a priority. Schedule your classes the same way you would any other important activity; write them on your calendar, or program them into your phone. Account for travel time, and commit to coming to class.
8. Flexible Fridays. Set aside at least one day a week for yoga. It doesn't matter whether you practice before work, or on the weekend, at home or in a studio. Once your practice becomes part of your weekly routine, making time for yoga becomes less of an effort. Practice regularly and enjoy the lifelong benefits that yoga has to offer.