Manifesto Festival of Community & Culture goes down September 19-22 in Toronto Canada featuring headliners Jhene Aiko and the 20 year anniversary celebrations of Souls Of Mischief, a Major Art Exhibition, Dance Battle & Awards Night, Summit, Keynotes, Workshops, Producers Showcase and Parties! All the details can be found at themanifesto.ca/festival
2013 Festival Teaser Video
...'Til Infinity
Manifesto 2013
The number seven is the sage's number of regeneration and has divine cultural significance throughout the world's his/herstory. Seven relates to the composition of the universe, renewal, and evolution: The Iroquois believe that each generation should prepare for the future seven generations, not just ecologically, but in every capacity, indicating that every action we make now will have continued impact seven generations forward. Manifesto's seventh year is also a time of renewal -- a time to focus and deepen. We are excited to be launching our crystallized vision and the strategic plan that will get us to the next iteration of the organization in such a profound year of meaning.
Much like the human body, that regenerates all of its cells in a seven-year cycle, this seventh year at Manifesto, we have regenerated. I have transitioned from my position as Executive Director, and now reside as Chair of the Board of Directors. This is a positive evolution; one that is natural and that will allow me to support Manifesto's work by reaching further out, while giving space for new energy and ideas to flourish in our fertile soil. Let's continue planting seeds with the foundation of pure love and positivity, to further manifest the flourishing forests of our freedom and expression.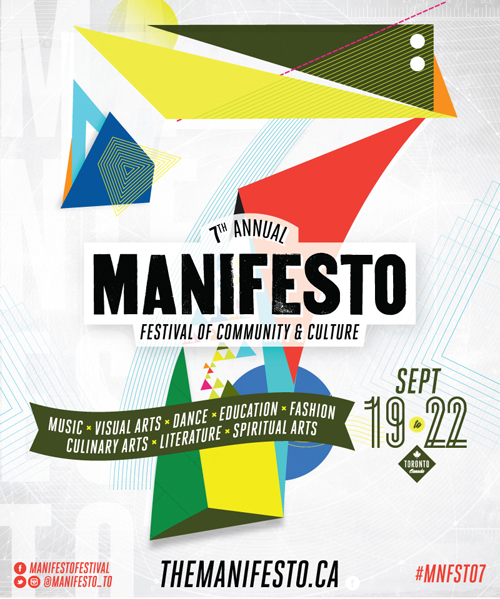 In these seven years we have established ourselves as an organization dedicated to youth and the arts, executed six beautiful festivals in the city of Toronto, co-founded Manifesto Jamaica & Manifesto Barbados, organized numerous arts education events/workshops, taken a lead role in developing international projects such as Ignite the Americas, successfully advocated for the arts through campaigns such as BeautifulCity, meaningfully partnered with major institutions including TIFF, Hot Docs, ROM, AGO, City of Toronto, The Organization of American States, and more, built a strong independent media channel reflective of the communities we are a part of, created youth arts hubs that provide space for work and collaboration, connected young people to career-developing and income generating opportunities and...we are still just getting started.
2012 Festival Recap -- Get A Flavour of what it is all about.
Let us all remember that each one of us is a part of the whole -- and we must all play our role to sustain and develop together. Let's welcome our new Executive Director, Dwayne Dixon, an artist, community leader and a professional, who will bring nothing less than the best to Manifesto. I am confident in his ability to build on the foundation, morals and core values, while taking them to new heights.
The results of the cross pollination of art forms that are shining in Toronto, are being accelerated by the second, with the power and convergence of technology, social media and the increased opportunity of learning. Let's collectively bring the Manifesto vision to its fullest potential, a leader in global youth culture. It's not so heavy if we all push together. Be a part of it.
Che Kothari is a renowned photographer and the founding director/chair of Manifesto Community Projects, whose mission is to unite, inspire and empower diverse communities of young people through arts and culture. chekothari.com | themanifesto.ca