It was an incredible night in Park City, Utah.
Rae Spoon, the transgender Canadian musician and subject of my documentary-musical My Prairie Home, had just performed a killer set at a Sundance Film Festival-sponsored concert celebrating music in film, sandwiched between Glenn Close performing spoken word over Flea canoodling with a jazz trio and the mind-blowingly energetic Fela Kuti Band who drove Rae, myself, and the whole crew from the film to dance with total abandon (Rae and I are both seldom prone to dancing, especially with abandon).
Rae and I looked at each other, one of these moments that confirm we've spent far too much time together because we both know we're sharing the exact same thought: This is so surreal. Rae leaned over and whispered, "I bet you didn't picture this when we were scaling that glacier." One of the final shoots of the film realized an insane idea of mine for the film's final scene atop the Athabasca Glacier -- an even more difficult feat than I even anticipated, as the site was closed to the public. We had to lug all the equipment a mile uphill through snow drifts. The air was thin and we were all feeling it.
Raw and cold from a long shoot now culminating in this grueling trek, Rae and I argued about whether or not they (Rae uses the gender-neutral, third-person pronoun) would keep their toque on in the shot. We compromised on one take with and one without. Now at Sundance, Rae was right. On that frigid peak I couldn't possibly imagine us sweaty and dancing on a different mountain. The landscape of Utah is eerily similar to Alberta though they are worlds apart. There is a strange sense of familiarity felt screening here.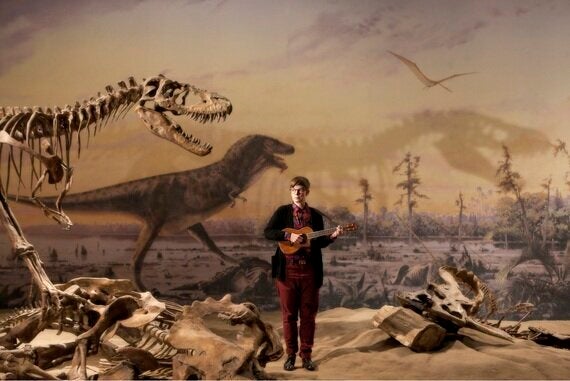 Four years ago I first attempted peering over Rae's shoulder while they toured through the Prairies. I had pitched my idea to a producer at the National Film Board of Canada named Lea Marin. My odd description went something like "I want to make a documentary about a transgender musician from the Prairies named Rae Spoon, I want it to be a musical. Oh, and there are also dinosaurs." Totally non-plussed, Lea looked me in the eye and said, "Tell me more."
With development funding in hand, I went on tour with Rae, they rode the Greyhound bus for days on end, performing at night while we shot the whole time. It was a gruelling schedule. I came to deeply respect the life of the touring musician as I battled reoccurring ear infections and worriedly Googled the symptoms for scurvy after eating at McDonald's three times in one day, and enlisted our coats and bags to construct makeshift bunks on the overnight bus rides. To Rae, this was all old hat. Rae's been a touring musician for the past fifteen years; big cities, small towns, Canada and Europe, they've done it all. Their secret to health is that they don't drink and keep fed.
At times Rae would be on tour as many as 250 days a year, so they have it down to a science. I was scrambling to keep pace. Not to mention we were shooting impromptu musical numbers all along the way as I felt inspired, usually involving Rae inserted in uncomfortable situations singing or lip syncing on the spot -- in the Tyrrell dinosaur museum, in a diner full of truckers, and of course on the glacier. It was a brutal shoot, but we survived on the incredible moments. That's when I could feel we were onto something unique. These came as we recreated the prom Rae and their high school girlfriend Sandhiya never had, or witnessed Rae bringing an audience of Saskatchewan farmers to tears, or when an unprompted Rae sang directly into the protective ice blue light of the glacier.
So now we are at Sundance and it's been wonderful. The programmers and audiences are incredible, embracing the film with open arms. It was a struggle to get people to believe in this film, and it's great that they have, but it's very important to remember this conversation is far from over. The more the film gets out for people to see, the more the daily misunderstanding and compromises become blaringly obvious. For Rae, the attention and praise seems to be a double-edged sword. They are quite often misgendered (I wince when this happens but also don't do enough to stop it) in interviews, reviews, articles, Q&A's. Their identity is consistently put into question. The whole experience has reaffirmed to me that it's an issue that needs to be provoked specifically because we are only at the very beginning of it.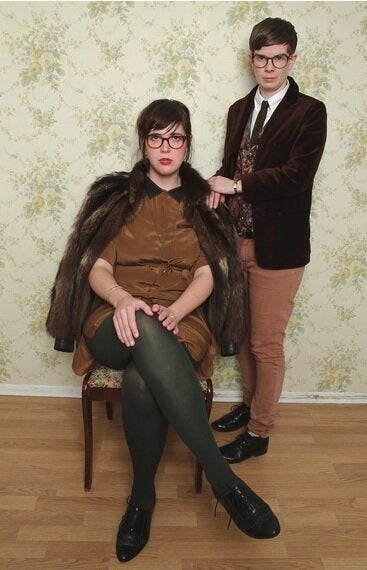 There have been a lot of highlights to my frenzied first experience at Sundance -- photo shoots, great reviews, packed screenings, and Rae's fantastic performances for brand-new audiences. But nothing has beat seeing a teenage queer couple overjoyed to make the trek from Salt Lake City specifically to see the film, shyly asking for a photo with Rae after the screening. On the shuttle bus leaving the screening I saw them confidently holding hands, and wondered how often they felt at ease enough to do so. I'm excited to take this film to big film festivals (especially in Europe -- I wonder how they are going to respond?) but I'm equally proud of the NFB's boundless commitment to getting this film into schools and small towns. That's the real reason we climbed that glacier.
My Prairie Home streams for free to Canadians January 26 and 27 at NFB.ca, and available for rent or purchase at NFB.ca and iTunes Canada starting January 28.