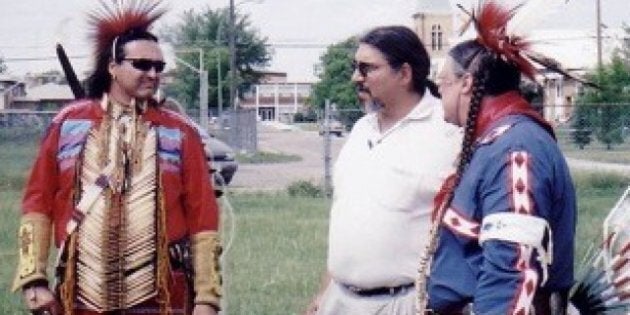 If you haven't been keeping track of native comedy lately, you should. It's good stuff, and there is nothing like laughter to help you ease into sometimes difficult discussions about race, colonisation, marginalisation and indigenous culture.
How did you get your start in comedy? I mean, there's some sort of affirmative action for native comedians, right? You get guaranteed spots on Canadian television and radio and at venues, whether you're funny or not? Some non-native comedian is sitting in his mom's basement right now crying his eyes out because you got a spot that should have gone to him or something?
I half stumbled into it. For the long version of this you can visit my site. For the short version -- essentially, I was fresh out of Theatre School and ready to work. Once I started working as an actor I hated it. I was voiceless and not being represented. I didn't connect with any of the work. And yes. I feel a lot of mainstream comedians look at me as "the native comedian" and that I was given my comedy special and my other spots because of that. They got the land -- I got a festival spot 500 years later.
You are really involved in social media, you're all over Facebook and Twitter and you have your own website, newsletter, podcasts, and so on. To be honest, it seems like a lot of work. Why did you choose this way to promote yourself?
It's an incredible amount of work. It's tiring and disgusting. I am my own pimp, to be honest -- if I'm not promoting myself, who is? I don't have an agent or a management company looking after me. All of my online work (videos/podcasts/blogs) are extension of my brand -- almost like a funny business card if you will.

The podcast has really changed my comedy. It's also changed my fanbase. I don't have the most followers on Twitter or Facebook but I have the most loyal fans and followers I could ever ask for. I've found people that care -- I have to nurture that relationship, be grateful, remain humble and continue giving back to those that support me.
You were the first native comedian to get a comedy special on CBC Television. How did that happen? Did you just blockade a bunch of roads until the CBC gave in?
It was a huge honour and I actually didn't realize that until my CBC producers told me this. They believed in me. They saw what I was talking about. They saw what I was trying to say. They compared me to Chris Rock and George Carlin. They helped me see my place in the landscape.

It hit me. Something big was happening. Something really, really big. And again -- I don't feel like it's been celebrated at all by the mainstream and barely by Indian Country. Those that have celebrated the accomplishment have been my fans and followers. They get it. Also -- I want to be on record for thanking CBC TV/Radio and CBC Aboriginal and CBC Manitoba for their continued support. CBC produces amazing Indigenous content and are really pushing the conversation forward in this country.
Your UnReserved Tour launches on September 12 in Victoria and you're going to be on the road for six weeks, hitting 26 different cities. How are you doing this and how are you coping with the pressure?
I started planning it as a "Thank You," to everyone that supported me leading up to the comedy special and the Just for Laughs spot. I was going to book 8 or 10 shows and do new material as a way to say thanks. It was going to be more of a fuck-around thing.

I announced I was doing the tour and the internet exploded on my lap. I was getting show requests from everywhere. I was floored. I couldn't believe the reaction. But going back to how I feel about my fans and followers -- they're the best and they wanted to celebrate with me. So we are -- I started asking the internet where I should go, and I've made it happen. Barely. But I've made it happen.

I'm a little too old to be driving across the country, but I am. I want to do comedy for the people that want to see me. I'm working out deals with each venue in every city based on what they're willing to do. Some rentals are very expensive and some venues are doing door deals. I have thousands of dollars in damage deposits and rental fees on my credit card.

I'm counting on the people that are excited about my comedy and where I'm heading with it to bring their friends to the live show. I'm using social media to help spread the word and I'm begging for help through various media that are willing to run a story or put something on the radio for me. I can't afford a publicist -- so I'm putting in long days and long nights. It's the most intense thing I've ever worked on. It's so damn big.
If you won the lottery and were mad rich, and you got to set up any project your little heart desired, what would it be?
I would produce my podcast into a live touring show, shoot it for television and record it for radio (Stuart McLean style mixed with Jian Ghomeshi Q type show) and feature guests, musicians, artists, community leaders, youth, and organizers that are working on their own vision of decolonization. That movement will only happen on the ground -- that's where I want my work to remain.