Trade has become a major election issue around the world to the extent that many pundits feel it is redefining politics. As the volume gets turned up in the run up to the U.S. election on November 8, free trade has taken more whacks than Mike Tyson's punching bag.
The notion that free trade equals exporting jobs is an easy sell with many voters. The reality -- that jobs rely on complex supply chain relationships to keep North America competitive in the face of global competition -- is definitely not as catchy.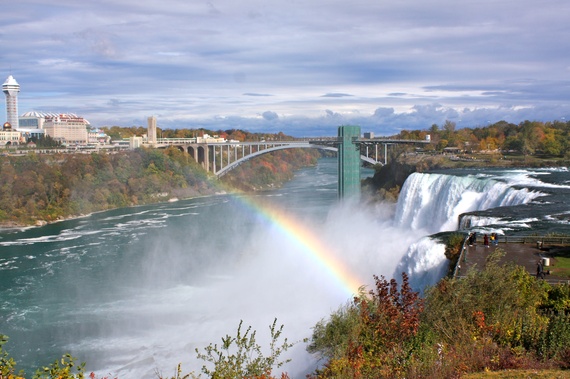 The Rainbow Bridge is a major trade artery between Canada and the U.S. Flickr photo by Scazon.
Canada is extremely fortunate to have the U.S. as a neighbour. It's still the world's biggest economy by a sizeable margin. American consumers are hungry for Canadian products, and our neighbour to the south is the destination for more than three quarters of Canada's exports. It all adds up to Canada and the U.S. sharing the biggest trading relationship in the world. But those impressive figures do not tell the whole story.
This relationship is one of interdependence. Of the estimated $700 billion in two-way trade that flows between Canada and the U.S. each year, 60 per cent is intra-corporate. That means parts and components being shipped between locations, back and forth across the border to make stuff from toothbrushes, to frozen pizzas, to cars. Supplier relationships have formed that enable companies to concentrate on what they are best at. These connections are extremely well established, go beyond the purely transactional and are very definitely on both sides of the border.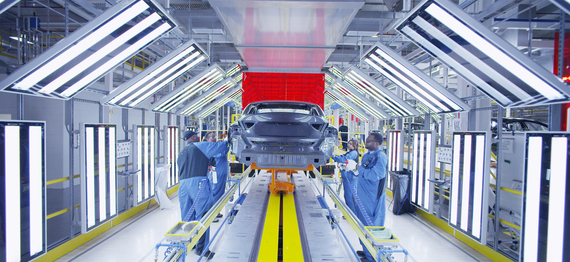 Chrysler plant, Sterling Heights, Michigan. Flickr Photo by Fiat Chrysler Automobiles.
It takes approximately 30,000 parts to make a car. Those smaller parts are combined across North America into bigger components like the engine, brakes, electrical system and so on, and are brought from all corners of the world to be assembled on both sides of the U.S.-Canada border. They're then sold internationally. Given the number of times these parts cumulatively cross borders, any minor changes in border policy can have a tremendous impact on the cost of production and cut away at already thin profit margins.
We have seen this before. After 9-11, the border tightened as security was substantially and understandably ramped up. Back in 2011, the additional security measures at the border were said to be costing the Canadian economy $30 billion a year, or about two per cent of GDP.
Since then, the Canadian government has put a great deal of work into chipping away at the barriers to doing business between the two countries. This ranges from investing in physical border infrastructure, to introducing faster administrative processes, to more recognition of each other's product standards and regulations.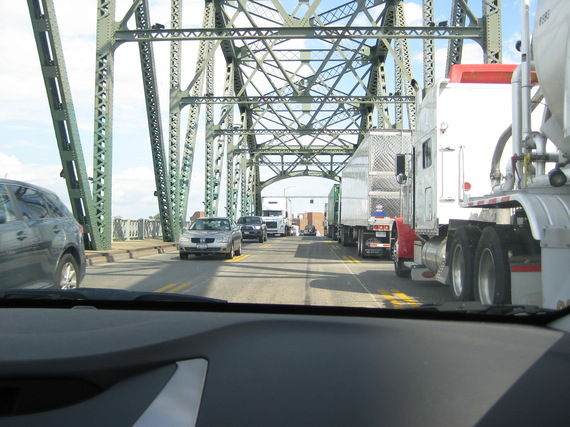 Border delays at the Peace Bridge, Fort Erie, Ontario. Flickr photo by Robert Linsdell.
Delays can be incredibly costly. Unexpected interruptions are bad news as they can dramatically slow down production when companies now rely on finely tuned systems built around just in time deliveries of components and parts. According to Statistics Canada, almost half of businesses experience late shipments because of border delays.
The benefits of the Canada-U.S. supply chain are two-way. Around 9 million American jobs rely directly on Canadian trade and investment. Recognizing the mutual benefit, the governments of Ontario and Michigan signed an agreement to boost cross-border cooperation in the auto sector. This increased cooperation allows Ontario and Michigan to compete together against other destinations around the world, and in particular with Mexico, which has emerged as a fierce competitor in attracting new auto plants due in large part to its low labour costs.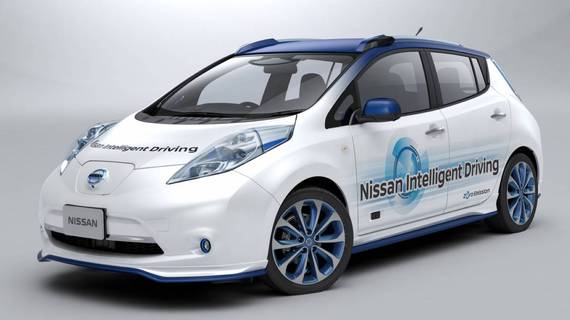 Nissan-Renault is expecting to launch 10 autonomous car models by 2020. Flickr photo by The NRMA.
Looking to the future, the auto supply chain is set for a massive transformation with the shift to driver-less cars. Already dealing with low-cost competition from Mexico, Michigan and Ontario face the technological might of California shaking things up at the cutting edge of their auto business.
With that disruption ahead, the auto supply chain will change dramatically and easy access to the technology know-how and innovative suppliers up the road in Waterloo, Ontario will be critical to the long-term competitiveness of the sector in the region. This is a prime example of where less border means more cooperation, and more resilience in the job market for Americans and Canadians.
Free trade will no doubt take a few more savage blows as the U.S. presidential candidates continue to fight it out for votes. In the meantime, the biggest trade relationship in the world will quietly continue to support millions of jobs on both sides of the border.
Follow HuffPost Canada Blogs on Facebook
Also on HuffPost:
Canada's Strangest Imports and Exports