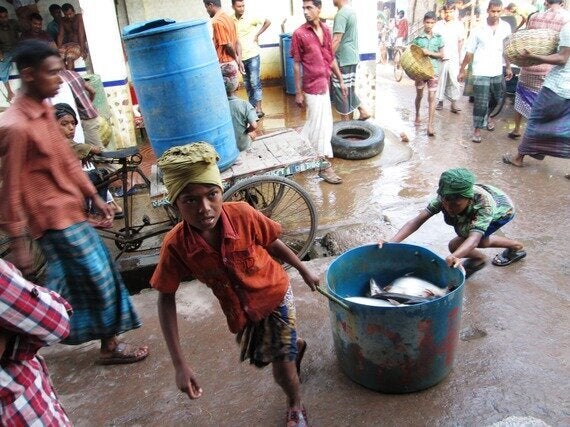 Many moms are wakened on Mother's Day by an ominous clattering in the kitchen: your loving-hearted children preparing to surprise you with coffee or hot chocolate in bed. There's also that cinnamon toast or oatmeal positively doused with sugar.
What many moms don't realize is that such meals usually come courtesy of a whole crew of children. Chocolate, coffee and sugar are often harvested by kids in developing countries. Some children are even trafficked -- taken from their parents to be sold into slavery -- onto plantations far from home. Others are forced into labour to help put food on the table at home.
On Mother's Day, I'm reminded of the price paid by the moms of these children. I know how hard I am on myself when I'm not the best mother I can be, when I'm not patient enough or too busy to be there every time they need me. But many of the mothers I've met in my travels with World Vision carry a deeper sadness and guilt than I will ever know.
I can't shake the memory of one mother. I met her on my recent trip to El Salvador, to learn about children forced into hazardous work on sugar cane and coffee plantations. This mother spoke nothing to me in words -- her body said it all. She wouldn't look at me, or talk to me. She hid away when we spoke to her children about the work they had to do on the sugar cane and coffee plantations. When we went with her children to the fields, so they could show us their work, she followed far behind.
Later on, when it was time to say goodbye, I went to the mother with an interpreter and thanked her for opening her home and her life to us. She barely looked at me, but I could see that she was crying. I can only imagine how she felt, as a mom, to show the world how her children had to work in such dangerous conditions to help keep the family alive.
This is just one mother among millions who may feel similar pain. Take the hot chocolate, for instance, that your kids may prepare for you this Mother's Day. An estimated 1.8 million children work to provide the world with its cocoa, in Cote d'Ivoire and Ghana. Such children are often trafficked -- kidnapped and sold -- into labour. They work in brutally dangerous conditions, with sharp machetes and toxic chemicals. Many are physically abused so they'll work harder. Few are given adequate food or rest. Many never see their mothers again.
Mothers the world over are proud of their children, the product of their love and labour, and their gifts to the future. Moms whose children have to work in dangerous conditions, sacrificing their educations and their futures in order to do so, likely don't have many moments of pride or satisfaction. And likely they shed far too many tears.
It's easier to snuggle down under our covers than admit we live in a world where child labour is still prevalent. But it's also pretty simple to do something to help change things. Fair trade cocoa, coffee, tea and sugar are available in many grocery stories. While they cost more -- and you might have to buy something else in order to buy them -- the payoff is much greater than a mouthful of sweetness.
This Mother's Day, I will honour the world's mothers by educating my own children about the importance of love, not just in our own home and community, but for families we'll never meet.
I'll use my voice to speak to those who can do more to address child labour in coffee, sugar and chocolate production than I can ever do alone. I'll set aside some time to send a few e-mails to companies whose products I purchase asking the following questions:
How do you know your products aren't free from child labour?
If you purchase your raw ingredients from sub-contractors, what are you doing to ensure they aren't exploiting children?
In situations where children have to work to survive, what are you doing to keep them safe, and help them continue their education?
Then perhaps I'll ask my children different kind of Mother's Day gift: some new fair trade groceries for my cupboards. I'll ask them to come with me to the grocery store. We'll read the labels, and talk about what makes this kind of cocoa, coffee or sugar different from the rest.
In this way, I'll feel like I've given a very small gift to moms around the world.