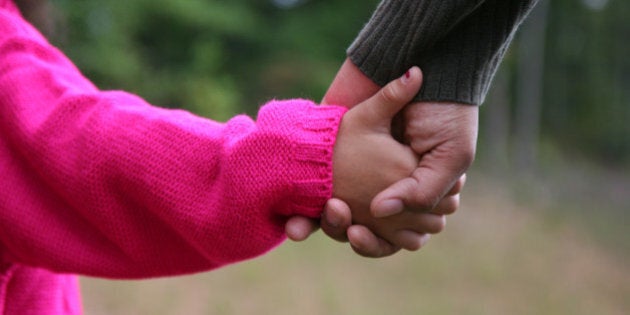 When my kids were little, Mother's Day was all about presents lovingly crafted at school -- or home-made cakes with way too much icing. Now that they're teens, my children know I'll be just as happy with a quiet cup of my favourite coffee. There's nothing like watching it steaming in the mug as I snuggle down for another hour in bed.
This year, I'll have a hard time sipping my beloved brew without thinking about a mother I met in Guatemala while travelling with World Vision this year. Eva and her children all work in the local coffee fields, weeding, harvesting, or digging holes for the coffee plants. The region is so poor that housing, feeding and clothing everyone means sending the children to work.
I remember sitting down in the shade to talk with Eva, a rare break in her gruelling day. (I didn't snap a photo as we were so busy talking.) Maria spoke quietly about her oldest son, Marco, a boy of 10. Marco used to love going to school, loved the intense mental stimulation and the pride of achievement. But most of all, this serious little boy had loved the idea that his education would lead to "a great job." He didn't want his mother to have to work so hard, and was committed to taking that burden from her.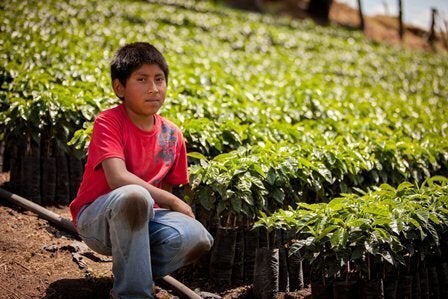 When Marco's father left the family, Eva was forced to do something that must have caused incredible pain: pull her kids from school and have them work alongside her as day labourers, travelling among the many local coffee plantations. There was no other way to provide the basic necessities of life for Marco and his two younger siblings.
Seeing Eva and Marco working side-by-side, I hurt for both of them. Eva is forced to watch her boy labour each day, knowing the toll that it's taking on his young body. She told me that the children frequently vomit because of their exposure to toxic pesticides. Marco endures the physical strain of a man's labour under the baking sun, desperately missing the schoolwork that he'd enjoyed so much. And knowing that no matter how hard he works, his mom still has to keep labouring too.
"What would you like to be when you grow up?" I asked Marco when we met, hoping that his dreams were still alive. He looked at me, our translator and back as though he didn't quite understand the question. Marco had so resigned himself to his situation, to his daily physical and psychological labour, that he didn't know how to find and express those feelings. Being without school must be so much harder after you've tried it and loved it.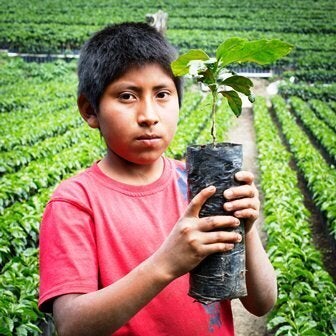 On Mother's Day, I look at my kids and think how blessed I am. Not just because I've had a chance to raise them, with all of the love, pride and fun that brings to my life. But because doing so has been a joyful experience. I've been able to nourish them, keep them warm, and send them off to school in the morning. I've had the joy of seeing them develop interests and passions, and follow up on any topic under the sun that happens to tantalize them. I get to hear about their dreams for the future, and see their excitement about what's possible.
There are 168 million child labourers around the world today, with 85 million doing the worst forms of child labour. Like Marco and his siblings crawling along the ground under the beating sun, regularly exposed to toxic pesticides, these children are doing work that is dirty, dangerous and degrading.
Most of these children have a mother in their lives. Many of these women feel their children's suffering, degradation and loss even more acutely than the children do.
Before leaving Marco's village, I learned that the boy is awaiting sponsorship. World Vision has partnered with Marco's community, meaning we're working with local leaders and parents to develop a plan for long-term development in the area. If a sponsor is found for Marco, he could be a part of that change. He could have the chance to continue his education without sacrificing his family's well-bring. Sponsorship is one of the best ways to help protect children from dangerous labour situations like these.
On Mother's Day, I imagine how mothers like Eva all over the world would feel if their children had all the benefits of sponsorship. And I say a prayer that it comes to be.
Click here to learn about sponsoring a child through World Vision.
Cheryl Hotchkiss manages World Vision Canada's No Child For Sale campaign. She recently returned from Guatemala, where she spent time with children who labour in the coffee fields -- and their mothers.