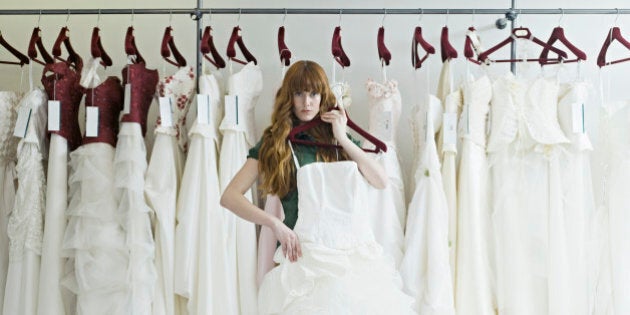 Unlike what movies, friends and TV's "Say Yes To The Dress" say, I never thought about my "dream" wedding when I was a girl. I didn't dream about my "perfect" wedding dress.
In fact, I never willingly wore a dress until my Grade 8 grad dance. (It was a kimono, and it was magnificent.) After that, I didn't wear one again until my high school formal dance.
So when my boyfriend (I hate the word "fiancé"' so I will continue to refer to him as my "bf") proposed to me in August, I instantly dreaded the idea of planning a wedding and saying "yes" to the dress.
Luckily, I kinda had an idea of what I wanted to wear, or more specifically, what I absolutely did not want to wear. As a style editor, I've written many stories about wedding dresses. I hated 99 per cent of them, so that was a good start.
To help me get an idea of how to get ready to go shopping for wedding gowns, I binge-watched Randy and Co. on "Say Yes to the Dress," but rather than helping me get an idea of what to expect, I realized that there was too much tulle and Swarovski crystals in the world.
High on visions of sheer corsets, thousands of rosettes and ruffled sleeves, I nervously made an appointment with Kleinfeld at the Hudson's Bay in Toronto and with local boutique, Sash and Bustle. As a result of these two appointments I learned some very important lessons on how to find your wedding dress without wanting to kill yourself.
And if you really want to know, I did find a dress. It's not a "dream" dress or a dress fit for a princess. It is, however, a "me" dress, and that's all that matters.
Lesson #1: Get rid of the idea of your "perfect" wedding dress right now
If you've been picturing your dream wedding dress since you were a little girl, you're bound to be disappointed. Sorry to break it to you, but no wedding dress is going to have every detail you want and you will end up being confused and unsatisfied with every dress that comes your way. There is a dress out there for you, but it may look completely different from what you imagine.
Lesson #2: Do look at wedding dress photos before your appointment
Just don't go overboard on this, ok? Looking at wedding dress photos is good for two things: 1) figuring out what you like and don't like and 2) helping your bridal consultant choose dresses for you. If you go into an appointment without any idea of what you like, you're going to have a frustrated consultant and a very confusing appointment, which will probably lead to you leaving the store empty-handed.
Lesson #3: Be open to different silhouettes and styles
You know you want a mermaid dress, but don't limit yourself to just one style or shape. What if that trumpet gown you've been obsessed with for months doesn't look quite as good on you as you thought it would? Being open to different styles will help you find a dress that's better suited for you and will help your consultant do his/her job: finding a dress that flatters your body and makes you look and feel beautiful.
Blog continues after slideshow: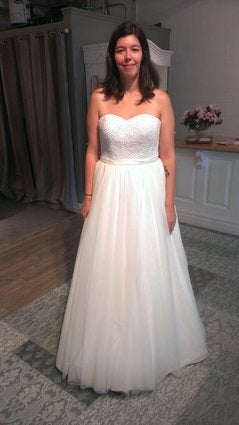 Lesson #4: Don't bring anyone to your first appointment
Don't yell at me. I said first appointment, not every appointment. When I went to my first bridal appointment, I brought three people: my sister, my cousin and a friend. While I valued their opinions, I still found their different tastes and critiques overwhelming, and that's just three people! Here's what I would do over again if I could: I wouldn't bring anyone to my first appointment. Why? You have the chance to figure out what you really like, not what your friends and family members like. Having too many people at an appointment (heck, having anyone at your appointment) can cloud your judgement. What if your mom hates a dress you love? What if your maid of honour loves a dress you're not sure about? It can be really confusing. Bring them on your second and subsequent appointments once you've narrowed down which dresses you love and then get their opinions.
Lesson #5: Bring only the people whose judgement you absolutely trust to your bridal appointment
As I said before, I brought three people to my appointment because I knew they would be honest with me and I trusted their tastes. When you're choosing friends and/or family members to tag along, don't feel as if you're obligated to bring your whole bridal party plus immediate family members. Sure, it sounds like a fun party but having too many people will confuse you, trust me. Bring the people who have your best interests at heart and who know your personal style and what you're looking for. I recommend no more than three people, as do most bridal salons. If you don't follow this advice, don't blame me when you end up wanting to strangle your future mother-in-law because she says you're showing too much cleavage and wants you to wear the wedding dress she wore in the '70s.
Lesson #6: Take your time
I'm totally guilty of being that person who, when she really likes something, she has to have it right away. Cue my first mistake when I fell for a gorgeous David Fielden dress and committed to buying it (I could pay for it at a later date), but was given a grace period while the consultants were waiting to see whether the designer could make the dress in my size. Fast forward to that night, when I couldn't stop thinking about another dress I also loved. Fast forward a week and a half when I went to another bridal salon and found a dress I loved even more and bought. The lesson? Don't buy a dress at your first appointment because you might change your mind later. Wedding dresses can be pricey so you want to take your time to find the one that feels right for you, even if you find a dress you love during that initial appointment. Don't feel rushed either; trust me -- those dresses will be around for a long time.
Lesson #7: Stick to your budget
I cannot stress how important this is. Set your budget before you go dress shopping because once you try on a dress that's out of your price range, you will either a) be an idiot and buy something out of your price range and regret it and be in debt over a dress or b) feel really disappointed that you can't buy a dress you love because it's too expensive. Don't let that happen to you. Set your budget and don't try on a dress you can't afford. Believe me there are tons of gorgeous wedding dresses that are in your price range, even if it's less than $500.
Lesson #8: If you're torn between dresses, take a week to think about it
As I said before, I told Kleinfeld I wanted to buy a David Fielden dress but later that night, I couldn't stop thinking about this gorgeous strapless gown that looked completely different. I then obsessed over it for days and realized I wanted to try it on again. So thank God I didn't have to pay for that Fielden dress right away 'cause I would have been screwed. So, if you're torn between two or more dresses, take at least a week to think about it. If you keep coming back to one, then you can be pretty certain that that's the one you love. Or, do this test: flip a coin and assign each side a dress. If you're disappointed when you see what side the coin lands on, you know your answer.
Lesson #9: Don't stress out
Finally, please don't stress out about shopping for your wedding dress. Yes, it's an important garment for one of the most special days in your life but it's just that: a dress. You can stress about the catering, the décor and whether your bridesmaids are wearing the right shade of purple, but finding your wedding dress should be fun. Take your time trying on dresses because you won't get another opportunity to do so again (knocks on wood). You will look beautiful. I promise.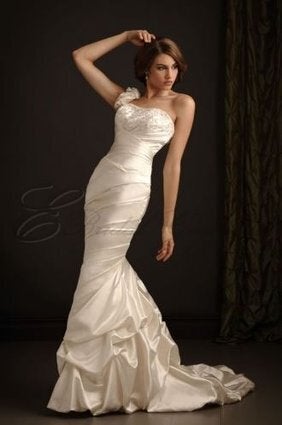 Wedding Dresses Under $500