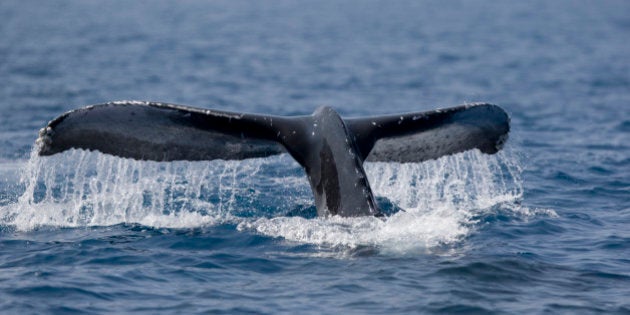 By Misty MacDuffee and Chris Genovali
In the middle of the Easter long weekend, the federal government published a notice in the Canada Gazette that they intend to down-list the status of North Pacific humpback whales.
Although the status of humpback whales is one of the few obstacles muddling Prime Minister Stephen Harper's forthcoming June decision on Northern Gateway, the June 2011 re-assessment by COSEWIC (Committee on the Status of Endangered Wildlife in Canada), released in the middle of the pipeline proposal's Joint Review Panel hearings, led to this announcement.
There are outstanding questions about the scientific reliability and sufficiency of the information COSEWIC used to make the determination to down-list these animals. The proposed change in status would strip humpback whales of their legal right to critical habitat, thus making it acceptable to displace them from feeding grounds, degrade their waters with increased noise, dismiss mortality from ship strikes and increase the exposure risk to oil spills -- all threats that accompany both the Enbridge Northern Gateway and the Kinder Morgan Trans Mountain tanker routes.
Most scientists would agree that humpbacks are "recovering," but few would agree they are "recovered." It is this issue that is causing the disagreement over whether the decision to down-list the B.C. population via Species at Risk Act (SARA) and COSEWIC was premature, and not based on enough evidence of recovery within B.C.
Typically, threatened or endangered species have population targets that are established so that progress toward a recovery goal can be measured. In the case of humpback whales, no such recovery target existed. The stated recovery goal was to "maintain the current abundance of humpbacks and observe their continued growth and expansion into suitable habitats."
The importance of numbers and the reliance on evidence is an important weakness in COSEWIC's decision. It is assumed, based on whaling records from the early 20th century, that the population of whales in B.C. waters is likely 50 per cent of what it was a century ago. By scientific standards, the return of 50 per cent of a population does not meet the definition of recovered.
Although the estimated 2,000 or so whales present in B.C. is a remarkable comeback story from what was likely a few hundred years ago, we do not have adequate systematic studies within B.C. to document population growth or decline.
All of the population studies of humpback whales carried out within B.C. have some form of inadequacy, which limits their usefulness to make broad and reliable science supported statements about the recovery of the population over time -- a critical and essential component when measuring recovery of a threatened species.
A second important weakness in COSEWIC's decision is their rejection of information suggesting that the B.C. humpback population could actually be two populations, not just one. Humpback whales have a remarkable site fidelity to their breeding grounds and their feeding grounds, information that is handed down from mother to calf over the years and through generations.
The work of Dr. Scott Baker, a marine scientist who has spent years characterizing the structure of the North Pacific humpback population, supports the recognition of multiple distinct populations. Baker states, "They differ based on geographic distribution and with genetic differentiations as well, and they have strong fidelity to their own breeding and feeding areas."
Baker's work suggests that the B.C. humpback population is made up of two units. It is likely the northern grouping is doing much better than the southern group. Critical habitat for the southern group lies off southwestern Vancouver Island, and includes the shipping lanes entering the Juan de Fuca.
With the down-listing, no money will be made available to do population assessments. The southern population is small and if it were being adversely affected by ship strikes or fishing gear entanglement, we would never know. With the decrease in funding for research, we are blindfolding ourselves -- we will be unable assess future or existing problems with recovery.
A hydrophone array between Kitimat and Caamano Sound show these waters to be among the quietest in B.C. These waters are currently identified as critical to humpback survival. They are also the same waters that will see daily oil tanker traffic as part of the Northern Gateway project.
One of COSEWIC's responsibilities is to identify and monitor the threats to listed species. COSEWIC rightly identifies threats associated with shipping, noise, vessel strikes, and oil spills. Down-listing assumes that the threats have been considered and addressed. On the contrary, COSEWIC's down-listing comes at a time when we know that the risks are potentially about to get much more severe.
Ultimately, the timing to down-list humpback whales is a sleight of hand approach designed to remove environmental obstacles that interfere with the federal government's agenda to export tar sands oil. This translates into risking the recovery of humpback whales in order to construct the Northern Gateway and Kinder Morgan tar sands pipeline and oil tanker projects at seemingly any cost.
We may never know the degree to which political pressure influenced the timing of COSEWIC's re-assessment and the fast-tracking of the SARA down-listing. What we do know is that politics has been the prime driver behind the federal government's ongoing dismantling of environmental legislation and species protection.