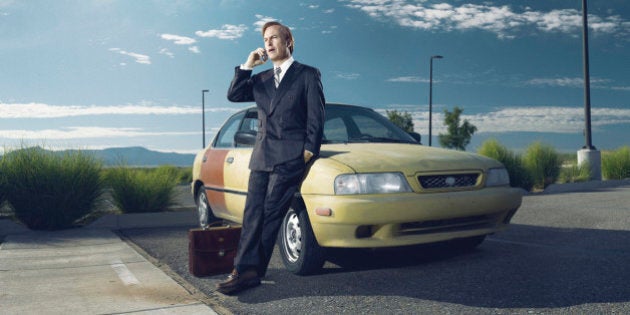 *** WARNING: May contain some spoilers. I've watched the first two episodes of "Better Call Saul," but I do my best to keep any major spoilers to a minimum. ***
When I first heard the news that AMC was creating a "Breaking Bad" prequel, I couldn't conceive of a worse idea. How could you take the monumental "Breaking Bad," strip the storyline of iconic characters Walter White and Jesse Pinkman, and somehow craft something worthy of an entire series? I was beyond skeptical. But then I heard that "Better Call Saul" was renewed for a second season before it even aired, so my inner flame of hope was stoked. Maybe, just maybe, this could be good.
And it is. It is so good, right from the get-go, that I almost feel ashamed for ever doubting creator/writer Vince Gilligan, his writers, and lead actor Bob Odenkirk (Saul). "Better Call Saul" is a return to the tried-and-true New Mexico environment, the sweeping shots of wide-sky desert mixed with strip-mall extravagance, the lushness juxtaposed with the dark comedy, which, as it was with "Breaking Bad," both jarring and hilarious at the same time. You'll find yourself laughing in spite of yourself.
But despite all of the similarities to its predecessor (scenery, feel, characters, darkness), "Better Call Saul" is its own animal. While Gilligan's trademarks litter the landscape -- wide-shot angles, time-lapse, biting dialogue, saturated colours -- to his credit, and very much to Odenkirk's, this show is new, fresh, and so very addictive. From scene one, you'll want to keep watching.
The opening scene of the series serves as both an enticing prologue (to "Better Call Saul") and epilogue (to "Breaking Bad"). Cleverly shot in black-in-white (the "then" is "now"), it shows a present-day Saul living in a sort of exile, watching a crappy TV and warily checking around every corner as he goes to get something from the pantry. This is Saul post-Walt, and he's fallen far from his fancy office digs, security guards and leather chair (wait'll you see his office).
Then we're quickly snapped to the past, pre-Walt, where we meet James McGill, Saul before Saul. In some ways, he's still the same wise-cracking Saul we know from "Breaking Bad," but at the beginning of the series something is missing from his persona. He's almost weaker, devoid of that criminal element we came to know him for. This is Saul unsullied (unSaulied, ha); the innocuous Everyman-type name James McGill serving as an indicator of his regularity, his punching-in-and-out gig as a public defender at $750 a pop.
In the first two episodes, James/Saul is (obviously) the focal point, and while the supporting cast does its job, providing Odenkirk with another bag of flesh to play off of, no supporting character resonates enough to leave a lasting impression. Odenkirk's acting is so strong and so all-encompassing (seriously, very few actors can deliver a monologue like this guy), no one stands a chance in his shadow. Expect multiple award nominations come next year. The one stand-out I will commend is Canadian Michael Mando ("Orphan Black"), who plays criminal Nacho Varga -- and is possibly the one who makes Saul into Saul. Mando is convincing, intense, and fits easily into the Gilligan universe.
And that's the best part of "Better Call Saul": re-entering the Gilligan universe, immersing yourself in that same feeling. The creative shots, like one in particular where Saul stands in the background while in the foreground is a dented, silver ashtray/garbage can. The metaphor is obvious -- a hollow man filled with refuse -- but it doesn't stop there. In the following scene, Saul bursts out and kicks the shit out of that can, shattering the simple allusion and making it into something else. This is the Gilligan magic.
"Better Call Saul" also asks similar questions that we've heard before in "Breaking Bad" and other epic shows like "The Sopranos." Make no mistake, this show is all about identity. "Who are you?" James is frequently asked. Indeed, who is he? How does he become Saul? What finally breaks his resolve? This is a journey you'll be all too willing to take, and you'll have a blast along the way.
"Better Call Saul" premieres with a two-night event on Sunday, February 8 at 10 p.m. ET/PT and Monday February, 9 at 10:00 p.m. ET/PT on AMC.