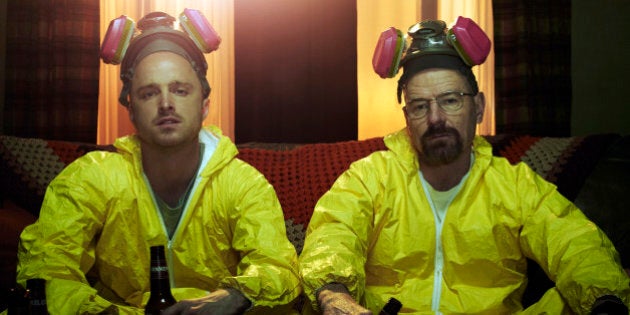 The Emmys aren't given much credence these days, and are often derided as the cheaper, less reliable cousin of the Golden Globes. But let's be honest here: if any awards show is going to represent the opinions of the mainstream TV audience, the Emmys are probably the ceremony to do it.
I've gaped incredulously at the TV as some Emmy winners are announced -- yes, truly, some selections are that unbelievable -- but at other times I've nodded my head in agreement, or even acquiesced with a "yeah, that must be the way the majority thinks."
The Emmys aren't the awards that are going to break out of any box. They're also not going to forge a new path for upcoming TV shows, or set a precedent for future production. They exist to award what that dude over there on the couch likes, or maybe that half-hour sitcom your granny can't miss. (Though some of last year's winners -- Bobby Cannavale for "Boardwalk Empire"? Jeff Daniels for "The Newsroom"? -- were outright bizarre.)
With that in mind, here are my predictions in the major categories for the 2014 Emmys. Ultimately, I may not agree with my own predictions. I'm trying to think like an Emmys judge.
** DISCLAIMER: Don't email me with your rage if you lose your office pool because of me. Feel free, however, to disparage me on Twitter if you must.**
Outstanding Comedy Series
"The Big Bang Theory"
"Louie"
"Modern Family"
PICK: "Orange is the New Black"
"Silicon Valley"
"Veep"
Why: You'd have to be living under a rock not to know how insanely buzzed-about "OITNB" was immediately after its Season 2 release on Netflix. It was out of control. If the Emmys want to try to remain current -- and relevant -- "OITNB" will take this top prize. This'll be groundbreaking for TV awards and a big step forward for Netflix. If the Emmys chicken out and don't want to take such a bold step, it'll probably be "Veep" or the ol' standby, "Modern Family."
Outstanding Lead Actress in a Comedy Series
Lena Dunham, "Girls"
Edie Falco, "Nurse Jackie"
PICK: Amy Poehler, "Parks and Recreation"
Julia Louis-Dreyfus, "Veep"
Melissa McCarthy, "Mike & Molly"
Why: Poehler is riding a wave of popularity (a totally well-deserved one), and not just from "Parks And Rec." She co-hosted the Globes with her buddy Tina Fey, and the two got more laughs than any other Globes ceremony in recent memory. She's just got "it" right now and I'd be surprised if anyone on this nominees list, other than Dreyfus, robbed it from her.
Outstanding Supporting Actress in a Comedy Series
Julie Bowen, "Modern Family"
Allison Janney, "Mom"
PICK: Kate Mulgrew, "Orange is the New Black"
Kate McKinnon, "Saturday Night Live"
Mayim Bialik, "The Big Bang Theory"
Anna Chlumsky, "Veep"
Why: This is a heavy category, with lots of comedic juice. Picking the Emmy winner is almost impossible. I'm going along with my earlier inclination: if the Emmys judges go out on a limb, then Mulgrew stands a good chance of taking home the top prize. But if the Emmys decide to go samesies as in years past, then we could be looking at Julie Bowen or even Allison Janney winning.
Outstanding Lead Actor in a Comedy Series
Louis C.K., "Louie"
Don Cheadle, "House of Lies"
Ricky Gervais, "Derek"
Matt LeBlanc, "Episodes"
PICK: William H. Macy, "Shameless"
Jim Parsons, "The Big Bang Theory"
Why: After so many years of Jim Parsons winning, I think the Emmys will branch out this year. Ricky Gervais' turn in "Derek" was praised by many, and it is a departure from his usual roles, but I think if the Emmys go for "OITNB" they may not want to be too Netflix-heavy. William H. Macy's complete physical transformation on "Shameless" this season is reason enough for him to win. If Matthew McConaughey can win an Oscar for losing 40 pounds, Macy should get the Emmy for his flawless portrayal of an out-of-work, down-on-his-luck alcoholic in need of a new liver.
Outstanding Supporting Actor in a Comedy Series
Andre Braugher, "Brooklyn Nine-Nine"
Adam Driver, "Girls"
Ty Burrell, "Modern Family"
Jesse Tyler Ferguson, "Modern Family"
Fred Armisen, "Portlandia"
PICK: Tony Hale, "Veep"
Why: Again, such a ridiculously stacked category, with old favourites and some newbies. This year, I think the trophy is going to go to Hale for his nuanced, hilarious role on "Veep." The "Modern Family" guys are deserving, but they're always nominated. Armisen is a super long shot (I can't see the Emmys audience really digging "Portlandia"). Driver? Maybe. Braugher? Maybe. It's up in the air, but Hale seems like top dog.
PICK: "Breaking Bad"
"Downton Abbey"
"Game of Thrones"
"House of Cards"
"True Detective"
Why: Do I even need to explain? One of the best shows to ever appear on TV just wrapped its final season? Yeah, it had better win.
Outstanding Lead Actress in a Drama Series
Lizzie Caplan, "Masters of Sex"
Claire Danes, "Homeland"
Michelle Dockery, "Downton Abbey"
Julianna Margulies, "The Good Wife"
Kerry Washington, "Scandal"
PICK: Robin Wright, "House of Cards"
Why: Wright should have won last year for "House Of Cards," and if anything she just upped the ante in Season 2. There were scenes where I was literally terrified of her character. That icy glare? Her stern comments? Yeah, I think she's got this one on lock. There's a lot of competition, though -- especially in Margulies, Washington and Danes -- and an upset is possible. I picked Washington to win the Globe, and I think it's not out of the question (considering "Scandal"s success) for her to win.
Outstanding Lead Actor in a Drama Series
PICK: Bryan Cranston, "Breaking Bad"
Jeff Daniels, "The Newsroom"
Jon Hamm, "Mad Men"
Woody Harrelson, "True Detective"
Matthew McConaughey, "True Detective"
Kevin Spacey, "House of Cards"
Why: Again, c'mon. Cranston was nothing short of outstanding on "Breaking Bad," and this is our last opportunity to award him for that. So, Emmys, please don't do what you did last year and give it to Jeff Daniels.
Outstanding Supporting Actress in a Drama Series
PICK: Anna Gunn, "Breaking Bad"
Maggie Smith, "Downton Abbey"
Joanne Froggatt, "Downton Abbey"
Lena Headey, "Game of Thrones"
Christine Baranski, "The Good Wife"
Christina Hendricks, "Mad Men"
Why: As above. Gunn was outstanding in the final "Breaking Bad" season.
Outstanding Supporting Actor in a Drama Series
Jim Carter, "Downton Abbey"
Josh Charles, "The Good Wife"
Peter Dinklage, "Game of Thrones"
Mandy Patinkin, "Homeland"
PICK: Aaron Paul, "Breaking Bad"
Jon Voight, "Ray Donovan"
Why: If anyone wins over Paul, I'll throw a fit. That's right. I will.
"American Horror Story: Coven"
PICK: "Fargo"
"The White Queen"
"Bonnie and Clyde"
"Treme"
Why: As much as I enjoy the ridiculousness of "Coven" (camp camp camp), "Fargo" will take this. It was received well by both critics and viewers, and it even had the buzz factor going for it. Sure, it's the end of "Treme," but the HBO show never quite resonated with a broad audience.
PICK:"The Normal Heart"
"The Trip to Bountiful"
"Killing Kennedy"
"Sherlock: His Last Vow"
"Muhammad Ali's Greatest Fight"
Why: This isn't even a contest. The stellar cast (Taylor Kitsch, Matt Bomer, Julia Roberts, Mark Ruffalo) and the heavy subject matter helped solidify this TV movie's win. I would be shocked if it went any other way, especially if the giggle-inducing "Killing Kennedy" wins anything.
The Emmy Awards are broadcast on Monday, August 25 at 8 p.m. ET/5 p.m. PT on CTV in Canada and on NBC in the U.S.