Getty
Probably one of the biggest misconceptions about beer styles and seasonality is about stouts and porters; most people think of them as beers only for winter. This is dead wrong.
Stouts and porters, particularly higher alcohol ones, can be perfect beers for a long cold Canadian winter. However, when thinking about pairing beer and food, it would be hard to find a better beer to accompany rich smokey BBQ meats, than a roasty or smokey porter or stout. And BBQ is classic summer time fare. The darker roast of the grains used mean these beers always have elements of roasted grains or smoke, and often have hints of coffee, espresso and chocolate. With aromatic smoke being at the root of good BBQ, the two intermingle perfectly, and will elevate each other far more than a pairing with a simple lager.
Porters were first brewed in London in the 1700s, though the exact history is unknown. It is clear that they developed out of the common English brown ale, and it is accepted that the name comes from the fact that they were widely consumed by porters; the legions of strong men who would physically haul various salable goods around the city, from docks to markets to stores. What is also unknown, is what a historically accurate porter would have tasted like. They were generally aged for months in large oak vessels, which would have undoubtedly added the influence of wild (sour) bacterias.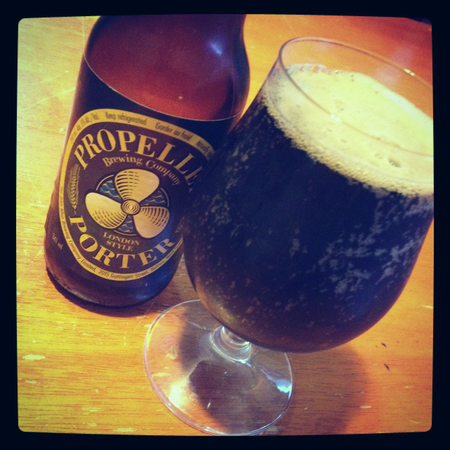 Today, however, porters are generally roasty and malty, with flavours of coffee, chocolate, caramel, and toffee. They will have some hop influence, but at most should be well balanced and not particularly bitter. You can find Sleeman Fine Porter (Ontario) in Ontario and often in variety packs nationally. Locally look for Mill Street Coffee Porter (Ontario), Propeller London Style Porter (Nova Scotia) or Phillip's Longboat Chocolate Porter (BC).
An interesting sub-style, is the Baltic Porter. These beers are actually lagers (cold fermented with lager yeast), and feature higher alcohol (at least 6 per cent and often much higher). They are quite sweet, with no charred or hop bitterness (though there are hops in them). They should also have some spiciness, touching on clove, pepper or licorice. I don't know of any with national distribution, but Les Trois Mousquetaires Grand Cuvee Porter Baltique (Quebec) is excellent, as is Bellwoods Lost River (Ontario).
Stouts grew out of porters, and specifically "stout porters". Through the 1700s, "stout" referred to any higher alcohol beer, but it quickly became attached to porters, then grew into it's own style. Strangely, as the style grew, the most well-known variety -- the dry English or Irish stout -- actually developed to have fairly low alcohol (normally not getting higher than 4.5 per cent). There are a few different types of stouts now, but the most common are the dry English or Irish, Russian Imperial, and milk stout.
Most people think of Guinness when they think of stout, and indeed, Guinness is a textbook example of a dry Irish stout. Funny enough, the general consensus is these beers are "heavy" which is not so. While they can be quite flavourful, featuring coffee, cocoa and smoke from the black malts, they are nearly always very light bodied with low alcohol. The exception are oatmeal stouts, which carry the same aromas and flavours, but have a velvety rich body from the addition of oatmeal to the grains. Check out McAuslan St Ambroise Oatmeal Stout (Quebec), Cannery Brewing Maple Stout (BC), Garrison Martello Stout (Nova Scotia), or Junction Stationmaster's Stout (Ontario).
Russian imperial stouts were originally brewed by London breweries to be shipped to St Petersburg, and needed to have higher alcohol and hops to survive the long sea voyage (similar to the development of the India Pale Ale). The more traditional/English versions of these are sweet and smokey, featuring cocoa, coffee, burnt sugar, dark fruits, molasses and spices, and are balanced with notable English hops. The newer North American take on the style features even more hops, often from the new world. While they still show plenty of dark smokey flavours and dark fruits, the hops are bitingly bitter and dry. Favourites of mine include Howe Sound Pothole Filler (BC), Amsterdam Tempest Imperial Stout (Ontario) and Dieu du Ciel! Peche Mortel (Quebec).
Milk stouts were nearly just a note in the history of beer, but recently some brewers have started making them again. They are sweet, and often actually have lactose (milk sugar) added to them. They also use minimal hops, so that while they share the same characteristics of a dry stout, with coffee and cocoa, they can range from somewhat to very sweet. The only ones I can think of are Parallel 49 Ugly Sweater (BC), Charlevoix La Vache Folle Milk Stout (Quebec), and the new Beau's Tom Green Beer (Ontario, available at the LCBO this fall).
Smokey Mustard BBQ Sauce

In parts of Georgia and the Carolinas, BBQ sauce is made with mustard as the base, rather than tomato or ketchup. Smokey stout adds another layer of complexity to this.

1 cup dijon mustard

1/2 cup sugar

1/2 cup dry stout (I like using the McAuslan Oatmeal Stout for this. Guinness would work too)

3 tbsp butter

1 tbsp hot sauce (optional)

Salt/pepper/Worcestershire to taste

Combine all ingredients in a small sauce pan, and simmer covered for 30 minutes. Use on anything pork, from slow smoked shoulder (for pulled pork) to grilled chops. It also goes great with chicken.