Even Michael Jackson (the English beer writer, not the American pop star) -- a man who played a huge part in the the renaissance of great beer in the U.K. in the 1970s and also in the concept of beer styles in general -- felt that you needed a simple beer to drink after pushing a lawn-mower around the garden on a hot summer's day.
It needed to be tasty served cold, and be satiating yet interesting. And while some people assume that a lawnmower beer is a basic light lager, I want to challenge that assumption. Following my posts on Wheat Beers, Fruit Beers and Sour Beers, today we are going to explore Lawnmower Beers.
There is no denying, more people probably reach for a light lager after cutting the grass or weeding the garden, than anything else. Generally these beers are made with large amounts of rice or corn in them, to lighten both the colour and the taste. They also are served at or below 0°C, further inhibiting flavours (colder liquids have less impact on your sense of smell/taste). I've made tasting notes about beers in this category that include the observation "tastes like soda water with a splash of tonic." They are meant to be drunk quickly, and not pondered. That being said, there are some light lagers that go beyond the norm, and bring some taste to the party. F&M Stone Hammer Light (Ontario) is a light lager I would happily drink.
Lagers (including but not limited to Pils, Pilsners, amber lagers and more) are a modern beer invention, pioneered in the 1840s, using a different strain of yeast than the ale yeast that were widely known at the time. These yeasts ferment at colder temperatures, and also are active at the bottom of the fermentor (ale yeast are active at the top). The beers are also aged for many weeks ("lagern" is the German verb "to age"), which allows any chemical byproducts from the fermentation to dissipate and is why lagers are generally described as being "clean" or "crisp" with minimal esters and lingering characteristics.
Many of the varieties our big brewers make today rely heavily on adjuncts (corn, rice, etc), often as syrups, rather than just barley. That being said there are many excellent lagers available, in every province and territory. Creemore Springs Premium (Ontario) is amazing, nationally available, and was one of the aforementioned Michael Jackson's favourite North American lagers. Their Kellerbeir is also top-notch. The beer that started me on the road to craftbeer and one that still has a special spot in my heart is Moosehead Lager (New Brunswick). Locally check out Hop City Barking Squirrel Lager (Ontario), Quidi Vidi Continental Pilsener (Newfoundland), or Paddock Wood Czech Mate Pilsner (Saskatchewan).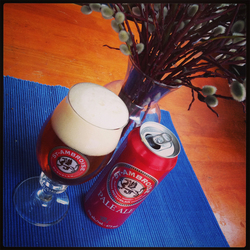 While English milds are light beers (often around 3 per cent alcohol), they don't fit a lot of people's definition of "light," as they are often fairly malty and even smoky. On the other hand, English pale ales are wonderful beers that are generally very well balanced, nicely dry and hoppy, and normally not more than 5 per cent.
And while more and more brewers are focusing their energy on the North American-style pale ale, there are still numerous excellent English-style pales available in Canada. Granville Island English Bay Pale Ale (BC) has national distribution and is a good example of the style. Thornbridge Kipling (England) has also had good rotation in my beer fridge this year, and can be found via importers. Featuring amazing New Zealand hops, it's one of the best pale ales I've ever had. Closer to home, look for Phillips Blue Buck (BC), Propeller Pale Ale (Nova Scotia), Black Oak Pale Ale (Ontario), McAuslan St. Ambroise Pale Ale (Quebec), Yukon Gold English Pale Ale (Yukon), Gahan Harvest Gold Pale Ale (PEI), or Fort Garry Pale Ale (Manitoba).
North American-style pale ales are based off the English-style pales, but in this case it's as if the balance is being impacted by an inner-ear infection. Hops are very much the prevalent aroma and taste, and while they're not hugely bitter, the aromatics paint big strokes over the fairly subtle malty sweetness. These beers are my daily-drinking beers, whether I just finished mowing the lawn, am cooking dinner, or am unwinding after the kids are in bed. Alexander Keith's Hop Series Ales (Nova Scotia) are North American pale ales, and are single-hop brews, featuring Cascade or Hallertau hops. They are great gateway beers into the style and are available nation-wide. Also look out for Great Lakes Crazy Canuck Pale Ale (Ontario), Tofino Tuff Session Ale (BC), Le Trou du Diable Mactavish in Memoriam (Quebec), Garrison Hop Yard Pale Ale (Nova Scotia) or Alley Kat Full Moon Pale Ale (Alberta).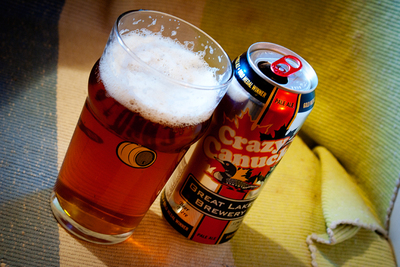 Classic Fish and Chips

A solid fish and chips is not necessarily the most healthy thing you can eat, but it's easy and versatile. You can make it with frozen cuts of cod or haddock, or shell out top dollar for fresh caught halibut. The batter takes seconds to make. And it goes perfect with a variety of beers, from light lagers up to big North American pale ales. Just be careful choosing your frying pot (if you don't have your own deep fryer). Leave enough space for the displacement of the fish, and for the oil to triple in volume when the fish first goes in.

1 cup all-purpose flour (plus more for dusting)

1 egg

1 341ml bottle beer (a lager or mid-hoppy pale ale)

1 tsp baking powder

Pinch of salt

4 fillets of white fish (cod, haddock, halibut, etc)

Pre-heat fryer or pot of oil with 3-4" of oil in it (vegetable, sunflower, etc) to 375°F. Whisk all ingredients other than the fish together to form a batter, with no lumps. Dust fish fillets in flour and coat in batter. Carefully drop into frying oil (watch for splashing and the expansion of the oil). Fry for 3-4 minutes and turn the fillets over. Fry for another 3-4 minutes until golden, and remove to paper towel to drain. Serve with french fries (either made in the fryer as well, or baked/bought/stolen) or onion rings (leftover batter can be used to coat flour-dusted slices of onion and fried to golden brown). Top with a squeeze of lemon juice, a dash of malt vinegar and a good shake of salt.
Best Canadian Craft Beers