While there are many things about summer that I love, one of my most beloved activities is having a campfire. And whether you are gathered around a crackling blaze in a backyard fire-pit, sitting under the stars at a cottage, or making camp after a five hour canoe into the back country, you will need the perfect beer to sip as you watch the flames leaping. And that is what this week's Summer Style Guide is all about: campfire beers.
While many of the BBQ beers from last week are well suited to a campfire, drawing on the smokey characters from the fire (especially if you are roasting hotdogs), I want to dig into a different style, Old Ales and Barleywines.
Old Ale and Barleywine as styles create all sorts of problems, based entirely on the unusual nomenclature of beer through history and on modern interpretations (and misinterpretations!). Rather than trying to give you the full details, Martyn Cornell has an excellent post about it here. For the case of this post, I'm going to group beers based on what the brewer called them, and go with the BJCP guidelines about the styles (with apologies to Mr. Cornell).
So, all these beers are rich, heavy beers, often brewed with darker malts and to higher alcohol than "average" ales. They make perfect beers to cozy up around a fire, especially later in the season, when nights can get chilly and a beer with some warming alcohol is a welcome thing.
There are none that I know of that have national distribution, but many brewers make one of these styles (and some make many). Don't hesitate to ask your local micro-brewery if they have one. Even if it's only seasonal (and many are made for fall and winter) they may well have a few bottles tucked away they would be willing to sell.
Old Ales should be well-balanced, and range from 6-9 per cent. They will have generous sweet characteristics that can range from caramel to molasses and rum to burnt sugars. They will also often show characteristics from classic English ale yeast, giving them fruity aromas and flavours.
Hops are generally traditional English, herbal, tannic and dry. Favourites include McAuslan St. Ambroise Vintage Ale (Quebec), or Amsterdam Vicar's Vice (Ontario). I would be remiss not to also mention the excellent Ola Dubh beers from Harviestoun (Scotland), which are their (already) amazing Old Ale, barrel-aged in Highland Park whisky barrels.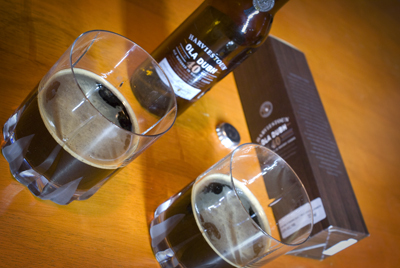 English Barleywines are "bigger" than Old Ale; they range from 8-12%, and are more intense and complex though share many of the same characteristics. The hops will still be English, but are often more prominent than in an Old Ale.
Ranging from amber through to dark brown, most tend towards the dark side of the scale. They also should have some warming impact from the high alcohol, though this can diminish with age. These bottles are classic beers to age, and can change quite a bit with a few years in a cellar (note that beer should be stored in a cool and dark place, but unlike wine, should be kept upright, not on its side). Generally, a sweet, fruity Barleywine with a big shot of alcohol heat will dry out with age, bringing out it's darker fruit aromas, and bitterness from the hops, while the heat from the alcohol diminishes or disappears entirely. Check out Garrison Ol' Fog Burner (Nova Scotia), Howe Sound Woolly Bugger (BC), or Granite Gin Lane (Ontario).
American Barleywine is quite similar to English, though the hops are generally of American variety, and therefore give assertive citrus or evergreen flavours and quite notable bitterness. They also tend to be more in the middle of the colour range, with brilliant ruby red shades glimmering through a tan to brown body. These beers are also great candidates for ageing. Look for Dieu du Ciel! Solstice d'Hiver (Quebec), Alley Kat Olde Deuteronomy, or Driftwood Old Cellar Dweller (BC).
Mushrooms on Toast

Long after your excellent BBQ dinner is done, and the kids have eaten too many s'mores and are finally in bed, you need an easy late night snack for the fireside. This dish is equally easy to make inside and bring out, or cook in a heavy skillet over glowing coals. Plus most of the prep can be done during the day, so you can quickly toast the bread, fry the mushrooms and serve. The earthiness of the mushrooms and saltiness of the cheese both juxtapose the sweet complex beer, and add many layers of depth to the experience.

450g mixed mushrooms, chopped. Not white button mushrooms, fun sexy ones. Shitaake, cremini, oyster, porcini, chantrelle, and morel are all great (fresh or dried).

1 shallot, finely diced

100g cheese, crumbled (I prefer blue cheeses, like Stilton, but a funky cheddar would work too)

5-6 leaves fresh sage, chopped (or 1 tsp dried sage)

4 slices good crusty bread, toasted.

Salt/pepper to taste

In a heavy pan over medium-high heat, sautee the shallot in the oil of your choice (I like butter), until clear, about 2 minutes. Add mushrooms and fry until soft and shiny, 2-3 minutes. Toss in the cheese and sage, and remove from heat. Stir to bring it all together. Season to taste, and serve on toast. As an aside, if you're making this outside, the toast can simply be set near the coals, it doesn't have to be totally or evenly toasted; just heated-up and a little crispy.