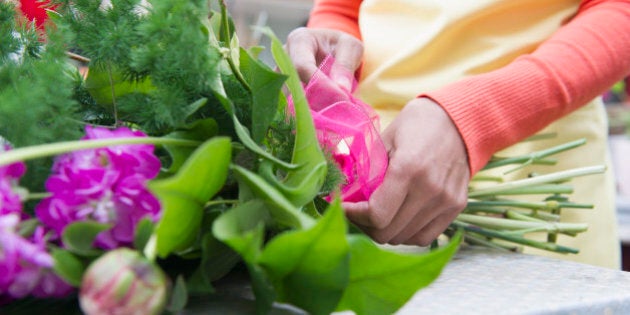 Having a florist for a Mother means I get to see the other side, the business side, of all the major holidays that seem to whiz by us faster and faster every year.
Valentine's Day, Easter, and Christmas have all sparked a whirlwind of anxiety and stress in my Mom as she spends her time trying to organize and prepare her little shop named Euro Flowers. She sells flowers in Mississauga, a suburb of Toronto, and although Valentine's Day might seem like it'd be the biggest holiday, it sometimes pale in comparison to Mother's Day.
Mother's Day is when people around the world who are living abroad, like I do, stampede to e-commerce sites to send their mothers something, anything, that says, "Hey I know I'm 4000km away, but I still love you and thanks for everything."
One of the best parts of helping my mom out from time to time with the internet side of her business is seeing all the sweet notes that ex-pats send over to their moms. Most of them are just a short and quick, "I love you!", but some are quite deep and make me realize how much I miss my own mom.
Funnily enough, when asked what they want for Mother's Day, the number one answer was "something homemade." Most Mom's said they'd take that over flowers. Still consumers in the U.S spend $1.9 billion on flowers during Mother's Day.
Unfortunately for Moms around the world, most of us don't have time to harken back to our kindergarten arts and crafts days and bring home a big pile of love disguised as super glue, popsicle sticks and glitter.
I think what fuels the "industry" of Mother's Day for the most is just the practicality of sending a card or flowers over making something homemade. You still get to tell your Mom, "hey I promise I didn't forget that you raised me, and look I can even afford flowers, so you don't have to worry about me!" Although in reality, that arrangement might leave you eating ramen for the rest of the week. But still, she doesn't need to know that, and besides it's only once per year.
The thing I realized when I delivered flowers for my mom years ago during Mother's Day is that at the end of the day, your Mom is just happy that you remembered. The smile on every woman's face when she answered the door and I stood there holding a pile of freshly cut flowers was truly heartwarming. Mom's love us so much, and unconditionally, and ask for so little in return.
We all grow up and move on with our lives, moving away from home, sometimes nearby, sometimes vast distances. We forget to call and say I love you, and we really shouldn't, because one day you might not get to anymore. A friend of mine lost her mom in a tragic accident recently, and the thing that I realized from that is life is almost never ever predictable. Don't take things for granted, especially not your mom. So on Mother's Day, if you're not going to send her a homemade replica of the treefort you played in as a kid, at least pick up the phone and give her a call to say I love you. If you can, go visit her and spend the day with her. You'll never regret that, but you will regret not doing it.