Way back in 2001, a bunch of people in Stockholm's fish market had a crazy idea: create an ice-covered downhill track, get some friends together, and race down it on skates four at a time while wearing hockey equipment. Sounds crazy, right? That's what I thought when I first heard about Ice Cross Downhill, and I couldn't wait to try it.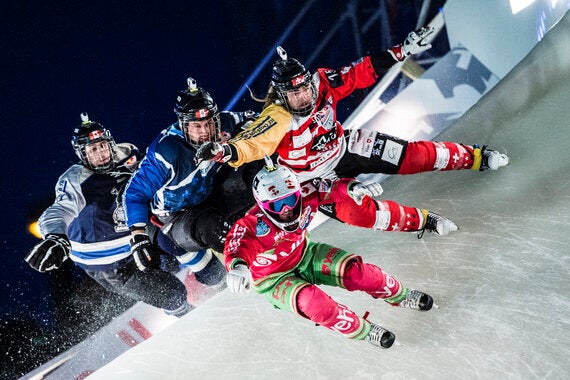 Canadian and Swiss racers compete during the fourth stage of Red Bull Crashed Ice, the Ice Cross Downhill World Championship in Edmonton, Canada on March 14, 2015.- Joerg Mitter / Red Bull Content Pool
In Canada, there's no question that winter sports are a part of our culture. Our tried and true sports like hockey will always be a staple, but more extreme, non-traditional sports have experienced intense growth in recent years, taking our winter culture to new heights. The onset of hybrid sports like slopestyle and snowboard cross on the Olympic stage, and events like X Games and Red Bull Crashed Ice give athletes a platform to push the boundaries of their athleticism and skills, carving their way into unchartered sport territory.
As an adrenaline lover, this fires me up. And I'm not alone. More and more athletes are participating in these types of sports that draw spectators in the thousands. Whether you're watching from home, following along online or grit and bearing the frigid temperatures at the event in person, Canadians are flocking to extreme sport events to catch the spectacle for themselves.
Having competed in these sports myself, I know firsthand just how thrilling it is to participate in a sport in its early stages and have the chance to be part of its growth. Riders are constantly giving feedback on the twists and turns of Red Bull Crashed Ice tracks, working with track designers to create a course that tests athletes' raw skill and determination to give the crowd the best show possible.
For organizers, this entrepreneurial spirit in extreme sports is becoming essential to break through and attract the best athletes from around the world. And of course, it has to put on an epic show.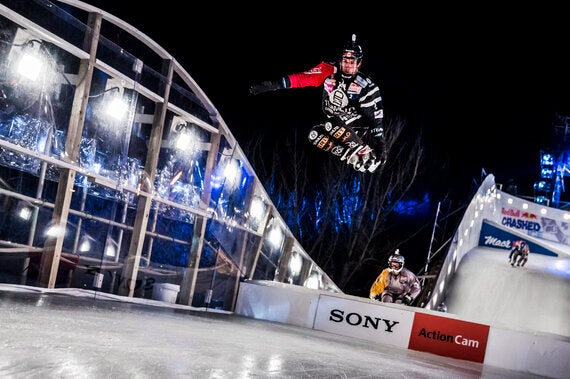 Canada's Scott Croxall competes during the fourth stage of Red Bull Crashed Ice, the Ice Cross Downhill World Championship in Edmonton, Canada on March 14, 2015 - Andreas Langreiter / Red Bull Content Pool
The rise of social media has also played a big part in creating the right environment for non-traditional sports to grow like they have. Some of the most memorable - and shareable - moments in sport are when athletes shock us, surprise us and make us hold our heads in disbelief, which is par for the course in heart-pumping sports like boardercross or ski SuperPipe that constantly test athletes' abilities and endurance.
Even though they're relatively young, extreme sports are already evolving. For example, since 2010, Canada has been one of the only stops on the Ice Cross Downhill world tour to have a women's competition. This year, the rest of the world is following Canada's lead by introducing an official Women's World Championship to showcase these amazing athletes. The quick growth of the sport has also led to the creation of the All-Terrain Skate Cross Federation (ATSX), a governing body that was created this year to meet growing demand for more races in different locations.
Being a part of this new wave of sport in Canada has been a crazy ride. Thinking back to my first time at the starting gates, I never would have imagined I would race around the world from Finland to Germany to right here at home in Canada. The next great sport could come from anywhere - from a fish market or your own backyard - and I can't wait to see what it is.
This year's Red Bull Crashed Ice event takes places in Quebec City on November 27 and 28th. Learn more at www.redbullcrashedice.com.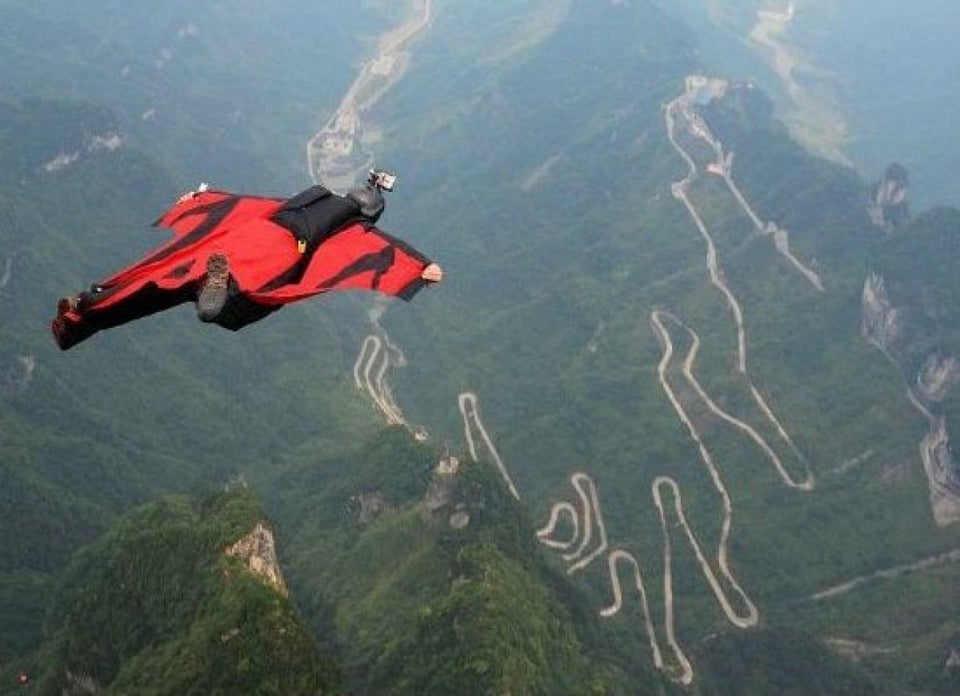 The World's Most Extreme Sports Competitions