Last summer I attended a talk by Esther de Waal, a foremost scholar in the Benedictine and Celtic traditions, where I heard her boldly say: "I don't want more investigative journalism, what I want is mystery."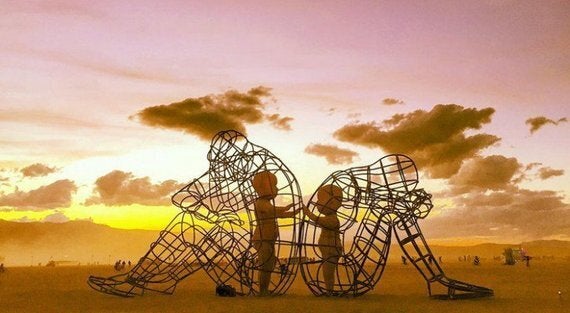 We've just stumbled out of weeks that have baffled and horrified us. A torrent of factual and "alternative news" has filled our newsfeed while Instagram has continued to churn out perfectly curated photographs, (scheduled in Hootsuite, no doubt, weeks ago.) We are all sifting through a sea of data, advertising and misinformation seeking clarity, searching for answers.
In a similar time of upheaval, more than 50 years ago, a newspaper posed the question, 'What's Wrong with the World?' Catholic thinker G. K. Chesterton reputedly wrote a brief letter in response:
Chesterton understood the immense capacity of the human heart: a mysterious well capable of deepest compassion and incomprehensible evil.
It's evil we've seen in these days.
In the wake of the U.S. executive order on immigration, we've seen the poem from the Statue of Liberty - for decades a symbol of American immigration - shared all over social media: "Give me your tired, your poor / Your huddled masses yearning to breathe free." The poem was written by a Jewish woman, American poet and essayist Emma Lazarus (1849-1887,) drawing inspiration from her Sephardic Jewish heritage and her work on Ward's Island helping refugees detained by immigration authorities.
"Wherever there is humanity, there is the theme for a great poem," she once said, according to the Jewish Women's Archives.
After the attacks on a mosque in Quebec City, the Canadian Prime Minister and his wife gathered with grieving widows and children at a vigil honouring the lives of six Muslim Canadians. In that deep night, I watched the candles flickering.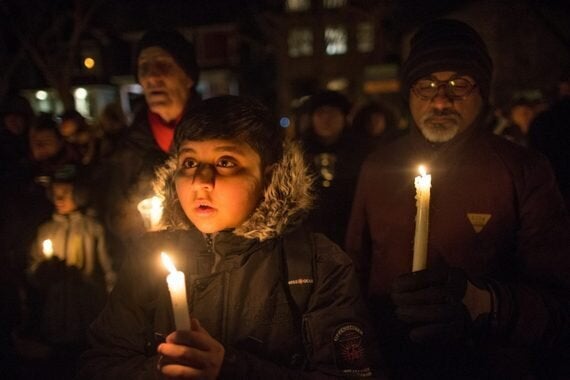 "It is God's glory itself that manifests itself in His people in an abundant variety of forms and styles. The uniqueness of our neighbours is related to the fact that God's eternal beauty and love become visible in these unique, irreplaceable, finite human beings. It is exactly in the preciousness of the individual person that the eternal love of God is refracted and becomes the basis of a community of love."
Henri Nouwen, a white man, wrote these words. And Henri, who was also a Roman Catholic priest, would be saying them - in the wake of tragedy, in the face of injustice - today.
Henri Nouwen was an immigrant. He was raised and came to faith in a nurturing Catholic family in Holland where he was the eldest child of four. He knew early on he wanted to become a priest. In fact, as early as age 6 he'd dress up like a "father" the same way a kid would dress-up like Spiderman. These early urges, encouraged by his parents, led him to pursue the priesthood with vigour and resulted in professorships at Notre Dame, Yale and finally Harvard University. These Ivy walls would finally squelch the joy and vigour with which he lectured and wrote and so he left to live and, eventually die, in quiet community with mentally disabled women and men in northern Toronto.
"We want to serve the poor and have a simple lifestyle, but we also want all the comforts of the rich; we want to have the depth afforded by solitude, but we also do not want to miss anything; we want to pray, but we also want to watch television, read, talk to friends, and go out. Small wonder life is so often a trying enterprise and we are often tired and pathologically overextended. Medieval philosophy had a dictum that said: Every choice is a thousand renunciations. To choose one thing is to turn one's back on many others." (Ron Rolheiser, The Holy Longing)
Every choice is a renunciation. Love over hate. Vulnerability over power. Peace over war.
It's not a mystery that the struggle today is an age old struggle for the human heart.
I've been asking myself how to respond. How it's possible as a mother and a wife and a writer and an introvert to live and lead and love during these terrible days.
I drop my children off to play in the woods with their friends. We sing and jump in the fresh dusting of snow. I whisper a word of thanks to heaven.
I call my uncle with mental disabilities and talk with him about the book of photographs I sent him last week. We talk about the weather, the belly dancers he's asked to see for his 60th birthday.
I type out words in the solitude of the afternoon and pray the words of St. Francis of Assisi:
"Make me a channel of your peace
Where there is hatred let me bring your love
Where there is injury, your pardon Lord
And where there is doubt true faith in You
Make me a channel of your peace
Where there is despair in life let me bring hope
Where there is darkness only light
And where there's sadness ever joy
Oh, Master grant that I may never seek
So much to be consoled as to console
To be understood as to understand
To be loved as to love with all my soul
Make me a channel of your peace
It is in pardoning that we are pardoned
It is in giving to all man that we receive
And in dying that we are born to eternal life."
May the source of all these mysteries guide us home.
Christina Crook is an award-winning author and current writer-in-residence with the Henri Nouwen Society. She lives in Toronto with her family.
Follow HuffPost Canada Blogs on Facebook