Every couple of weeks, my dinner menu consists of a family-style salad platter. Sometimes it's a completely vegetarian meal, and other times I throw in a can of sardines to kick up the protein. I would be lying if I told you this dinner is always met with the cheers and overwhelming excitement that I am used to hearing from my husband when a piece of beef hits the grill. However, every time we have this beautiful dinner, he loves it (in the end). He may even admit that it was "a great idea," which immediately makes me want to mark the time and date for future generations.
So this week's challenge of using my 12 ingredients to prepare a no-cook meal is an interesting way to give my stove a break and let a smaller appliance, like my food processor, do most of the work.
Our biggest challenge is to even consider this type of combination as 'dinner' because we are so conditioned to seeing meat or a meat alternative on a plate with a vegetable and a grain product on the side. Even more insane than that is what I call the "starch-atarian" menu, where vegetarians hardly eat any vegetables and load up on pizza, pasta, and sweets.
This week's meal is colourful, beautifully presented, and is nutritionally balanced. I'm presenting a food platter with a beet and carrot slaw over a leafy green salad -- using the beet greens and an avocado dressing -- with a quick homemade hummus and whole grain tortillas to dip.
No-cook dinner: Mixed leafy greens with chopped almonds and creamy avocado dressing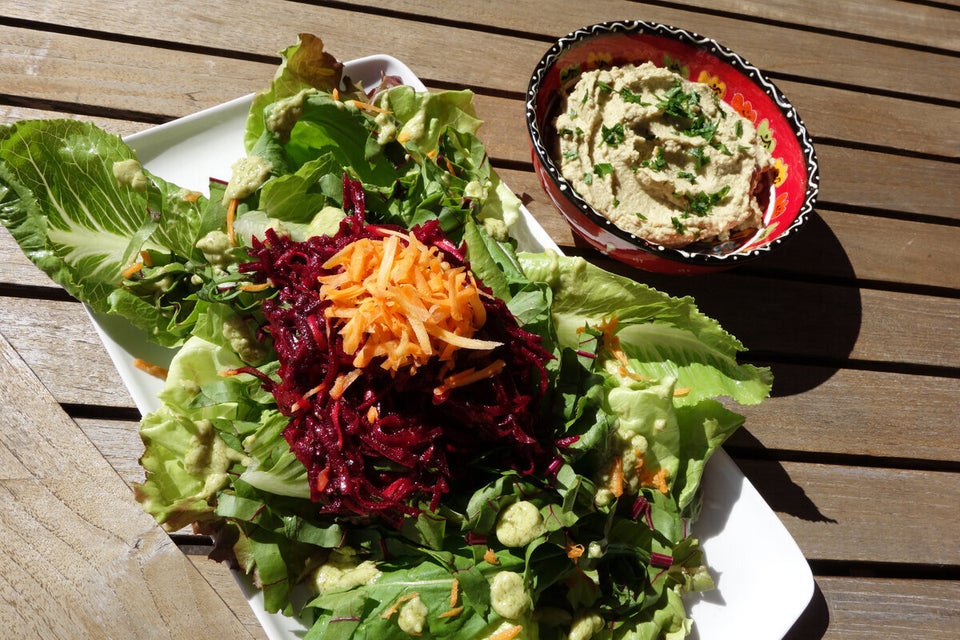 Mixed leafy greens with chopped almonds
Main Ingredients used (in total):
• 750 ml (3 cups) mixed leafy greens, washed and spun
• Beet greens, leaves only, thinly sliced
• 5 ml (1 tsp.) Dijon mustard
• 25 ml (2 Tbsp.) apple cider vinegar
• 25 ml (2 Tbsp.) plain yogurt
• 50 ml (¼ cup) extra virgin olive oil
• Freshly cracked black pepper to taste
• 50 ml (¼ cup) toasted almonds, optional
Preparation: Arrange greens on a large platter and sprinkle with sliced beet greens.
For dressing, combine all ingredients except almonds in the food processor and pulse until smooth. Chill until ready to assemble salad. If you don't have a food processor, you can use a fork to mash the avocado and a whisk to blend all the ingredients together.
Drizzle a little of the dressing over greens, place the beet slaw in the middle and sprinkle with almonds, if desired. Serve with hummus and toasted tortilla wedges.
Grated raw beet slaw (to put on top of salad)
• 2 carrots, peeled, shredded
• 3 medium beets, raw, peeled, shredded
• 15 mL (1 Tbsp.) fresh grated ginger
• 50 mL (¼ cup) apple cider vinegar
• 2.5 mL (½ tsp.) cumin seed, toasted and ground
• 45 mL (3 Tbsp.) extra virgin olive oil
• A pinch of chili flakes
• ¼ bunch fresh mint leaves or basil, chopped
Preparation: With my processor doing triple duty here, I made the recipes in this order, so I didn't have to wash the bowl in between ingredients. First I made the salad dressing, next I changed to my shredding attachment and shredded the carrots and beets, and lastly, I went back to the blade and made my hummus. Don't worry if you get a pinky hue from the beets, it's only going to kick up the flavor.
Shred all vegetables using a shredding attachment on a food processor. Transfer to a large bowl. You can also use a hand grater if a food processor is not available. Add remaining ingredients and toss to combine well. Cover and let stand in fridge until ready to serve. This slaw keeps well for several days in the fridge.
The Verdict: My husband raves about this salad and can't get enough of it. So does my cousin. It also feels more substantial than a lettuce salad but not heavy. He's not dreaming of his steak, so that's good.
• 1 small can low-sodium chick peas, rinsed
• 25 mL (2 Tbsp.) tahini or pumpkin seed butter
• 25 mL (2 Tbsp.) olive oil
• Pinch of freshly cracked black pepper
• Splash of water to adjust texture
• 2 large whole grain tortilla, cut into 8 wedges
Preparation: In a food processor, with blade attachment, pulse the rinsed chickpeas and clove of garlic, until finely chopped. Add the tahini, lemon juice, and olive oil, and season with pepper. Pulse again until a smooth paste is formed. If the mixture seems very dry, add a splash of water to loosen slightly. Transfer to bowl and sprinkle with freshly chopped parsley. Cover and refrigerate until ready to serve.
The Verdict: Okay, this dip? I literally have to pull it out of their hands, or I won't get any. Victory!