I don't know about you, but what I love about cooking is the freedom to take a few ingredients and prepare a dish that expresses the way I am feeling at any particular moment. I might take the same ingredients the very next day and cook them differently, depending on my mood. Conversely, what continues to challenge me about cooking is when I am given a set of very narrow guidelines to follow and I can come up with something equally as delicious.
This week's challenge is to use my ingredients in a stir-fry. Last week we could only slow cook or stew the ingredients, and now we must make a main course plus either a dessert or appetizer using only the stir-frying method. We'll take some liberties and say that we can steam the accompanying dishes like the quinoa or cream of wheat.
The inspiration for my first dish is eggplant Parmigiana, normally a casserole dish that is slowly cooked in the oven. Instead of using large eggplant, which can be a bit bitter and usually hides many seeds, I thought the quick stir-fry method would be perfect for the sweeter, virtually seedless, Japanese eggplants.
This process also allows me to reduce the fat and cheese substantially from the original and instead focus on the contrast of slightly tangy tomatoes and tender eggplant with a touch of gooey mozzarella on top. I am serving the dish on a little toasted tortilla wedge to reduce the bread factor.
Stir fried Eggplant on a whole grain tortilla wedge
Main Ingredients Used (In Total):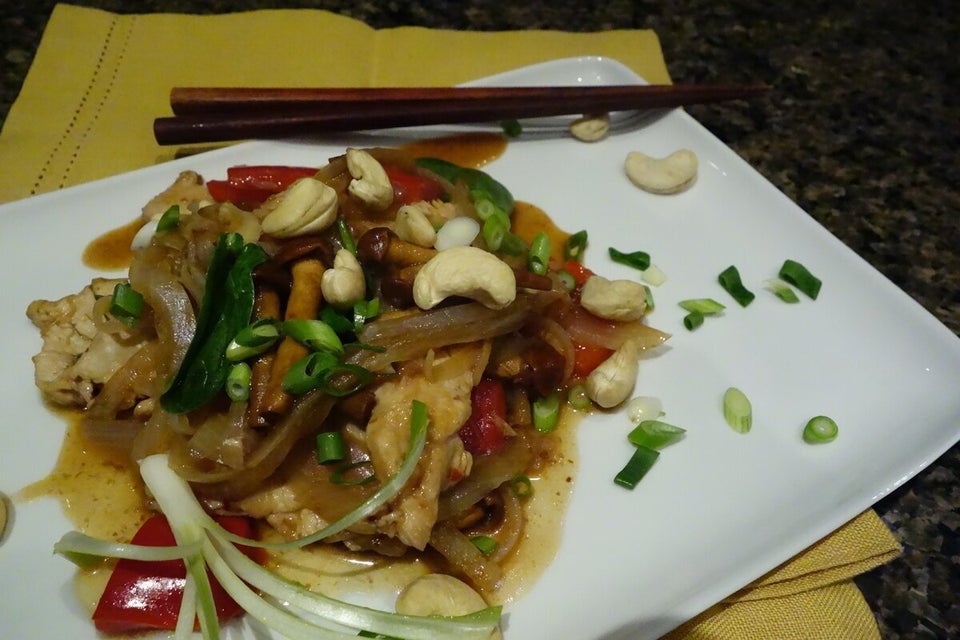 The Main Ingredients: Spring Edition Chef's Meal 2
• 25 mL (2 Tbsp) olive oil
• 2 Japanese eggplant, cut into 6mm thick (¼ inch) slices
• Freshly cracked black pepper to taste
• 175 mL (3/4 cup) prepared low sodium basil tomato sauce
• 2 small whole grain tortillas cut into 6 wedges each and lightly toasted
• 90 g (3 oz) low fat mozzarella, finely grated
• 25 mL (2 Tbsp) grated Parmigiano Regiano cheese
• Freshly chopped basil to taste
• 6 grape tomatoes, diced (optional)
Preparation: In a large skillet or wok, heat olive oil on medium-high setting. Once oil is hot, add the eggplant slices and stir fry for 3-4 minutes, until golden on all sides. Season with pepper. Add the tomato sauce and reduce to medium heat. Let simmer for 7-9 minutes or until eggplant is tender and sauce has slightly thickened. Keep warm.
Arrange toasted tortilla wedges on plates and spoon some of the hot eggplant mixture over top. Sprinkle immediately with grated cheeses and let stand until heat just melts the cheese. Sprinkle with chopped fresh basil and diced grape tomatoes for garnish, if using.
The Verdict: I have had trouble in the past getting my husband to revere my beloved eggplant, but it wouldn't be fun if he loved every single thing I made, would it? He loves the little touch of gooey mozzarella on top, but wishes there were more of it.
Now for the main course, I immediately think of a simple chicken stir-fry which when executed well is a thing of beauty. Although stir-fries can be a great healthy option, they may be a source for tons of sodium in the form of soy sauce, as well as sugar. I always opt for a low-sodium tamari style soy sauce, which is less salty than some of the conventional soy sauces. I also stay away from adding any thick prepared sauces.
Stir-fried Chicken with Shitake Mushrooms and Cashews
• 2 boneless, skinless chicken breasts (about 360 g/13 ozs)
• 45 mL (3 Tbsp.) coconut oil
• 180 mL (¾ cup) sliced shiitake mushrooms
• 2 cloves garlic, chopped
• 5 mL (1 tsp.) fresh chopped ginger
• 25 mL (2 Tbsp.) low sodium tamari soy sauce
• 250 mL (1 cup) pre washed baby spinach
• 50 mL (1/4 cup) unsalted cashews
• 250 mL (1 cup) quinoa, cooked
Preparation: Slice chicken into thin strips.
Heat half of the oil in a wok, over medium high. Add the chili flakes and chicken and toss until cooked through (about 4 minutes). Remove and set aside.
Pour remaining oil into wok and return to medium high heat. Add onion, shiitake mushrooms, red pepper, garlic, and ginger, and toss for about 3 minutes, or until vegetables are just tender. Add soy sauce and sherry, and stir-fry for 2 minutes, just to develop flavour. Return chicken to wok and toss for a few more minutes. Add the spinach and cashews and remove from heat. Toss to blend everything together. Serve with steamed quinoa.
The Verdict: We love this stir fry for its clean delicate flavours with that hit of spice from the chili, and that cashew crunch. I am tempted to add some chopped coriander to it next time for some more depth.