Right about now, most of us are starting to wonder what we're going to make for our holiday dinner. It's a foregone conclusion that a turkey will figure into the menu somewhere since that's the obvious part of the feast but the accompanying dishes require a little more thought. It seems that food and cooking are no different to fashion in that trends play a huge role in what's in this holiday season. If you're not keen on splurging a couple hundred dollars on handpicked fennel pollen or sautéing your kale in Sriracha, no doubt you're still in need of some culinary inspiration.
This week's challenge is to take some of my 12 ingredients and make a healthy festive side dish that a hungry family will devour. And don't think that being a chef affords me a ticket into the "Honey, here's what we're having for Christmas dinner" club. I have to deal with the same biases and stubborn resistance to change that almost any home cook faces. Although conversations that I have with my husband are worth recording some days, for now I'll just say that I have high hopes for the festive side dish that I've created for this challenge.
Playing on the classic winter combination of beef and barley, I thought using low sodium beef broth would make a chewy and delicious pilaf dotted with a few sweet currants and the fennel for a subtle anise note.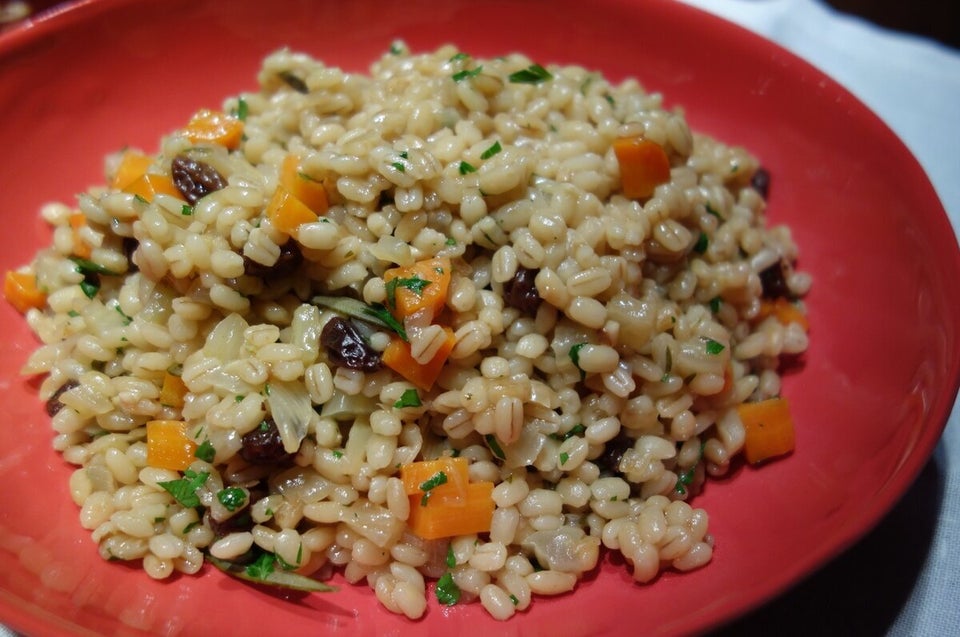 The Main Ingredients Holiday Challenge: Holiday Side Dish (Chef's Meal)
A pilaf is usually a rice dish that is gently simmered in a spiced broth. If you want to try the hulled barley version, which has the outer bran layer still intact, you can soak it overnight and then follow this same procedure, except simmer it for 50 minutes instead of 35 minutes.
(To be formatted in bullet form)
30 ml (2 tbsp.) olive oil
½ fennel head, cored and diced
250 ml (1 cup) pearl barley, rinsed and drained
50 ml (¼ cup) dry black currants
3 whole sprigs fresh thyme
750 ml (3 cups) low sodium beef broth
Freshly cracked black pepper, to taste
Several sprigs flat leaf parsley, chopped for garnish
Heat the olive oil in a medium-sized pot on medium heat. Add the onion, carrot and fennel and sauté until softened and golden, about 4 minutes. Add the garlic and barley. Cook for 1 minute, just to toast.
Add the currants, thyme, rosemary, bay leaf, broth and season with pepper. Bring to a boil and stir. Cover and simmer on low heat for 35 minutes until tender. Remove from heat and stir in the chopped parsley.
My barley pilaf was met with enthusiasm, as I made sure to serve it when it was still hot and all the aromas were wafting throughout the kitchen. I also cooked it alongside my husband's favourite roast chicken to simulate the roast poultry experience. I am floored when he says "Why haven't you made this for me before?" Well, first of all, I have made barley pilaf before, just not with the fennel and these spices, so I guess I will be making it again, exactly the same way. I hope he still loves it this much when he has it for Christmas dinner.