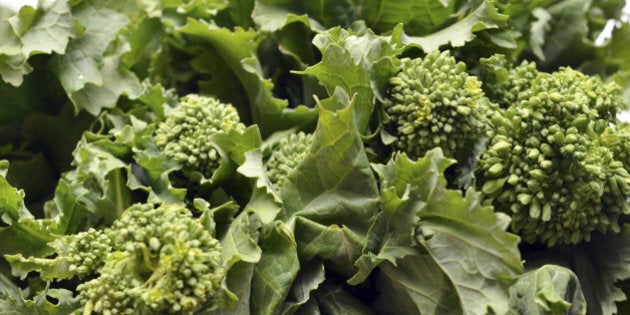 There is one upside to the cold blistery weather during the holiday season and that's all the gently simmering food you can braise, boil, simmer and roast. There is something wonderfully comforting about taking a few seasonal ingredients, putting them into a pot in a particular order and -- shazam -- there is a transformation.
I suppose another perk of winter is partaking in all the amazing winter sports, like skiing, because as a teenager there was no amount of snowfall or wind chill that could keep me from going on my high school skiing trips.
But I think this week I'll stick to mastering my culinary challenge, which is to use my ingredients to make a healthy winter classic dish for the whole family. I have chosen to go as classic as it gets with a beef stew that I'll be adding a side of rapini to for a completely satisfying dinner.
There are so many things I can say about how to master a beef stew so I'll focus on the quality of the ingredients and the importance of getting the temperature just right. If you can buy the stewing beef from a local butcher and ask for chuck or blade (which comes from the shoulder of the animal) as it will have all the connective tissue that breaks down during cooking and yields that succulently tender meat. The beauty of the stew is you can make it in a slow cooker, simmer it gently on the stove top or even braise it very gently in the oven where the heat envelopes it --creating a very even heat distribution.
The one thing you cannot do with a stew is rush it. The more you open the pot, prod and poke the meat, the more the heat escapes and seems to interrupt the great steaming effect going on in the tightly shut vessel. Conversely, if you actually boil the meat, it will toughen, so the ideal temperature is just when the liquid around the meat is at a little simmer but not rapidly boiling.
Classic Beef Stew with Rapini
The Main Ingredients III: Chef's Meal 4
I love to start this stew on the stovetop and then once all the ingredients are in the pot, I transfer it to the oven and bake -- tightly covered -- at 275°C (insert °F) for about 3 hours. Then I add the sweet potatoes. The recipe below is a slightly quicker version, completely on the stovetop, but you can try the oven way on a weekend when you have more time. You can also double the recipe and freeze some for a hectic holiday week.
Beef Stew Ingredients List:
30 ml (2 tbsp.) extra virgin olive oil, divided
680 g (1 ½ pounds) stewing beef, (chuck or blade) cut into 1.9 mm cubes
Freshly cracked black pepper, to taste
2 onions, quartered
225 g (½ pound) cremini mushrooms, quartered
1 large carrot, cut into 2.5 mm chunks
2 stalks celery, diced
4 cloves garlic, sliced
15 ml (1 tbsp.) flour
125 ml (½ cup) dry red wine
2.5 ml (½ tsp.) paprika
3 sprigs fresh rosemary, chopped
1 bay leaf
500 ml (2 cups) low sodium beef broth
796 g (1 can) whole tomatoes (with juice), diced
2 large sweet potatoes, peeled and cut 5 mm chunks
1 big handful fresh parsley, chopped
Preparation: Heat 15 mL (1 tbsp. of the olive oil in a Dutch oven or large pot over medium-high heat. Pat the beef dry with paper towel and season with pepper. Brown the beef on all sides, half at a time, ensuring not to crowd the pan. Repeat with other half of beef. Remove beef to plate and reserve. Drain off any excess fat and discard.
Return same pan to heat and reduce to medium setting and add the remainder of the olive oil. Add the onions, cremini mushrooms, carrot, celery and garlic. Cook for 3-5 minutes, just until onions begin to soften. Sprinkle with the flour and continue to cook for 2 more minutes. Add the red wine to loosen the crispy bits from bottom of pan with a wooden spoon.
Add remaining ingredients, except the sweet potatoes and parsley. Add the reserved browned beef and bring to a boil over medium-high heat. Reduce the heat to low, cover and simmer for 1 ½ - 2 hours (Meat should be almost fork-tender. This stage can be lengthened until the meat is tender). Add the sweet potatoes and keep simmering for a further 45 minutes or until the beef falls off the fork and the potatoes are fork-tender. Garnish with freshly chopped parsley. Serve with steamed brown rice.
Sauteed Rapini Ingredients List:
1 bunch rapini, cut into 7.6 mm lengths, thick stems discarded
30 ml (2 tbsp.) extra virgin olive oil
Grated zest of 1 orange
2 large garlic cloves, thinly sliced
1 finger chili, thinly sliced into rings
1 orange, segmented
Preparation: In a large saucepan, bring 2 quarts of water to a boil. Add the rapini and cook until just tender, about 3 minutes. Drain.
In a large skillet, heat the olive oil on medium-low. Add orange zest, garlic, chili and cook until the garlic is golden, about 3 minutes. Be careful not to burn garlic at this stage.
Add the rapini and cook over moderately high heat until heated through, about 1 to 2 minutes. Add the orange segments. Transfer the rapini to a serving bowl and serve.
The Verdict: Both my husband and I love rapini and the beef stew is heavily requested in the winter months so he loves it.