When taking delectable morsels to a family dinner, office gathering or even a school party this holiday season, there are so many things to consider. I'm a believer that taste still trumps everything else, but in addition you have to ensure that it's portable, will taste good at room temperature, and is easy to serve once it arrives at its final destination.
Of course the whole point of this challenge is to make your moveable feast a nutritious one also. Our mission this week is to choose from my 12 chosen ingredients and prepare a dish or two that will be appropriate for a pot luck dinner or school party.
I've decided to make dishes for an office holiday party or pot luck dinner that I think everyone will love without all the fried or heavy offerings. My inspiration for my first dish is the Greek holiday table which by definition has a ton of options.
Meatballs can be made so many different ways and each has its merits. They are very portable and can be served at room temperature, as long as you make sure to keep them refrigerated before they travel.
Baked Meatballs with Fresh Herbs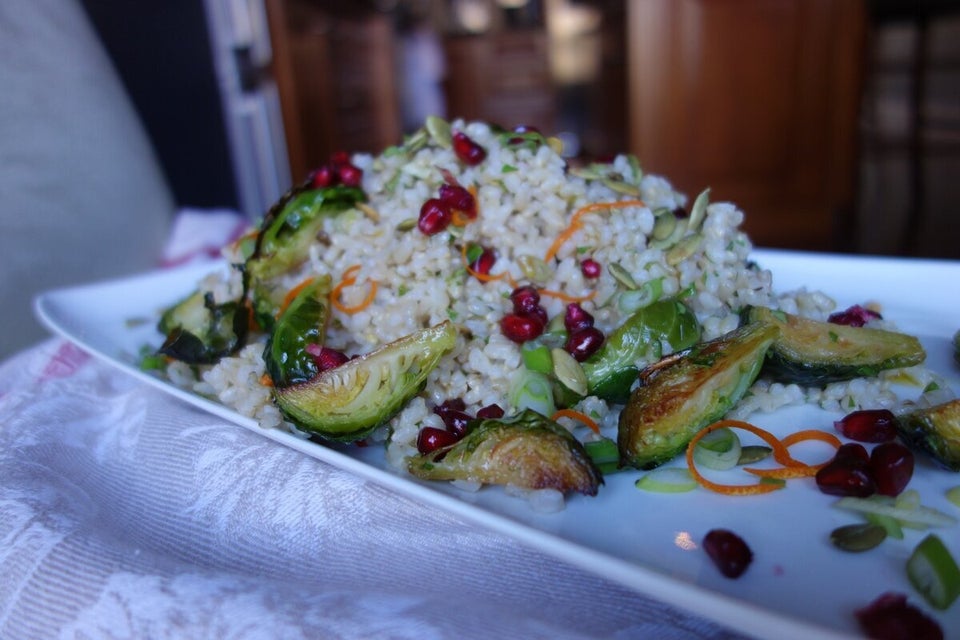 The Main Ingredients: Chef's Meal 2
Beef
Brussels sprouts
Brown rice
Pomegranate
Pumpkin seeds
Milk and milk products
Keeping the meatballs moist is always an issue, especially when you want to keep the fat content to a minimum. I am suggesting lean ground beef, as extra lean would be too dry, plus the addition of a little whole grain bread and tons of herbs. Grating the onion also helps to add moisture. By baking the meatballs instead of frying, you also cut down on the fat.
1 small onion, grated by hand
6 sprigs fresh mint, stems removed
½ small bunch Italian parsley, stems removed
2.5 ml (½ tsp.) cumin seeds, toasted and ground
45 ml (3 Tbsp.) extra virgin olive oil
1 egg
5 ml (1 tsp.) Worcestershire sauce
5 ml (1 tsp.) tomato paste
454g (1 lb.) lean ground beef, preferably chuck
1 slice stale whole grain bread, broken up into fingers
Freshly cracked black pepper
Yogurt drizzle Ingredients List:
175g (3/4 cup) small container 2% plain yogurt
2.5 ml (½ tsp.) grated ginger
½ bunch chopped fresh chives or 2 green onions, finely chopped
Sea salt and freshly cracked pepper to taste
Preparation: Chop the herbs by hand or in a food processor. Transfer to a large bowl with grated onion. Add the cumin, olive oil, egg, Worcestershire sauce, tomato paste and stir to combine.
Break up the meat with your hands and add it to the onion mixture. Break up bread with hands and add to the meat mixture. Add the seasoning and mix gently with hands, combining well. Chill until ready to make patties.
Meanwhile, to make the yogurt drizzle, combine all ingredients in a small bowl and stir together to blend. Adjust seasoning. Chill.
Form the mixture into 12 mounded oblong patties. Line a baking sheet with parchment paper and arrange the meat ball patties on top, leaving space between them so they don't steam. Bake in middle rack in a 375°F oven for about 8-10 minutes or until cooked through. For a little texture on the outside, broil for 1 minute before removing from oven. Cool down and chill before taking to the pot luck. They can be warmed gently in the oven before serving or served at room temperature. Serve with yogurt drizzle on the side.
The Verdict: My husband does love the fresh herb addition to these meatballs but he thinks they could be a bit moister. I think the yogurt really adds a refreshing quality to the typically boring and heavy meatball.
For the second dish, I really wanted to explore the boundaries of all these colourful and nutritious options, so I used the brown rice as a neutral -- albeit nutty -- canvas on which to showcase the combination of roasted brussels sprouts and crunchy pomegranate seeds. My mouth is watering for these flavours right now.
Brown Rice Brussels Sprouts and Pomegranate salad
Along with the fibre that is present in brown rice, the nutty flavor and chewy texture is what I've grown to love. Even though I've cooked most of my life, it took me a really long time to get on board the brown rice train and now it's my ideal kind of dish. I've chosen basmati because it cooks a bit quicker than other brown rice varieties.
500 ml (2 cups) long grain brown rice
45 ml (3 tbsp.) extra virgin olive oil, divided
10 brussels sprouts, trimmed and boiled for 4 minutes
45 ml (3 tbsp.) apple cider vinegar
1/2 small chili, finely chopped
1 pomegranate, seeds only, juice reserved
3 green onions, chopped
1 clove garlic, minced
Grated zest 1 orange
Chopped fresh coriander, to taste
50 ml (¼ cup) toasted pumpkin seeds
Preparation: Preheat oven to 375°F.
Cook rice in boiling, salted water for 25 minutes, covered on low heat. Remove from heat and let stand 5 minutes. Fluff with fork and spread on a baking sheet to cool.
Meanwhile, slice brussels sprouts into quarters and toss in one-tablespoon olive oil. Spread on a baking sheet in a single layer. Bake in a 375°F oven for about 16-18 minutes or until edges are golden. Remove and cool.
In a medium bowl combine remaining olive oil, cider vinegar, chili, pomegranate seeds and juice, green onions, garlic, and orange zest. Toss with cooled rice until well blended. Add cooled roasted sprouts, adjust seasoning, and sprinkle with some chopped fresh coriander and pumpkin seeds.
The Verdict: I told my husband that if he brought this brown rice salad to his Christmas office party it would be devoured. He has already asked for seconds of this dish and it's probably the first time he's preferred an all-grain and vegetable dish to meat.