We've used the stovetop quite extensively in the last two challenges with stewing and stir frying, so for the final challenge it's time to pay attention to the oven; this week, we're mastering our roasting technique.
Roasting is generally done at a higher temperature than baking, in order to use dry heat to get crispy skin or golden edges on vegetables. But as you'll see in my first dish, roasting is also a low fat way to concentrate flavours or transform the bold, sharp flavour of garlic into a creamy, sweet paste.
For my appetizer, I want to showcase how roasting eggplant can make a creamy delicious dip or spread. On first glance, it looks like I'm making the Middle Eastern baba ghanoush, and there are many debates about the official recipe for that, but I'm making more of an eggplant spread with some other surprising flavours and textures added.
Roasted Eggplant spread with fresh mint and chopped dates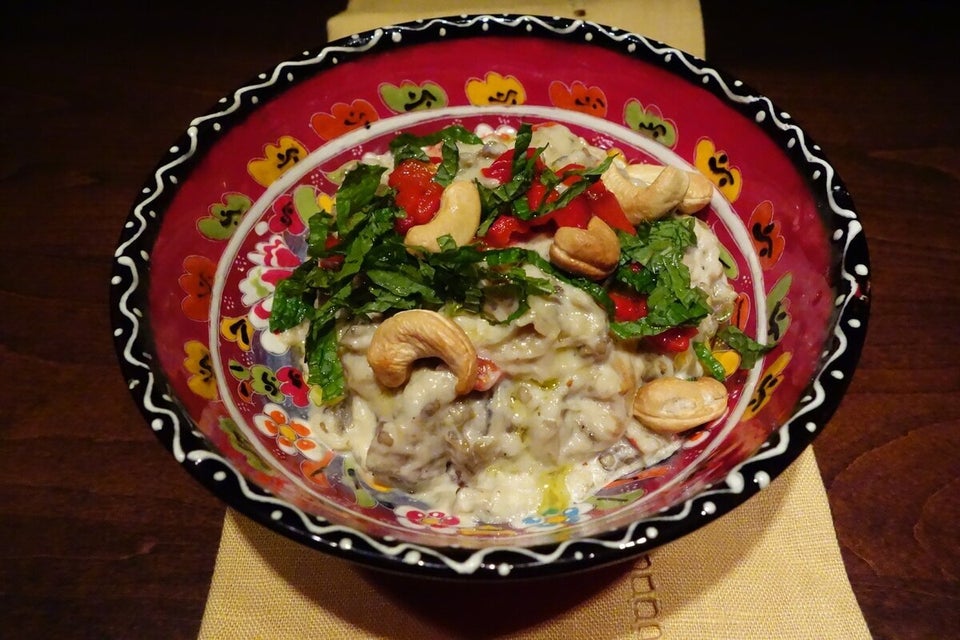 The Main Ingredients Spring Edition: Chef's Meal 3
• 60 mL (4 Tbsp) olive oil, divided
• 1 red pepper, roasted, peeled and seeded , optional for garnish
• 2 cloves garlic, minced
• 2 whole dates, pitted and finely chopped
• 60 mL (1/4 cup) freshly chopped mint, divided
• 60 mL (1/4 cup) 0% plain Greek yogurt
• Cracked black pepper to taste
• 60 mL (1/4 cup) chopped unsalted cashews
• Any amount, vegetable sticks (optional)
• Any amount, whole grain pita (optional)
Preparation: Preheat oven to (190 degrees C) 375 degrees F.
Split eggplant in half lengthwise and score the cut side of eggplant in a crisscross pattern. Brush with 1 Tbsp olive oil. Place on baking sheet lined with parchment paper, cut side down for about 50 minutes to 1 hour, or until browned and flesh is soft.
If using red pepper, roast the pepper whole alongside eggplant until charred and skin is blistered. Remove both and cool slightly. Peel skin from roasted red pepper and remove seeds. Chop and set aside.
Scrape out the large row of seeds from eggplant and discard without removing too much of the flesh. With a large spoon, scrape out the flesh from eggplant into a medium bowl.
To the eggplant flesh, add garlic, lemon juice, dates, the remaining olive oil, mint (saving a bit for garnish later), yogurt, and freshly cracked black pepper. Stir well with a wooden spoon to blend ingredients thoroughly.
Transfer to a plate. Sprinkle with chopped cashews and chopped roasted pepper (if desired) and remaining chopped mint. Serve with fresh vegetable sticks or whole grain pita, if desired.
The Verdict: By scooping out the roasted flesh from these larger eggplants and discarding the skin, I've eliminated the issue with that bitter edge I was worried about, so my husband likes that. He's also offering advice about how we can make this next time when people come over to keep them busy while I finish preparing the rest of dinner.
I'm open to advice, sometimes.
With the appetizer perfected, I'm going on a familiar route, with a twist, for the main course. I usually roast a chicken once a week, mostly because it's so delicious -- and ridiculously simple -- and I can slather it in so many different flavour combinations. In culinary terms, 'butterflying' the chicken means removing the backbone so you can lay it flat. Butterflying is not only a great way to reduce the cooking time, but it also helps make the white and dark meat equally juicy.
Crispy butterflied Roast Chicken
• One whole 1.5-2kg (3-4 lbs) chicken
• Freshly cracked black pepper
• 25 mL (2 Tbsp.) minced fresh rosemary
• 10 mL (2 tsp.) sweet paprika
• 15 mL (1 Tbsp) Dijon mustard
• 25 mL (2 Tbsp.) olive oil
• 10 mL (2 tsp.) Worchestershire sauce
Preparation: Preheat oven to (190 degrees C) 375 degrees F.
Lay the chicken down on cutting board, breast side down. With kitchen shears, cut to the right of back bone, all the way down starting from the top of the chicken. Repeat on opposite side, removing back bone completely. Flip the chicken over and flatten chicken, breaking wish bone. Transfer to a roasting pan.
In a bowl, mix together the pepper, rosemary, paprika, mustard, olive oil, lemon juice, and Worchestershire sauce. Whisk to fully blend. Pour this mixture over both sides of chicken, rubbing in thoroughly with hands.
Roast in oven at (190 degrees C) 375 degrees F until juice runs clear and chicken is fully cooked, about 45 minutes.
The Verdict: Here's where it gets tricky, because although I mentioned the versatility of roasting a chicken is one of the reasons it's on our weekly menu, I forgot to mention how much my husband hates when I mess with it. "Why mess with perfection?" he asks. So I'm waiting for the comment about why the bird is flattened. You know that's the first thing he said.